MLB Pipeline checks in from Astros camp
Top prospect Correa, third baseman Moran impressing; righty Velasquez talks about goals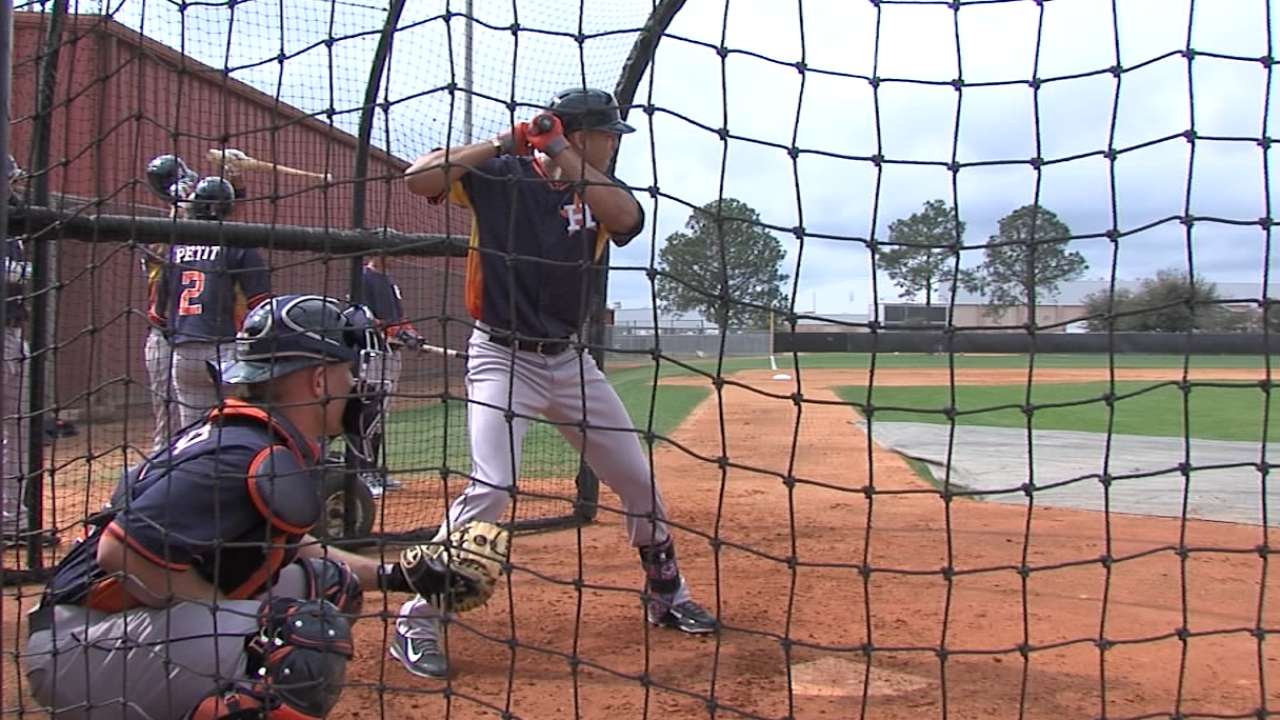 Every Spring Training, prospects get a chance to show what they can do as they prepare for the season ahead. Some are competing for jobs in big league camp, while others are prepping for the season as they vie for spots at Minor League affiliates throughout the team's system. MLBPipeline.com is visiting all 30 camps this spring. Today, we check in on the Houston Astros.
Having built one of the most well-regarded farm systems in baseball, the Astros tapped into their group of talented young players in 2014. During the season, George Springer and Jon Singleton, both of whom began the year ranked on MLBPipeline.com's Top 100 Prospects list, graduated to the Major Leagues. Then, during the offseason, general manager Jeff Luhnow used prospects such as right-handers Mike Foltynewicz and Nick Tropeano in trades to help bolster the big league roster.
MLB Pipeline Spring Training Reports
Despite those departures, the Astros' farm system remains strong. Shortstop Carlos Correa and right-hander Mark Appel, the top overall picks in the 2012-13 First-Year Player Drafts, are a big part of the reason why, but there is depth behind them as well.
Director of player development Quinton McCracken said he hopes the next wave of homegrown players will soon reach Houston.
"The cupboards are still pretty full," McCracken said. "We've got some good depth. We've got some kids, they're on their way. It's very healthy and it's good to see that those guys are continuing to get better day in and day out and should be able to help us win games in the near future."
Camp standouts
Correa, ranked No. 3 on this year's Top 100, is in his second big league camp. And while he just turned 20 years old last September and missed the second half of the 2014 season due to a broken right fibula, the shortstop is handling the assignment with aplomb.
"It's a good measuring stick for him," McCracken said. "It's an acclimation process. Being that this kid is so talented, so advanced for his years, I think the more we get him out there, the better prepared he's going to be whenever his number is called."
The early returns have also been good for third baseman Colin Moran, who came to the Astros in the trade that sent Jarred Cosart to the Marlins last July. Moran has played in six Grapefruit League games, going 4-for-7 with a run and a walk.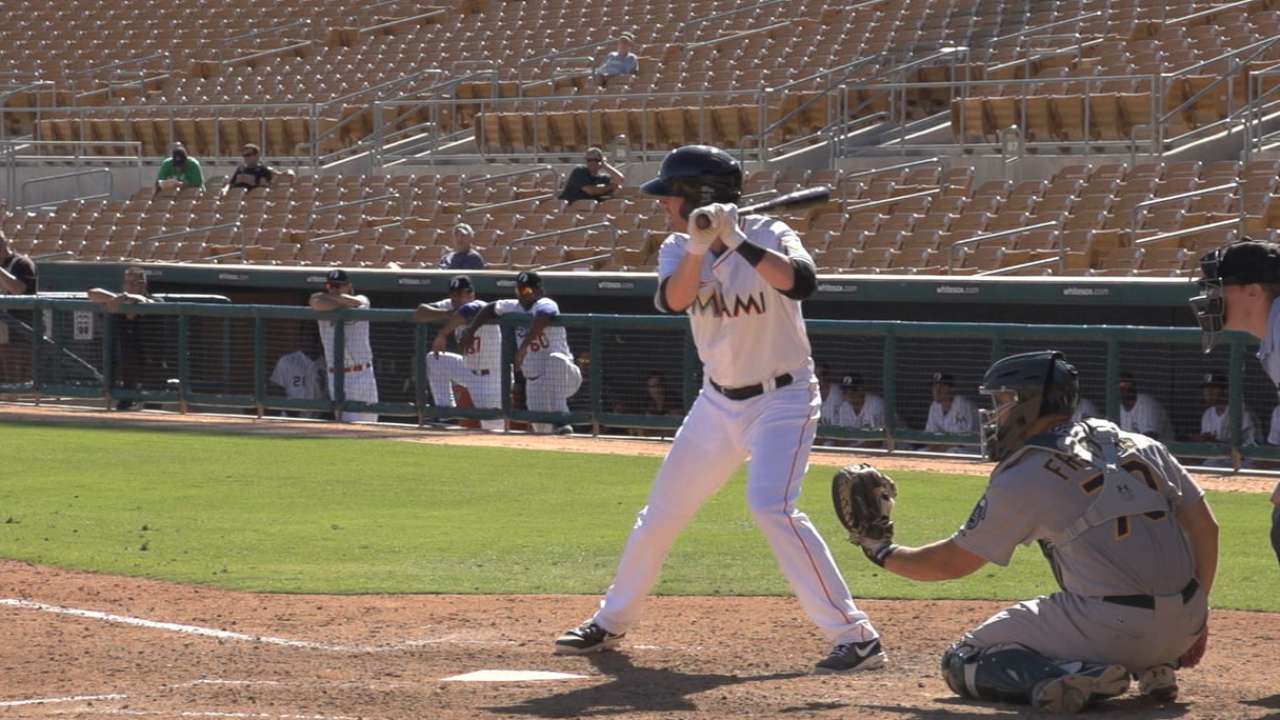 "It's been great," Moran said. "It's a good learning experience. Getting to know a bunch of new guys. I love it."
Breakout candidates
Francis Martes, RHP: The Marlins signed Martes out of the Dominican Republic in 2012, and he was in the midst of his U.S. debut when he was included -- along with Moran -- in the package sent to the Astros in exchange for Cosart. He only turned 19 in November and remains raw, but with a fastball that already reaches the upper 90s and some feel for his secondary pitches, he has an exciting future.
Joe Musgrove, RHP: Acquired as a part of the 10-player deal the Astros and Blue Jays made in July 2012, Musgrove began to put everything together in 2014 with Class A short-season Tri-City. He went 7-1 with a 2.81 ERA and ranked second in the New York-Penn League with 67 strikeouts in 77 innings.
"He's a big, durable body, strong," McCracken said. "He made tremendous strides last year. And hopefully we can get him on the full-season club this year, and hopefully continue on the path he's on."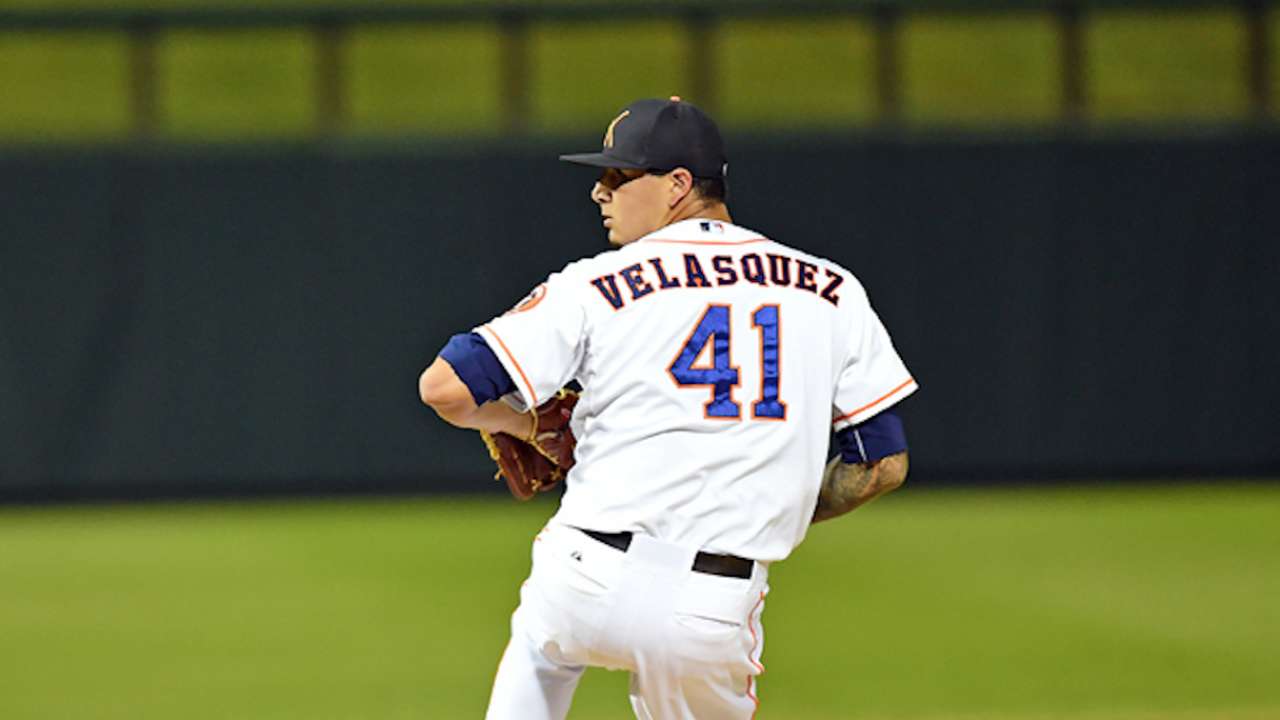 Three questions with Vincent Velasquez
When he's healthy, Velasquez's talent stands out, even among all of the Astros' top pitching prospects. The right-hander has been dogged by injuries throughout his career, however, and was sidelined for the first three weeks of Spring Training by a strained right lat before starting his throwing program Thursday.
MLBPipeline.com: While you haven't been able to get into any games, what have you learned just from the experience of being around Major Leaguers this spring?
Velasquez: The mentality aspect. How they approach the game and whatnot. How they carry themselves on a regular basis. It's really no different. It's just more of a challenging spot for us youngsters to make a statement. Just the overall experience is going very well.
MLBPipeline.com: You played at Class A Advanced Lancaster last year, which has a reputation for being one of the hardest places to pitch in the Minor Leagues. How were you able to be successful there?
Velasquez: At first, it was kind of hard to take in. You don't think [the effects were] that real, but once you're out there watching batting practice and whatnot, you kind of get that shock, 'Wow, that really went out of the stadium.' It was kind of hard to adjust at first, but over time, you kind of pick it up toward the end. It was just a matter of trying to be consistent with your pitches and trying to locate in and mix pitches up as much as possible to try to keep hitters off balance.
MLBPipeline.com: Once you're able to get back on the mound, what are your goals for the season?
Velasquez: Just try to have another strong, whole, successful, healthy year. Try to maintain my pitches, be consistent, work fast, do the things I do every year -- when I'm healthy, that is.
Teddy Cahill is a reporter for MLB.com. Follow him on Twitter at @tedcahill. This story was not subject to the approval of Major League Baseball or its clubs.