Ichiro starts in left to display Marlins' outfield versatility
Hechavarria rests; team options Dayton to Triple-A, sends five others to Minors camp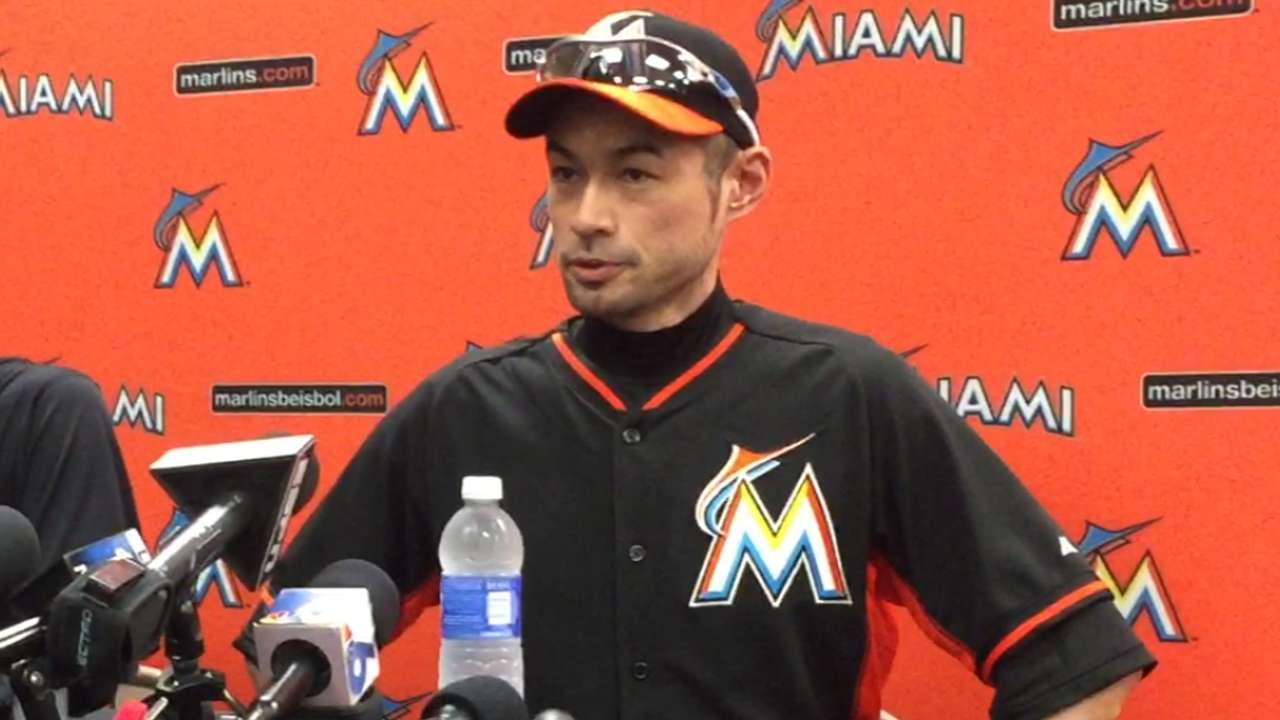 JUPITER, Fla. -- Marlins manager Mike Redmond wants his bench to be as versatile as possible this season, which is why he started Ichiro Suzuki in left field for Friday's Grapefruit League game against the Cardinals at Roger Dean Stadium.
It was the first start this spring in left field for Suzuki, who was signed to a one-year, $2 million contract and is only 156 hits shy of 3,000 for his MLB career. The 41-year-old veteran, who played the past two-plus seasons with the Yankees, now has played all three outfield positions for the Marlins this spring, and also has been the DH.
Suzuki picked up an outfield assist in the second inning of Friday's 6-3 win over the Cardinals, throwing a perfect one-hopper to Jarrod Saltalamacchia to nail Mark Reynolds, who was trying to score from second on a single by Stephen Piscotty.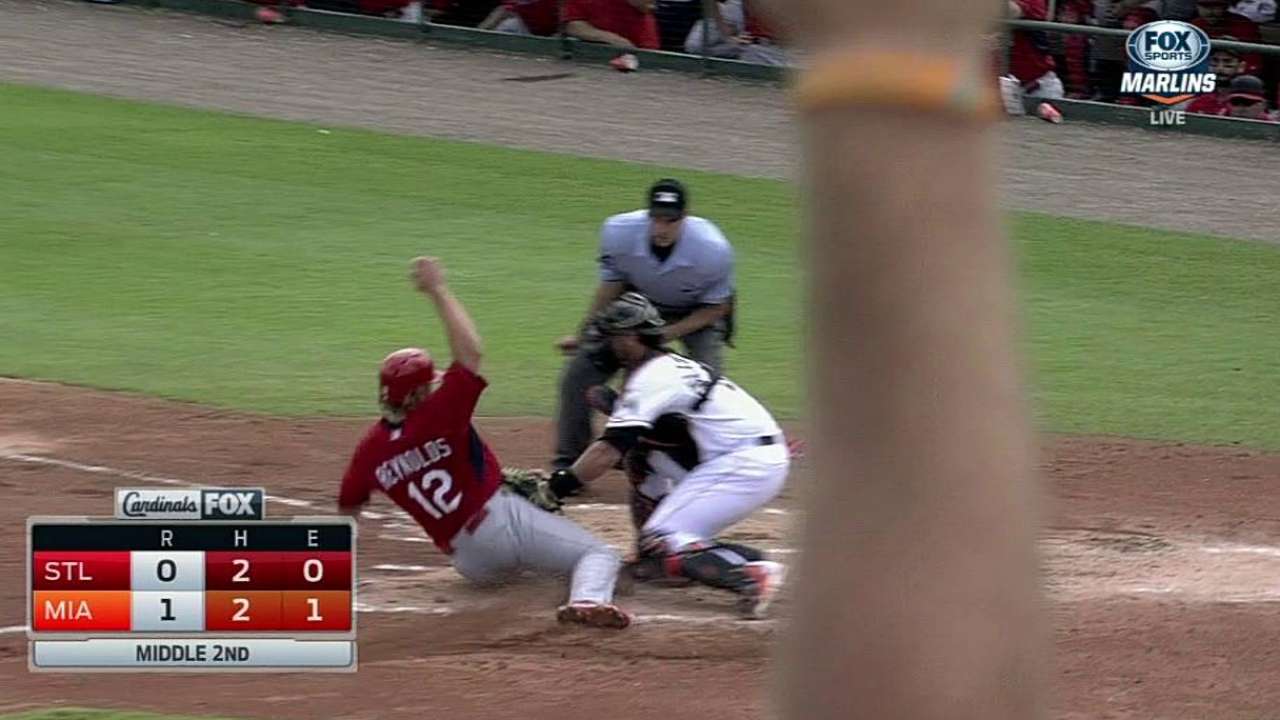 "He's going to have to be able to do that, and he knows that," Redmond said. "That's the beauty of Ichiro, that he can do all those things. He can play all those positions."
The Marlins have one of the best young outfields in the Major Leagues, but there will be times during the grind of the season when right fielder Giancarlo Stanton, center fielder Marcell Ozuna and left fielder Christian Yelich will need a day or two off.
"We've talked about ways of getting him in the lineup during the season, and that's how it's going to be," Redmond said. "I want to make sure we're comfortable with him playing all those positions, and this is a great time and great opportunity to be able to do it in Spring Training.
"We're trying to find out about a lot of different guys and the versatility that we have. When you start filling out those bench spots, you want guys to be able to cover as much as they possibly can. The important thing, too, is try not to let guys go more than a day or two without getting consistent at-bats."
Noteworthy: Marlins shortstop Adeiny Hechavarria was given the day off Friday following his return to the lineup on Thursday after a week off to rest his sore right shoulder. Redmond said Hechavarria, the only returning starter in the infield, will play in back-to-back games on Saturday and Sunday against the Nationals and Tigers.
"He feels good today. We just don't want to push him," Redmond said of Hechavarria, who had a double and played flawlessly in the field Thursday in the Marlins' 7-6 loss to the Twins. "He was fine throughout the game. He has not really missed a whole lot. He was throwing, was getting at-bats on the back fields in some simulated games [during absence from lineup]."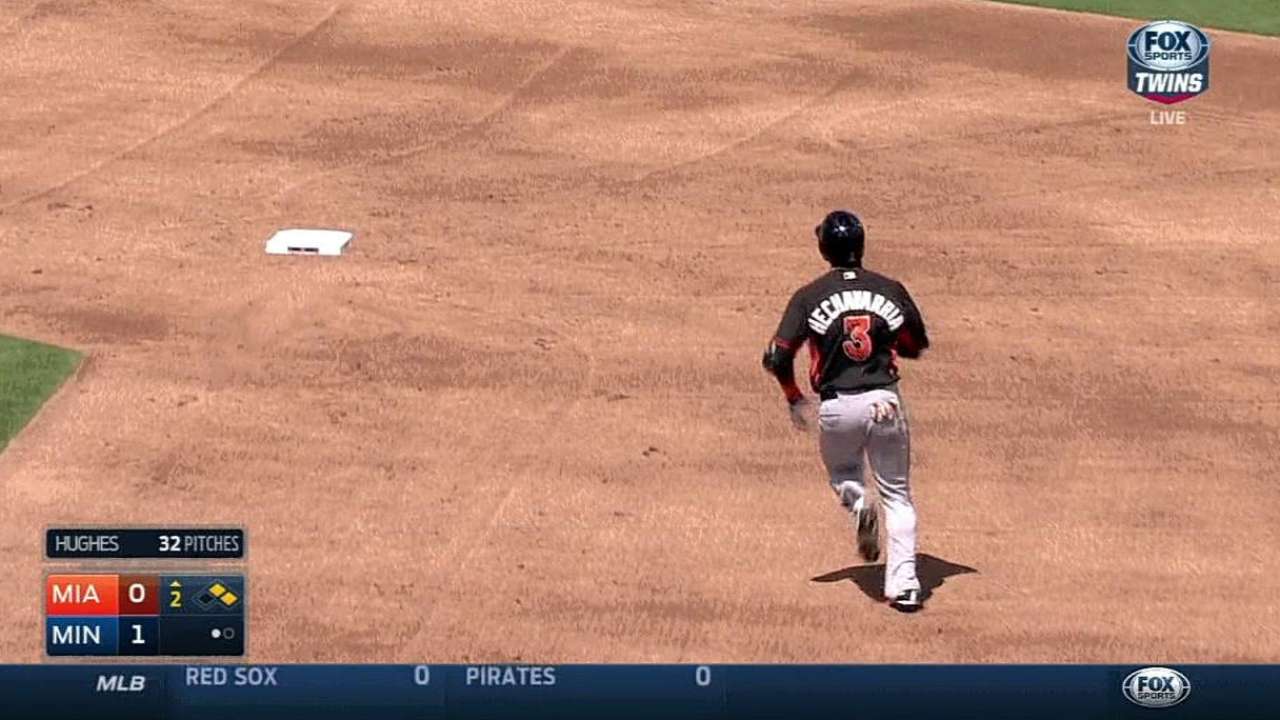 Six sent down: The Marlins optioned pitcher Grant Dayton to Triple-A New Orleans on Friday. Five other players -- infielder Justin Bohn, pitcher Brian Ellington, catcher Sharif Othman, pitcher Ryan Reid and infielder Viosergy Rosa -- were sent to Minor League camp.
"If we can't utilize these guys and get them in [Spring Training] games, they're better off going down to the Minor Leagues and get their work in," Redmond said. "With as much older depth as we've brought in, that kind of hurts the younger guys as far as playing in Spring Training."
The Marlins now have 60 players in camp, including 39 players from the 40-man roster and 21 non-roster invitees.
Steve Dorsey is a contributor to MLB.com. This story was not subject to the approval of Major League Baseball or its clubs.