Hendriks nabs big award, now looks for roster spot
Australia's Baseball Player of the Year ready to take on bullpen role behind deep Blue Jays staff
DUNEDIN, Fla. -- Liam Hendriks might be flying under the radar at Blue Jays camp this spring, but the right-hander has received plenty of attention in his home country of Australia.
Hendriks was recently named Australia's Baseball Player of the Year for 2014, beating out a group which includes Tampa Bay's Grant Balfour, Atlanta's Peter Moylan and Arizona's Trent Oeltjen.
The award might not have received a lot of attention on this side of the world, but Hendriks knows all too well what it means to everybody back home. It's up to players like Hendriks to carry the torch the way former Blue Jays reliever Graeme Lloyd and David Nilsson did throughout the 1990s.
"I was sitting at my locker when I found out," said Hendriks, who made three appearances with the Blue Jays last season and posted a sparkling 2.33 ERA with Triple-A Buffalo. "I tried to get a stream of it, but it wasn't quite working. But it's a huge honor ... I'm obviously ecstatic to have won that, and now hopefully, I can stay up and do it again next year.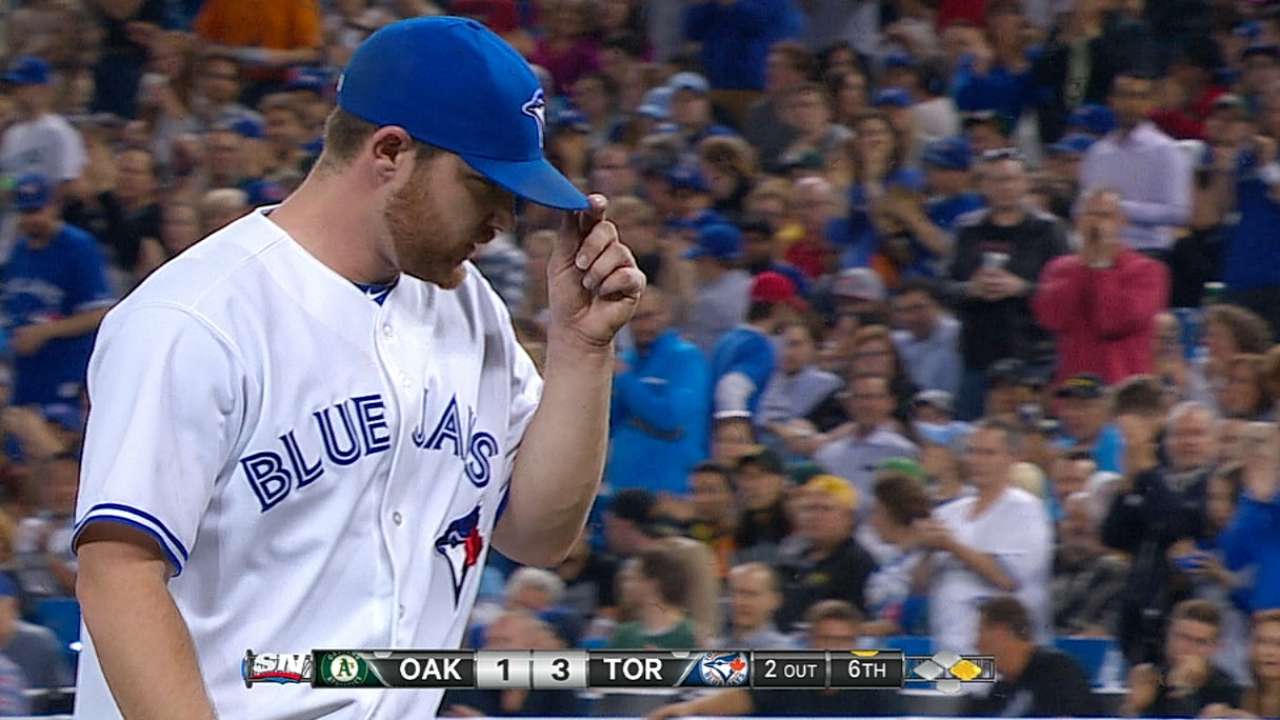 "That's the goal now, to be one of those repeat winners who can go out there, put my best foot forward and help grow the game of baseball in Australia. Any time you get Australian guys over here doing well, it promotes the game back there, which is only good for it."
Hendriks is transitioning to the bullpen after spending the first four years of his career working almost exclusively as a starting pitcher. It's a process that began late last year following a July trade to the Royals, and it continues in his return to Toronto.
The long-term goal for Hendriks was to remain a starter, but with the Blue Jays' rotation almost set, his best chance to crack the team is as a reliever. He seems to have embraced the change, which has led to an uptick in velocity and the ability to go max effort instead of conserving energy for multiple innings of work.
The 26-year-old is out of options on his contract, so the Blue Jays will have to make a decision on Hendriks' future one way or the other in the coming weeks. If he doesn't crack the Opening Day roster, there's a chance he could sneak through waivers and enter the mix at some point this year when the need arises.
For now, though, Hendriks is focused on doing whatever he can to get the attention of Toronto's front office. He tossed a scoreless inning vs. the Rays on Thursday afternoon, and he hopes that with more outings like that, the Blue Jays will give him an opportunity to head north with the big league club.
"It's different now. I can be more aggressive. Now I can go out there and be like, 'All right this is the guy,'" Hendriks said. "As a starter, you're never taking your foot off the pedal, but you start thinking about other things as well, further on in the game. Now, if you're in the 'pen, you just go straight after this guy. You take it more pitch by pitch, rather than sequences and things like that."
Gregor Chisholm is a reporter for MLB.com. Read his blog, North of the Border, and follow him on Twitter @gregorMLB. This story was not subject to the approval of Major League Baseball or its clubs.