Darvish to have Tommy John surgery on Tuesday
Rangers right-hander will miss season due to elbow tear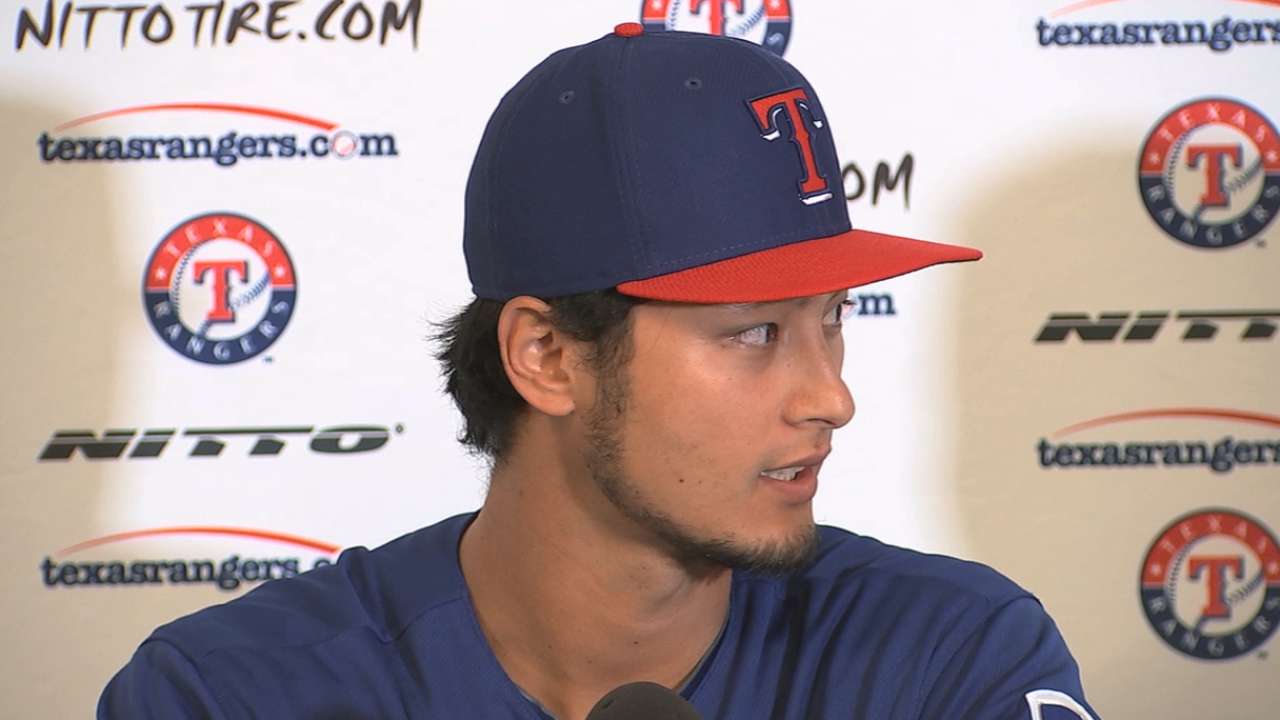 SURPRISE, Ariz. -- Pitcher Yu Darvish will undergo Tommy John elbow reconstruction surgery on Tuesday and miss the entire 2015 season, the Rangers announced on Friday.
Darvish made one start this Spring Training, on March 5 against the Royals, but he left after one inning with what was first described as tightness in the triceps muscle. Further examination revealed damage to the elbow ligament.
"It's very weird, I did feel tightness in the triceps," Darvish said. "I did have a triceps problem, but they also found something in the ligament. Maybe it happened before that."
Darvish said he was told the ulnar collateral ligament was not torn but "thinned." He was also told the ligament was in a "dangerous" situation. Darvish received the opinions of three doctors and all three recommended surgery.
Darvish had a choice between surgery and trying to rest the elbow. Rest would have kept him sidelined for at least four months with no guarantee that it would fix the problem. Dr. James Andrews will perform the surgery in Pensacola, Fla.
"I have heard about the hardships of the rehab, but I'm optimistic," Darvish said. "I have no worries. I am going to take the time to learn a lot. I feel there are a lot of things I can do to make me better. I know this is going to make me better. I feel nothing but positive. Obviously this is a bump in the road for my career and my team, but there are a lot of positives that could come out of this."
Recovery from Tommy John surgery usually takes 12-14 months. The Rangers are hoping Darvish will be back on a mound early in the 2016 season.
"Every rehab is different, but we're not going to put a stopwatch on it," general manager Jon Daniels said. "We want to get him back and get him back for good. We'll take it as it goes. Our mindset is to bring him back once and not have any setbacks."
Daniels said undergoing surgery was the right decision.
"Once we had the diagnosis, we wanted to make sure everybody was comfortable," Daniels said. "Yu felt we had taken all the right steps and got the all the information to make a good decision. Now we can start the process of getting him back."
The 28-year-old right-hander missed the last seven weeks of the 2014 season with mild inflammation in the right elbow. Darvish, after taking time off, was cleared to begin a throwing program in November. He began his throwing program in December and came to camp at full strength.
"I was told last year it was inflammation and that's what I felt," Darvish said. "I didn't think this would happen, but maybe there was some damage and I carried it through."
Said Daniels: "Any time you get an elbow injury, until the pitcher has been on the mound for an extended period, it's always in the back of your mind it's a possibility. That said, he passed all the tests along the way. There were no indications along the way that there were any issues. That's the nature of the elbow, you don't always get a warning. Optimistically I thought he had cleared all the hurdles."
With Darvish out, Texas has two spots open in a rotation that includes Derek Holland, Colby Lewis and Yovani Gallardo. The candidates for the two vacancies include left-hander Ross Detwiler and right-handers Nick Tepesch, Nick Martinez, Lisalverto Bonilla, Anthony Ranaudo and Ross Ohlendorf. Rookie right-hander Alex Gonzalez could also push his way into the competition.
"All in all, it's shaping up," manager Jeff Banister said. "We're still working on it and I have encouraged all our players that if you are competing for a spot, show up and compete. Don't leave the ballpark without competing. Define what would be a win for you that day. I am confident that we have the skill sets and a group of men that will allow us to compete for 162 games and get us to where we need to be."
The Rangers signed Darvish to a six-year, $56 million contract that runs through the 2017 season. He will make $10 million this season, although the team will recover a portion of that through insurance.
Darvish is a three-time All-Star who is 39-25 with a 3.27 ERA in his three seasons with Texas. He was 10-7 with a 3.06 ERA in 22 starts last season. Darvish's 11.22 strikeouts per nine innings over the past three seasons is the highest ratio in the Majors during that time.
T.R. Sullivan is a reporter for MLB.com. Read his blog, Postcards from Elysian Fields, and follow him on Twitter @Sullivan_Ranger. This story was not subject to the approval of Major League Baseball or its clubs.