MLB.com Columnist
Anthony Castrovince
Position battles heat up for clubs at camp
Competitions begin to take shape as Spring Training progresses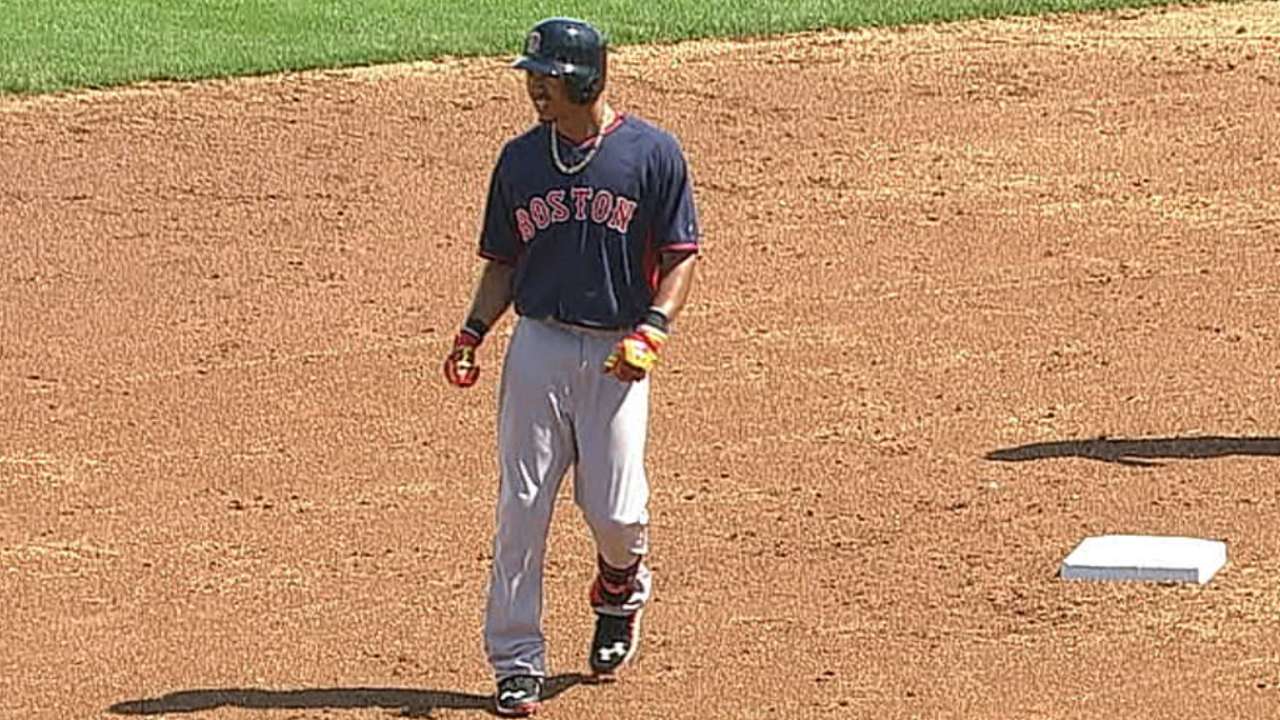 Spring is in full swing, with those initial and sometimes awkward first games out of the way and starters creeping toward more recognizable workloads. It's still way too early to make a call on any of the earnest position battles taking place in a variety of camps, but it's not too early to at least check in on a few of the more prominent ones and see how things are trending.
So that's what we're going to do.
Boston Red Sox: center field and right field
So often, the logjams we discuss at length have a way of sorting themselves out organically. The Red Sox seemingly put themselves into a bit of an outfield pickle by holding onto all but one of their outfielders (Yoenis Cespedes) this winter and adding Hanley Ramirez as a left fielder, but Rusney Castillo's left oblique injury this spring has demonstrated the benefits of that depth. A few weeks back, we thought Castillo was solidified in center and the upside-heavy Mookie Betts would have to fend off the newly healthy Shane Victorino in right field. Instead, John Farrell named Victorino his right fielder early in camp, making it a center-field competition between Castillo (who will make $10.5 million this season) and Betts, which didn't bode particularly well for Betts.
Now the injury to Castillo, who might run out of time to get sufficient spring at-bats, makes it more likely Betts will be Boston's Opening Day center fielder and leadoff man. Betts has looked quite comfortable thus far this spring, going 6-for-15 with a pair of extra-base hits.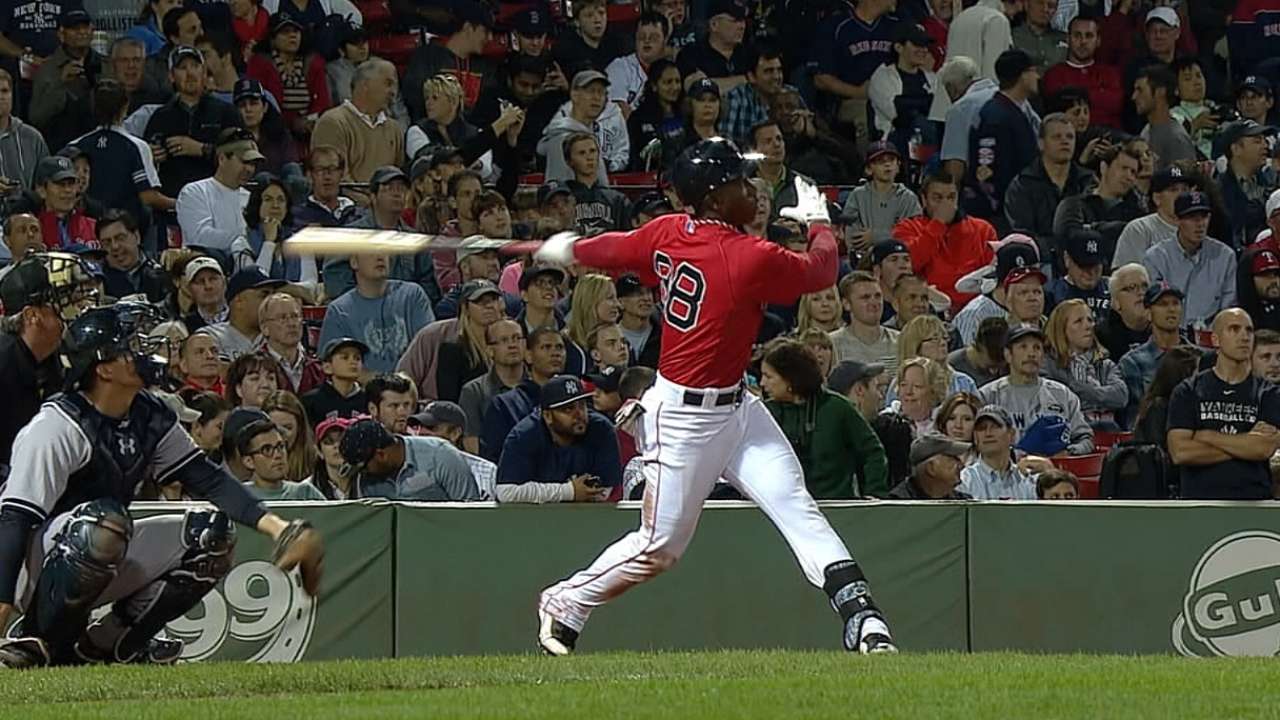 "He seems to put the bat on the ball and he doesn't really miss too many pitches," teammate Joe Kelly said. "Watching him day in, day out against all different types of pitchers, starters, relievers, it's pretty impressive."
Lost in all of this -- still -- is Allen Craig, who, just one full season removed from being a focal point on the Cardinals' National League championship offense, appears bound for scrap at-bats (mostly at first base, behind Mike Napoli) for the Red Sox, barring a spring trade. The foot issue that hampered Craig last year appears to be behind him, and Farrell told reporters that Craig's bat speed has improved. Keep an eye on him.
Chicago Cubs: second base and third base
We all understand that giving Kris Bryant an Opening Day roster spot could wind up hurting the Cubs in the long run, given the service time and arbitration implications. If the Cubs wait just two weeks into the regular season to promote Bryant from Triple-A Iowa, they can ensure contractual control of him for the next seven years, instead of six. So while Bryant has demonstrated his enticing power stroke early in the Cactus League season (he went deep for the third and fourth times Thursday), it would not be a surprise if the Cubs have Mike Olt handle the hot corner until it makes sense to bring up Bryant. That said, Bryant isn't making that plan any easier with his Cactus clout.
Second base, meanwhile, is a fascinating battle, and the battle is between Javier Baez and himself. The plate discipline issues that pervaded Baez's big league debut last year and in winter ball continued in Arizona, where he had four strikeouts in his first 11 at-bats. Manager Joe Maddon told reporters this week that he wants to see Baez relax.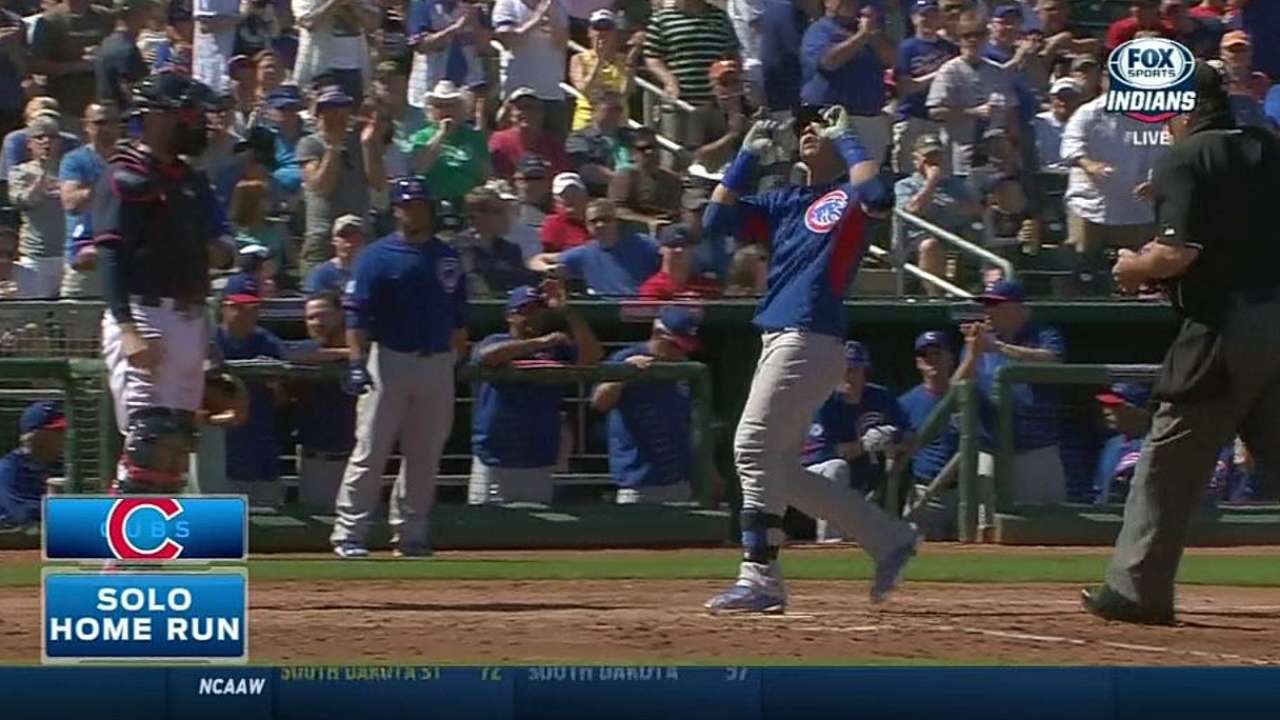 "He's thinking too much," Maddon said earlier this week. "He's getting a lot of information from all of us. I think sometimes it's our fault. I want us to leave him alone and let him play."
Maddon continues to call Baez a "very, very strong candidate" to start at second, but he's still just a candidate, not a lock. Given Baez's strikeout struggles, the Cubs might opt to give him more Triple-A seasoning and use Arismendy Alcantara and/or Tommy La Stella at second. It will be a tough call for the Cubbies.
Seattle Mariners: shortstop
It's Brad Miller vs. Chris Taylor, two guys with boring names but an intriguing opportunity on what figures to be a true contender.
Conceivably, the two could wind up sharing the position, but the Mariners seem intent on giving it to one or the other and using veteran Willie Bloomquist as a backup. Miller has more pop, Taylor more range. Or at least, that's the reputation in play. Taylor has actually shown some early power in the Cactus League. He ripped a triple and smacked a homer in one game last week, but even manager Lloyd McClendon cautioned us not to get "carried away" with reading much into that. Given their overall makeup after some winter improvements to the offense, it would not be a surprise to see Seattle prioritize defense with this spot, and that would benefit Taylor, who is hoping to seal this spot by demonstrating plate improvements.
"I feel really comfortable out there," Taylor said recently. "I keep saying, last spring was really eye-opening. I think I pressed a little bit. I'm comfortable in here now. I got that experience under my belt, got my feet wet, so now it's just about going in there and playing my game and just trying to stay comfortable."
Miller, though, has lived up to his pop reputation early on with two homers and two doubles through five games. So stay tuned.
St. Louis Cardinals: fifth starter
The Cards, unfortunately, have a history of spring injuries to prominent starters, but so far this year, they've survived a scare when Adam Wainwright's abdominal situation turned out not to be serious and Lance Lynn's hip flexor strain is, for now, merely a minor concern.
So the big intrigue remains in the back end of the rotation, where Carlos Martinez, Marco Gonzales and oft-injured veteran Jaime Garcia are vying for a single spot.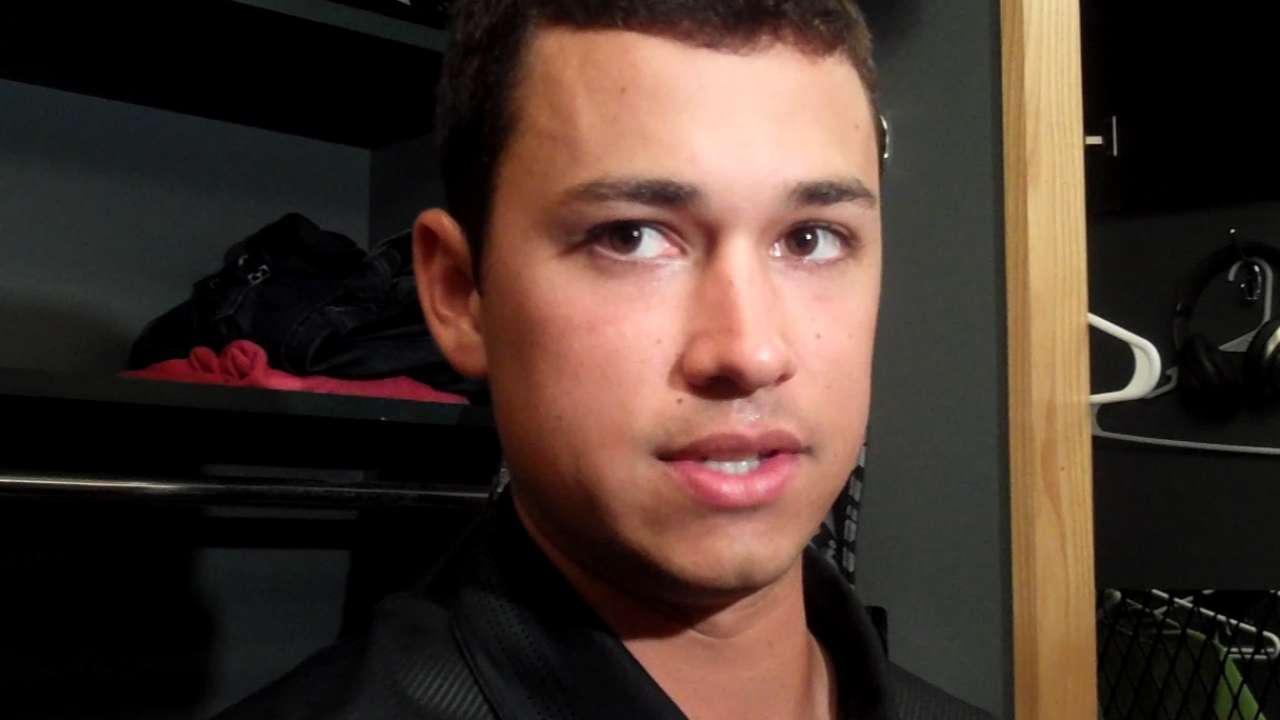 Martinez has always been viewed as having the inside edge on the No. 5 slot, and he's done nothing, to date, to harm that standing. He allowed a run on three hits in 2 2/3 innings against the Astros on Tuesday, trying to harness a fastball that was all over the zone, but his stuff is so electric and St. Louis would like to see how it translates to a full-time starting role.
Gonzales was very impressive against the Braves on Wednesday and likewise Garcia against the Orioles on Thursday, but manager Mike Matheny is "just letting them pitch right now, letting them compete" before having any concrete discussions.
What must be noted, though, is that Garcia is due to make $9.5 million this year, a figure that has to factor into the discussion in some measure. If Garcia stays as healthy and effective as he's been thus far this spring, he can really make this a really tough one for the Cardinals.
Chicago White Sox: second base
The moves were far less sexy than some others made by the Sox this winter, but Emilio Bonifacio was brought aboard and Gordon Beckham was brought back. Though it's conceivable that either guy could end up seeing the bulk of time at second base this season, the Sox are a better team if those guys are roving around a variety of spots off the bench. The competition here more likely comes down to Micah Johnson, who MLBPipeline.com ranks as the club's No. 5 prospect, and Carlos Sanchez, who ranks 10th.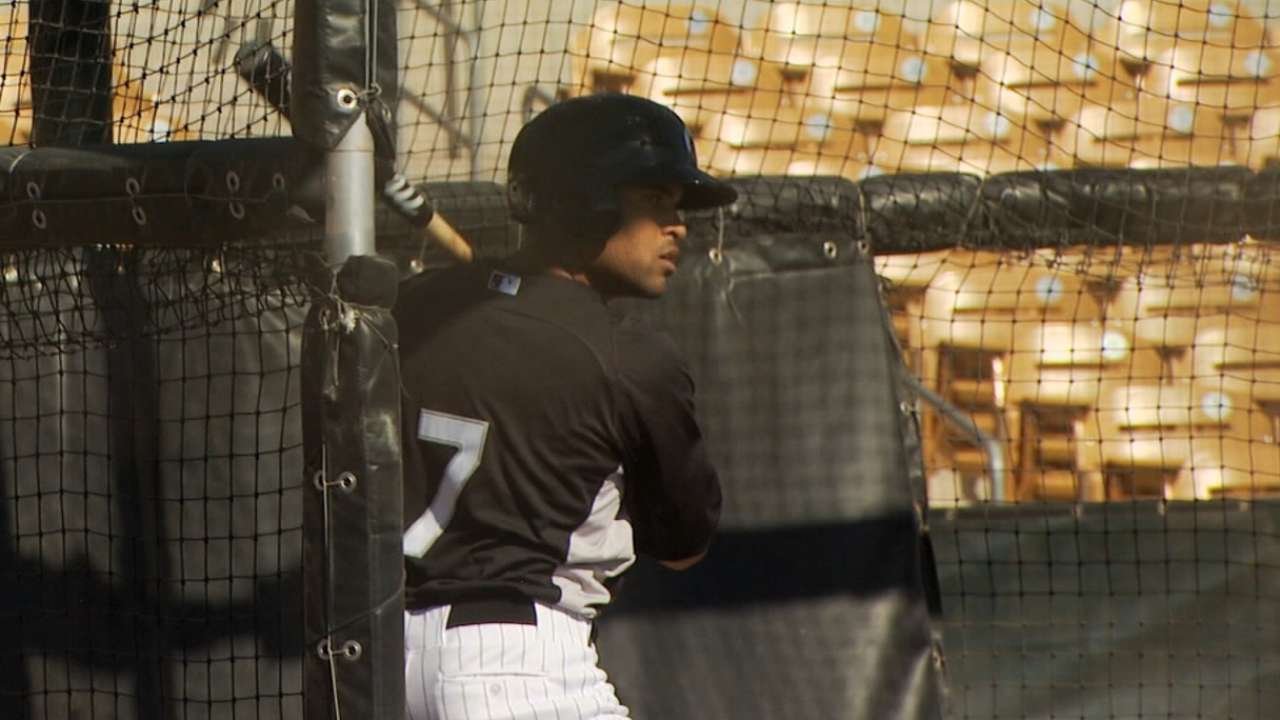 Again, it's too early to make a call (and manager Robin Ventura has said this could come down to the final week), but the Sox have to be encouraged by the speedy Johnson's early play. Through eight spring games, he has gone 7-for-18 with a homer, a double and a triple. He does, however, still have to make strides on the defensive side, where Sanchez rates as the superior of the two. Johnson has demonstrated a dedication to making himself a better defender.
"You guys think it's a competition, but really we just feed off each other," Johnson said. "It's not a competition where we don't like each other. Everyone is a tremendous player in this locker room. I think [White Sox general manager Rick Hahn] and [executive vice president Ken Williams] have proven that they keep the good players around."
Anthony Castrovince is a reporter for MLB.com. Read his columns and follow him on Twitter at @Castrovince. This story was not subject to the approval of Major League Baseball or its clubs.