10 best moments from Ferrell's 10-team extravaganza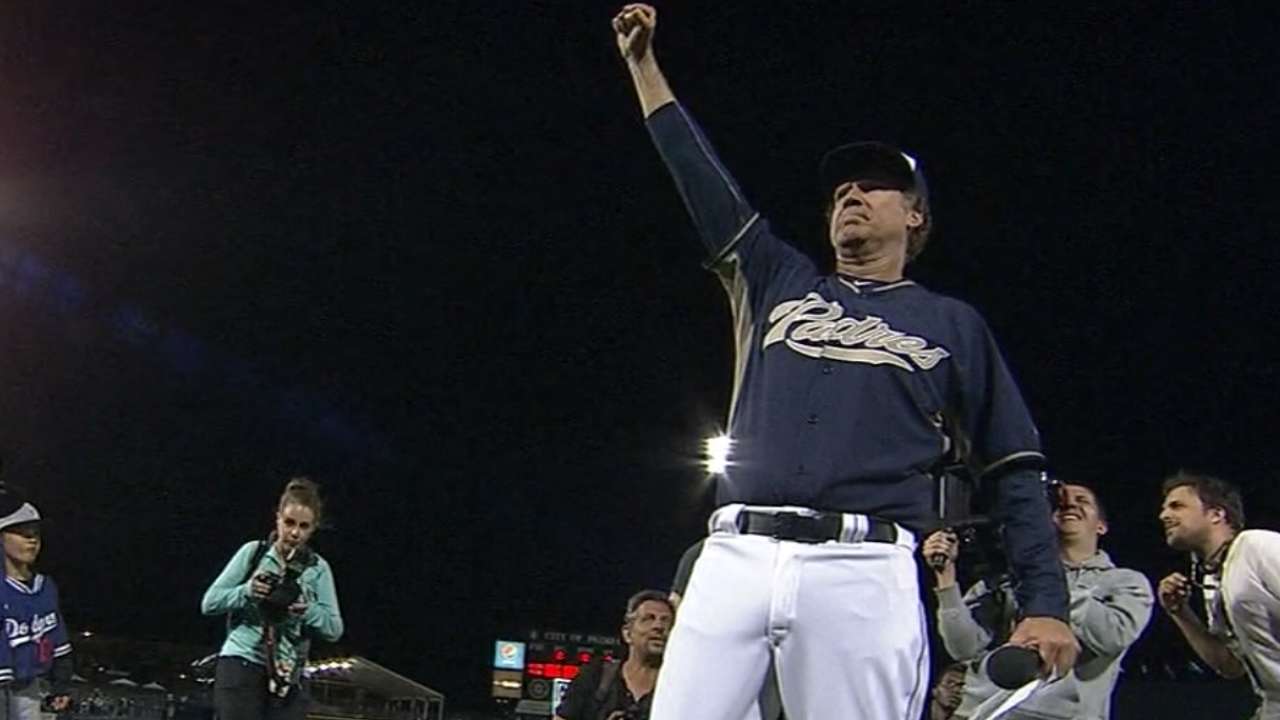 Will Ferrell's baseball career may have hit its peak some 30 years ago when he was in high school, but let's be honest -- the guy still has some skills on the field.
Sure, his swing isn't as compact as maybe it once was, and his throws don't exactly zip with crispness. But Ferrell can do the little things that make a difference. He hits the cutoff man. He runs as if he really wants to be fast. And shagging lazy fly balls on a completely windless, cloudy day with absolutely no distractions within 200 feet on either side of him? Well, we have to say, there's no one better.
Ferrell's 10-team, five-ballpark, nine-position excursion lasted about 15 hours on Thursday and included dozens of hilarious and memorable moments, more than we can count. Narrowing it down to 10 is no easy task. Here's what we picked, in rough order of entertainment value:
• Coaching third base
Talk about having to mix up the signs. As the newly appointed coach for the Cubs, Ferrell had to learn the team's signs on the fly -- or, more accurately, just bring his own. Oh, Ferrell had signs. Lots of them, printed out on large white boards for him to flash to the hitters as they stepped to the plate.
Not sure they helped with game strategy, but they did get the point across.
Sample signs: "Did you sleep well last night?" "Swing as hard as you can." "Don't steal."
To Kris Bryant: "Remember, these games don't count." (True, unless you're Kris Bryant.) To Welington Castillo: "You are sooooo handsome." (That got a thumbs-up from the Cubs catcher.)
Ferrell didn't exactly follow the coaching protocol to the letter, but he looked every bit the professional with a high-five for Jorge Soler as he rounded the bases after hitting a home run. There was even a quick butt slap, too.
• Feeling shifty
Very funny, Mike Scioscia.
Ferrell's final act at the Angels' ballpark was taking his first at-bat of the day, batting for the Cubs. As soon as he took a couple of practice hacks, Ferrell looked up to see the entire Angels infield had shifted to the right side, lining up between first and second.
Did we mention Ferrell is a right-handed hitter?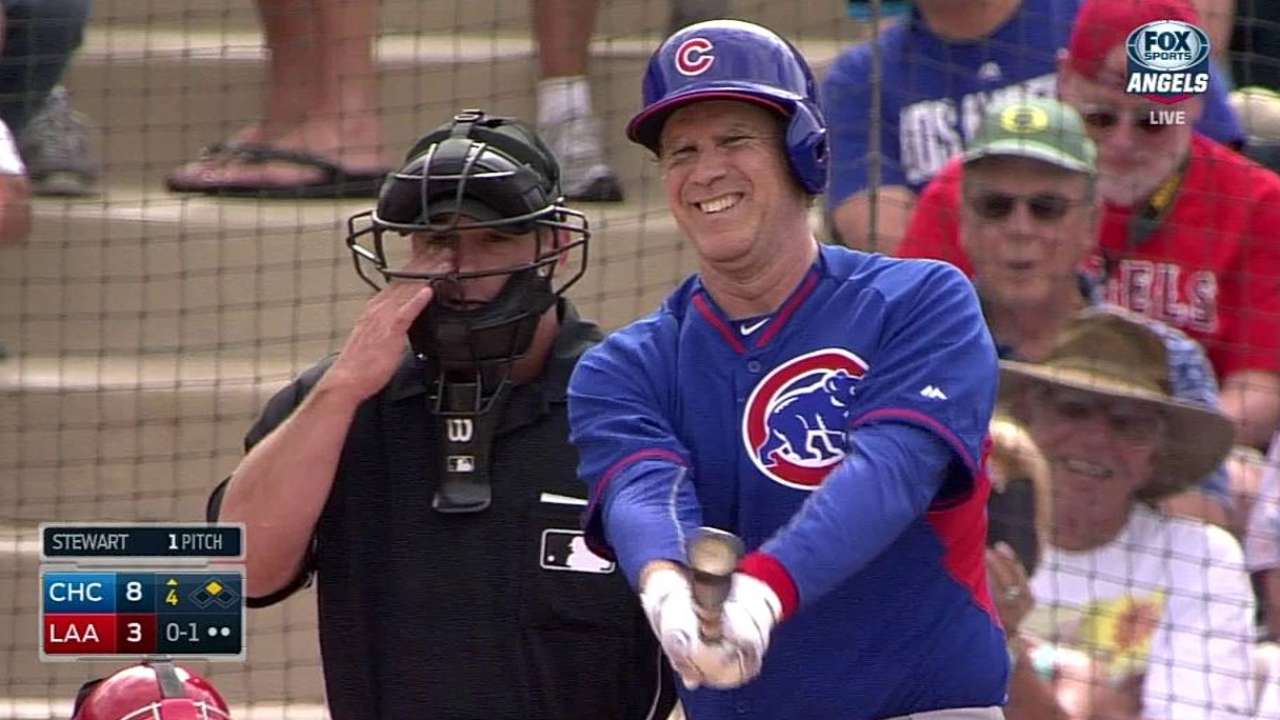 • Ferrell arrives at White Sox-Giants game in helicopter
Reminding us that he's kind of a big deal, Ferrell skipped the hour drive from Salt River Fields to Glendale and just traveled by helicopter. He lifted off from a backfield at the D-backs' facility and ended up in center field at Camelback Ranch, just as the Giants and White Sox were wrapping up. With "Don't Fear the Reaper" blaring on the loudspeaker, Ferrell hopped out of the 'copter in full White Sox gear and headed to the dugout to take his hacks as the team's newly acquired DH.
"I mean, it's like he's the president or something," White Sox outfielder Trayce Thompson said. "For an actor to have that much power is pretty incredible. It was funny."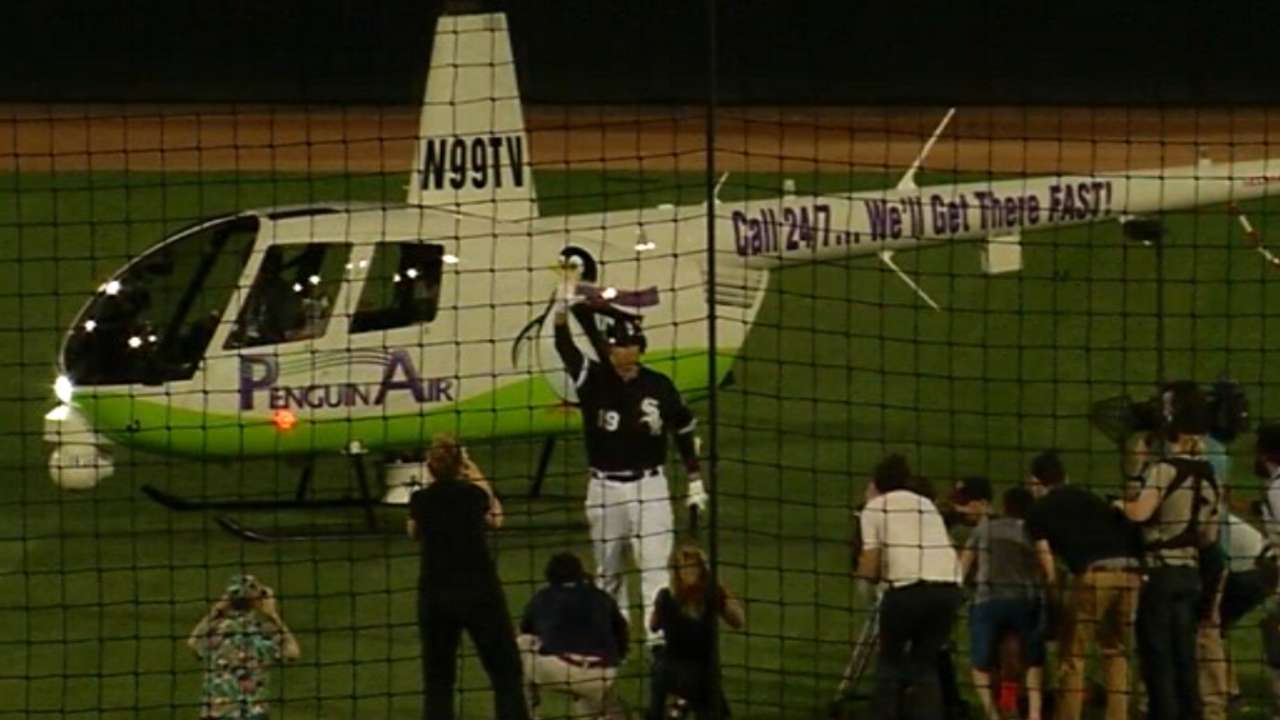 • Ferrell enters Angels game as defensive replacement
There's no sabermetric data to back this up, but trust us -- Ferrell replacing Mike Trout in center field will probably never happen again. This was a once-in-a-lifetime happenstance, where the best player in baseball was shooed off the field by the oldest non-prospect in history. Ferrell, of course, ran out to field his position sans hat and glove, so he had to borrow Trout's.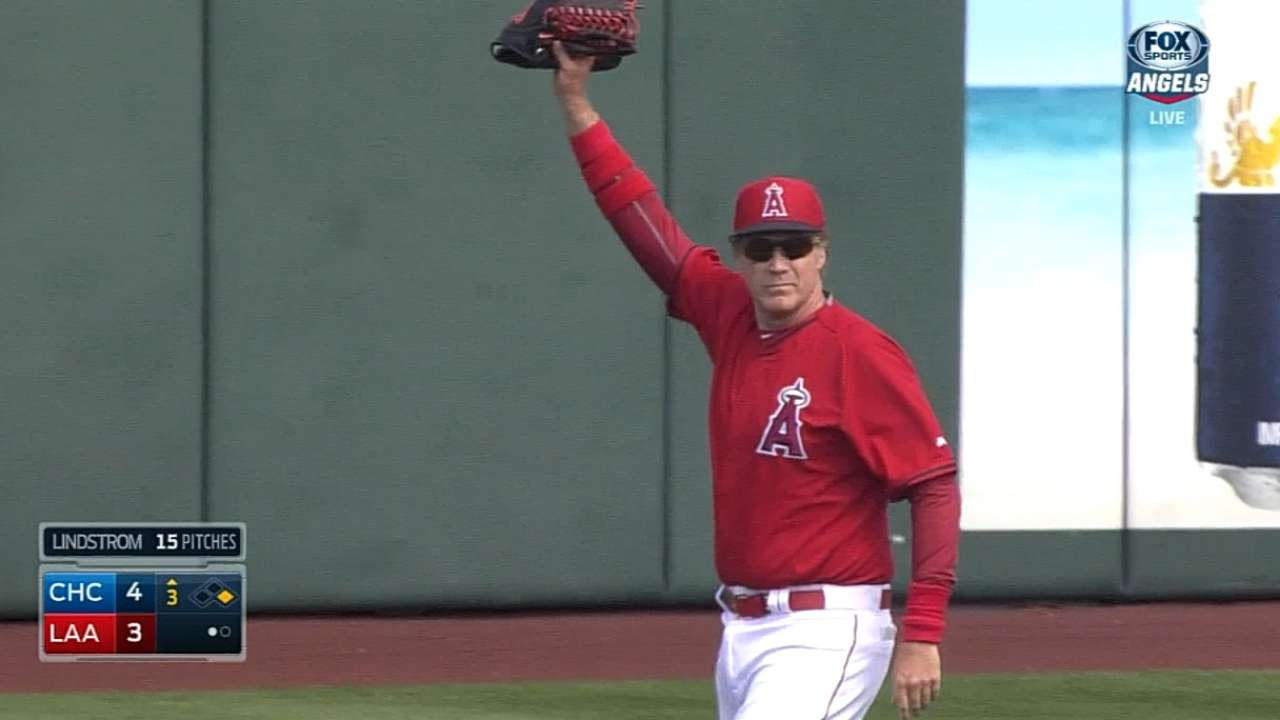 • Recording a real-live out
Maybe it was because he had been playing all day and any jitters were shaken off eight, 10, 12 hours earlier. But by the time Ferrell arrived to his final destination -- a National League West showdown between the Padres and Dodgers -- he looked, dare we say, comfortable?
Ferrell's career ERA remains a very respectable 0.00, thanks to his retiring the only batter he faced. As a bonus, he also recorded his first career assist, fielding a perfectly coincidental bunt, in no way orchestrated ahead of time, and throwing to first for the out.
The crowd was elated. The players were amused. Dodgers manager Don Mattingly was ... in the mood to make a pitching change, apparently. Despite Ferrell putting on his best mad face, the skipper wasn't to be swayed. But look at it this way: Ferrell left at the top of his game, knowing he left it all out on the field.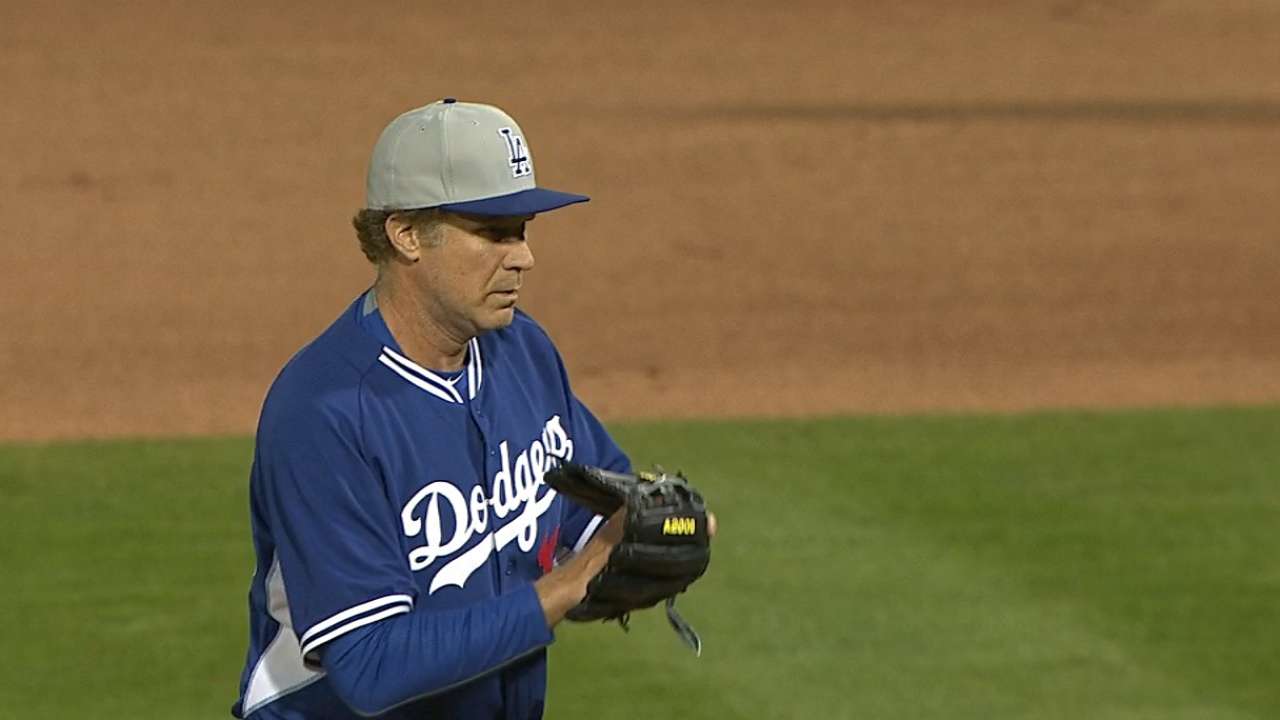 • Meeting Bert Campaneris
The day began in the early morning hours at A's camp, where Ferrell met with "Campy," the first player to play all nine positions in a single game. The anniversary of that game is coming up -- Sept. 8, 1965 -- and while Ferrell was going about it in a different way, it wasn't a coincidence that he wanted to begin his adventure with Oakland. Campaneris and Ferrell sat in the stands and chatted about what Ferrell should expect, and, in a nutshell, Campy advised Ferrell to keep his eye on the ball.
They also veered off course at times: "I like Alfredo sauce," Ferrell said to Campaneris, who nodded with approval.
"He's a funny guy," Campaneris said. "I felt so comfortable talking with him."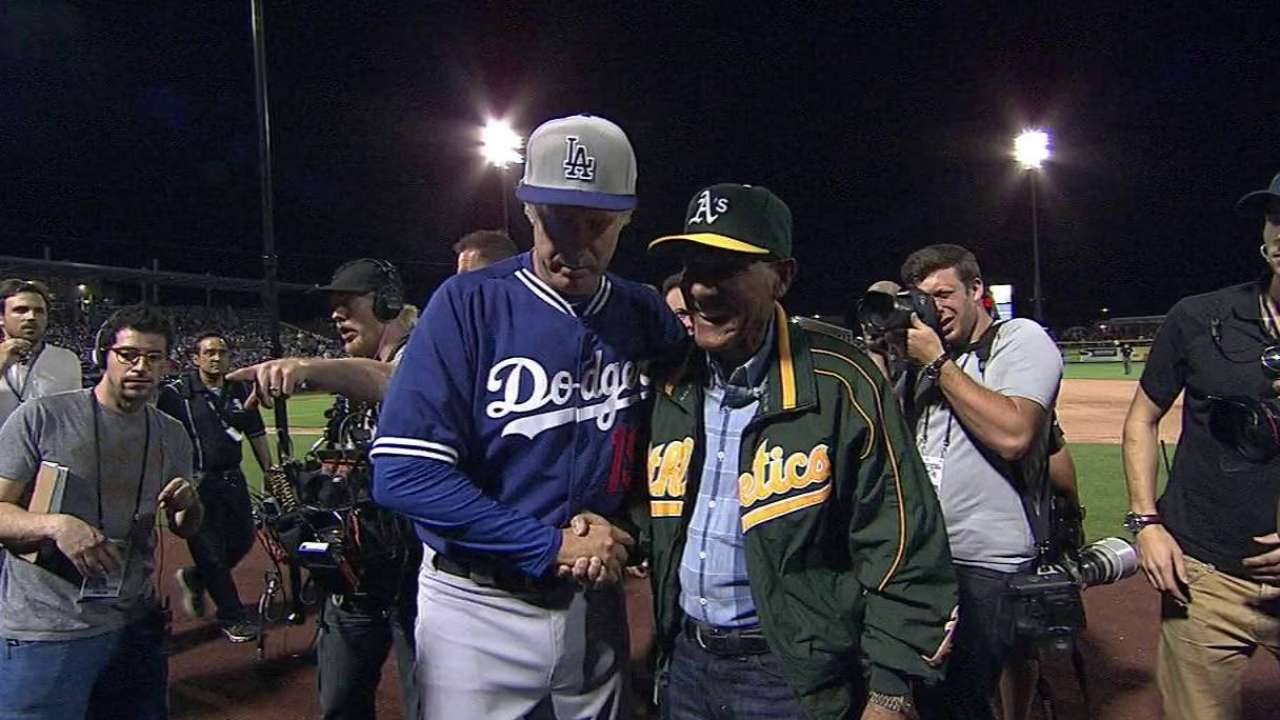 • Making contact
Ferrell struck out in his Cubs debut (and farewell), but he did make contact, once. Pinch-hitting for the White Sox in the bottom of the ninth against Giants reliever Jean Machi, Ferrell fouled off a 92 mph fastball before, well, striking out.
But hey, there was some bat-touching-ball action, and that means something.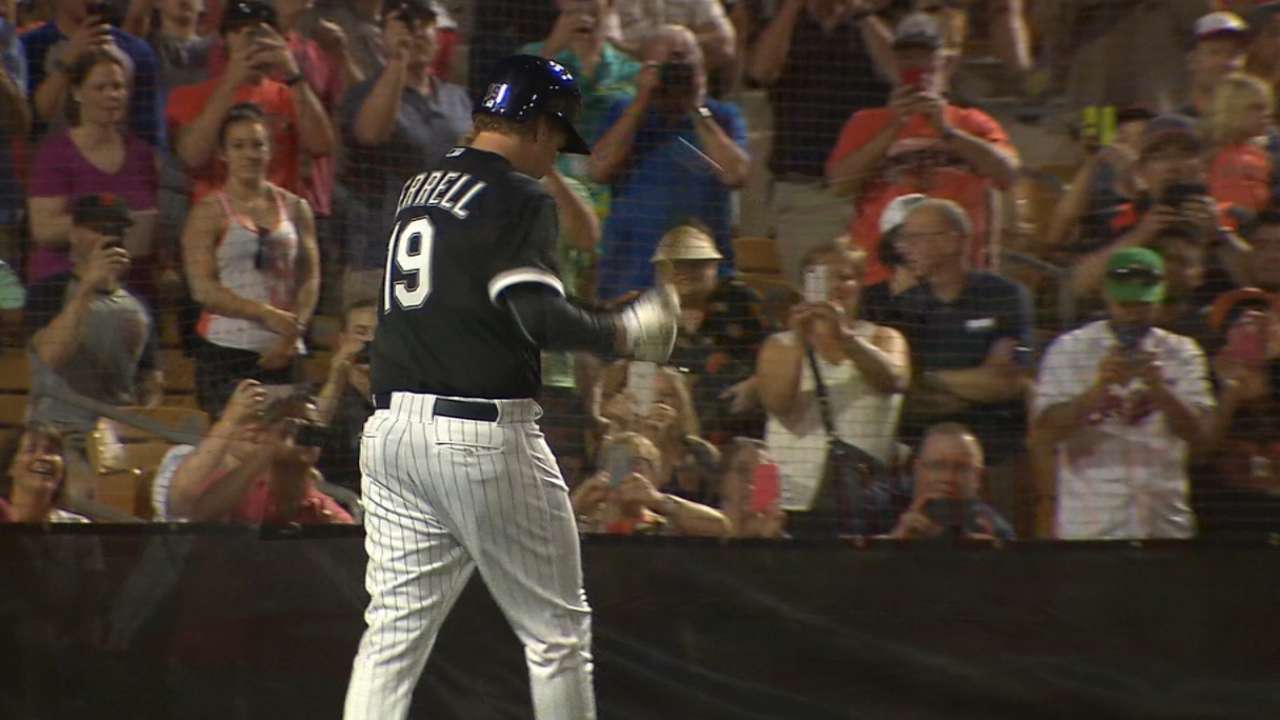 • Hot dogs on the house
Ferrell isn't just charming, self-effacing and completely unfiltered. He's also generous, as evidenced by his purchase of 200 hot dogs for an entire section at Salt River Fields. You know the old saying -- if you can't win a crowd over by your mad baseball skills, just buy its affection through the magic of free steamin' weenies.
• Reds ran, and ran, and ran some more
Apparently, Cincinnati didn't get the memo -- don't hit it to the old guy in left. Instead, the merry-go-round of Reds hitters seemed to be aiming for Ferrell, who fielded hit after hit in left during his brief, but unforgettable, tenure as the D-backs left fielder.
"All of a sudden, I see Will Ferrell coming up throwing and I had slight thought go through mind -- 'I am not going to get thrown out at second base, by Will Ferrell,'" said Reds catcher Kyle Skipworth.
To his credit, Ferrell cut to every ball, hit the cutoff man and, in general, kept the game moving.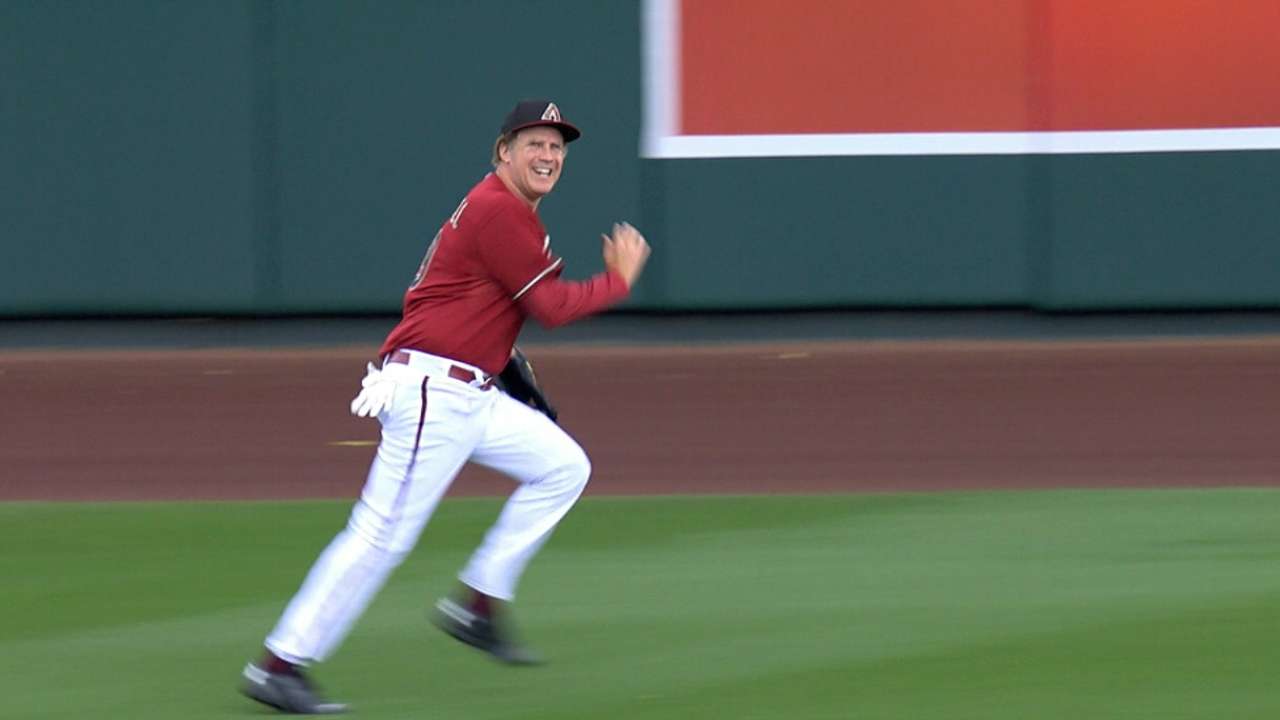 • The speech
Five games, 10 teams, one speech. Ferrell addressed the crowd after the Dodgers-Padres game in Peoria -- the final contest of the night -- thanking all who participated, watched, played along and helped make it a successful -- and charitable -- venture.
"When I embarked on this journey, way back at breakfast," Ferrell began, "I thought to myself, 'Can I do it?' The answer was yes."
Then he surveyed the crowd.
"Show of hands for those people here who have no idea who I am," Ferrell said. Scanning the stands, he said, "Wow. More than I thought. That's like half the stadium."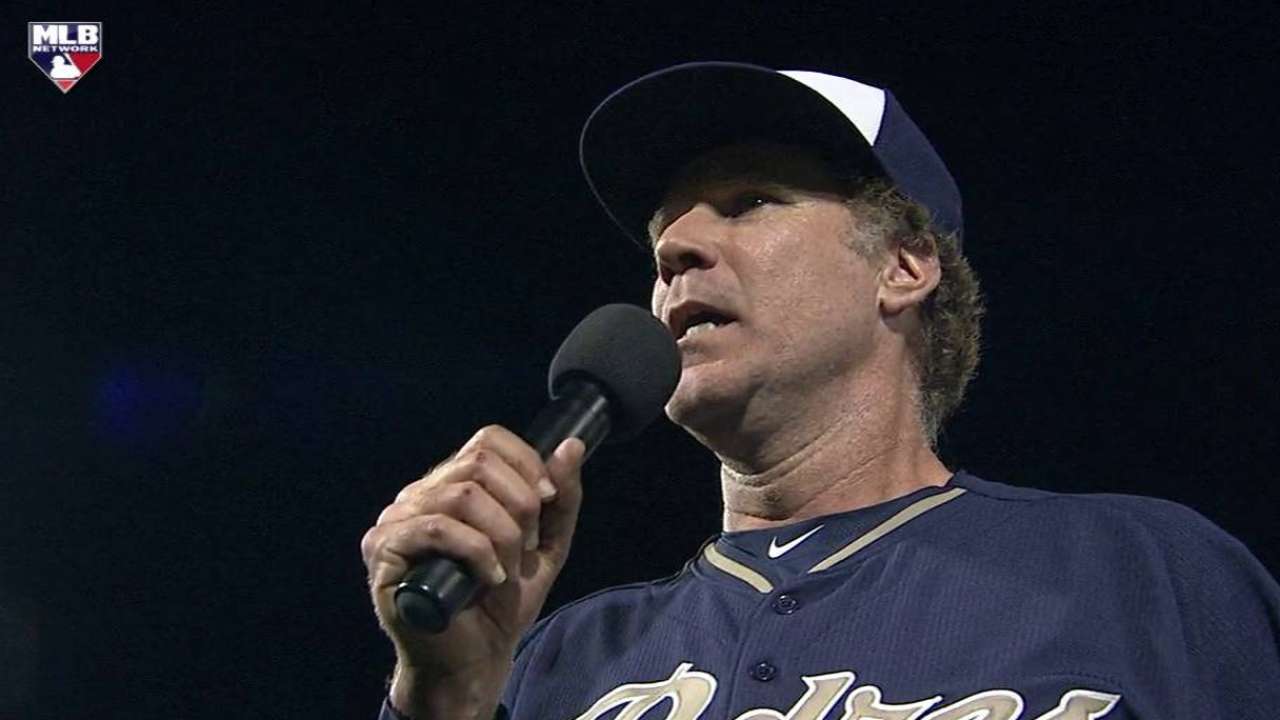 As chants of "MVP! MVP!" emerged from the stands, Ferrell again thanked everyone involved and mentioned the funds that will go toward Cancer for College, a program that awards scholarships to people battling cancer. To date, more than 2,000 students have received scholarships, and the charity has raised more than $2 million. That total is about to increase exponentially, thanks to Ferrell sending any payment he would receive for this soon-to-be HBO/Funny or Die documentary directly to Cancer for College.
"I'll never forget what happened today," Ferrell said. "Unless I get hit by a line drive."
Alyson Footer is a national correspondent for MLB.com. Follow her on Twitter @alysonfooter. This story was not subject to the approval of Major League Baseball or its clubs.