Ferrell's scouting report: Talent evaluators weigh in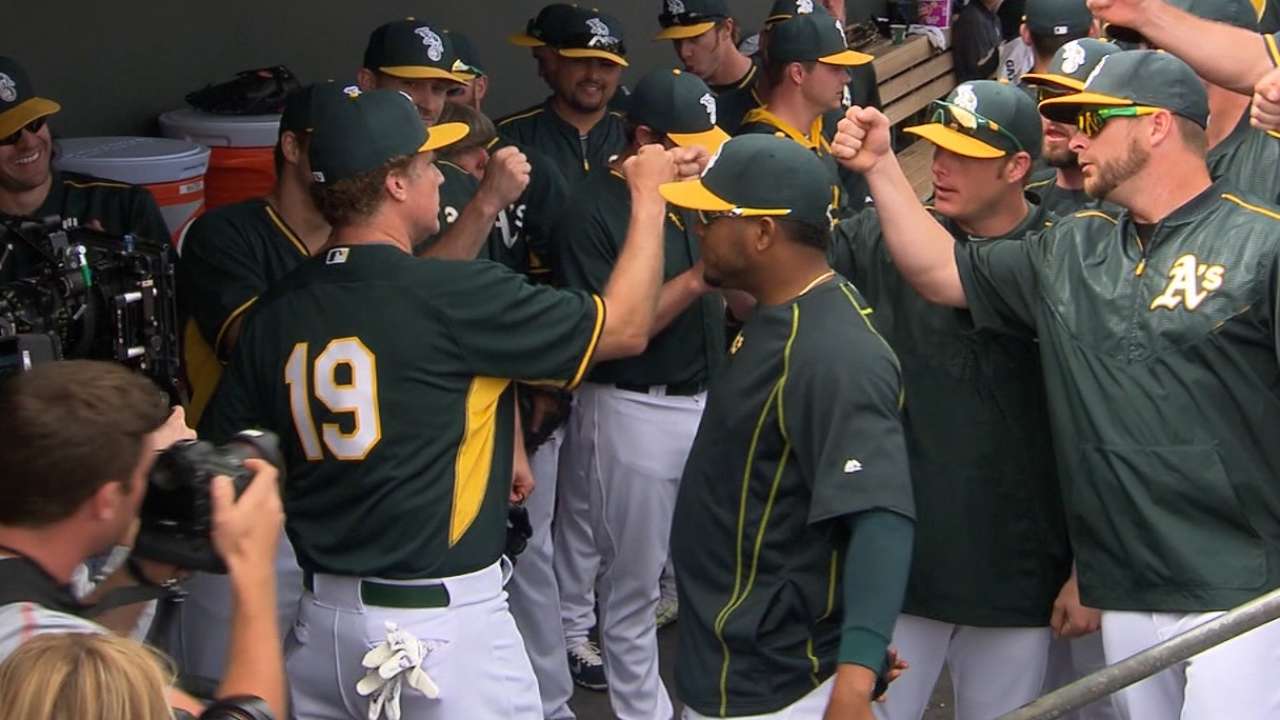 PHOENIX -- As far as highly rated baseball prospects go, Will Ferrell is kind of a big deal. People know him.
And no one knows his baseball talents better than the Major League scouts, who had a front-row seat for his cameo on Thursday. Those scouts kept a sharp eye on the toolsy 47-year-old, as he played 10 positions for 10 different teams across a slate of five Cactus League games in Arizona.
MLB.com talked to a scout at all five of Ferrell's games on Thursday, as well as several other trustworthy talent evaluators. The reviews on his skill set were mixed.
"Do whatever it takes to get him," quipped D-backs scout Brad Kelley. "This guy's got pop, versatility and he can put us over the top. He gives the manager a ton of options."
One scout at the Cubs-Angels game went so far as to write out a scouting report on Ferrell. Some aspects were positive, but that scout -- tongue firmly in cheek -- had serious questions about Ferrell's loyalty.
"He only wore a Halo for one-half of an inning," the scout wrote. "Front-runner. Jumped ship as soon as Angels trailed."
Ferrell, dubbed a "seven-tool prospect" by Mariners general manager Jack Zduriencik, went 0-for-2 on the day (with a foul ball off Giants reliever Jean Machi). He posted an ERA of 0.00 after getting the Padres' Rico Noel to bunt back to the mound.
Ferrell also didn't commit any errors, but that doesn't mean every team was pleased with his defense. The routes he took on three balls hit to left field did nothing to help the ERA of D-backs righty J.C. Ramirez.
"Who is the scout that signed this guy?" D-backs chief baseball officer Tony La Russa said in a club statement. "We should release him, too."
Here's a full scouting report on the 10-team, 10-position phenom. Grades were given by actual scouts, ranging on the scouting scale from 20-80, with 50 being average.
ARM
Ferrell's accuracy was probably his best attribute Friday. (But we already knew that, didn't we? We've all seen that epic snowball-fight scene in "Elf".)
His first involvement in game action came while he was playing for the Angels. Cubs catcher Welington Castillo hit a liner up the middle to Ferrell in center field. An accurate -- albeit short-hopped -- throw to the cutoff man held Castillo at first.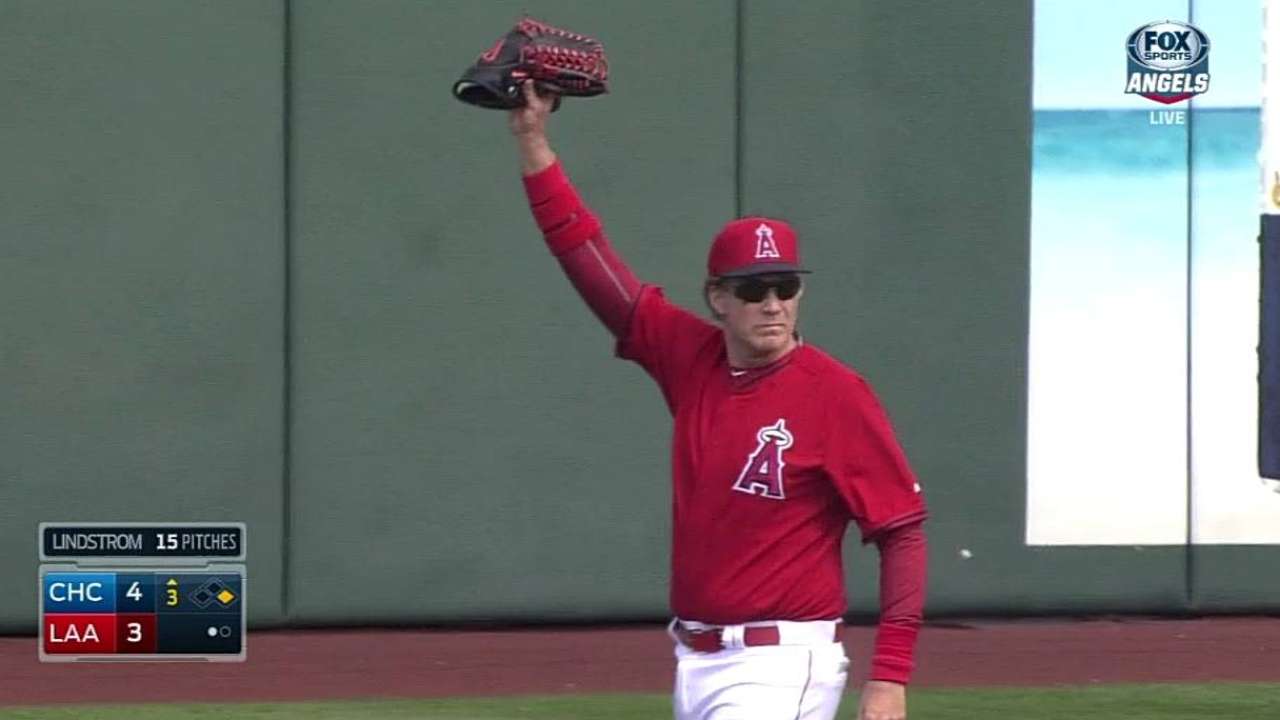 One Angels scout, however, wasn't especially impressed. The throw was solid, he said, but Ferrell's angle to the ball was not.
"He's got an accurate arm," the scout said. "But apparently he comes from the school of, 'Let the ball stop rolling, then I'll pick it up and hit the cutoff man.'"
A's legend Bert Campaneris -- the first player to play all nine positions in a game, and the inspiration for Ferrell's exploits -- played catch with Ferrell in Mesa when the day began.
"He's got a good arm," Campaneris said. "The ball came out nice and easy."
SCOUT'S GRADE: "30, because it was accurate"
DEFENSE
Scouts and talent evaluators weren't quite as sold on Ferrell's defense as they were on his arm.
"Defensive positioning is very important," said one scout during the Angels-Cubs game in Tempe. "Because if he loses another half-step, he'll have no range at all."
Ferrell made what was probably his best defensive play of the day in that game, ranging to his left on Castillo's single.
Though he didn't make any glaring errors while playing for the D-backs, Ferrell played a would-be double into a triple, a would-be single into a double and a would-be fly-ball out into a bloop single.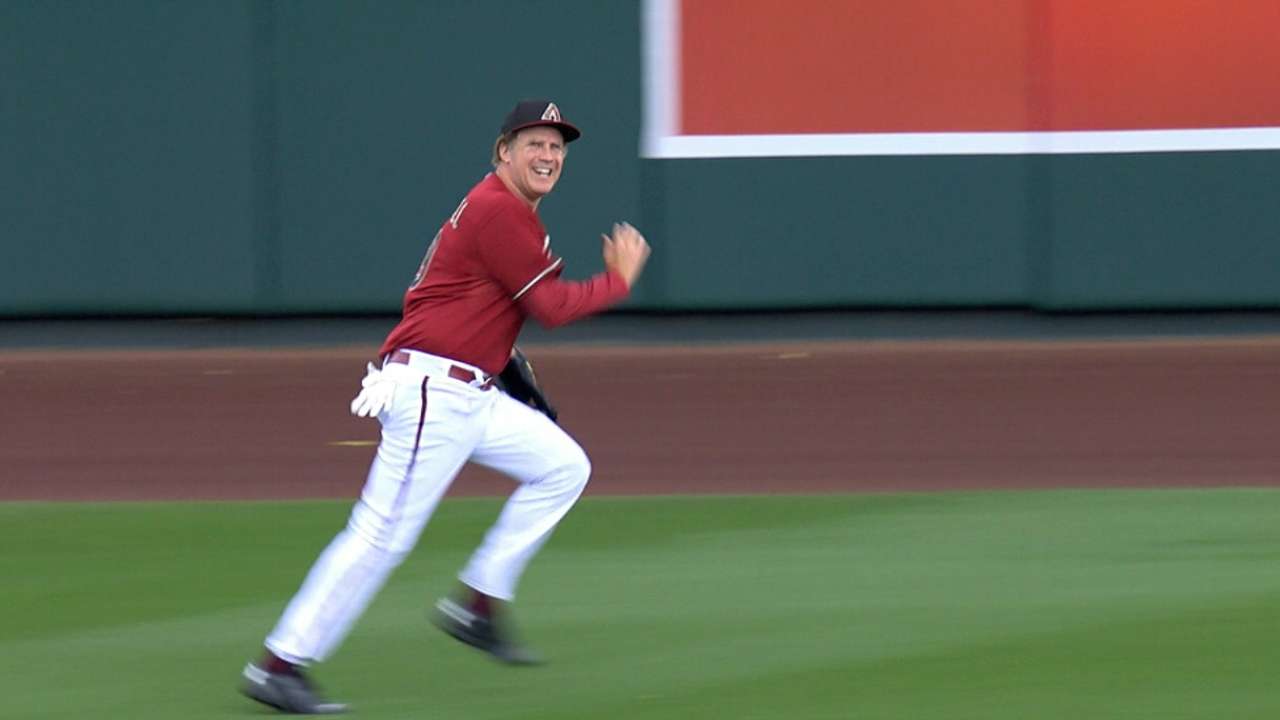 "I thought his defensive positioning was terrible," said Reds broadcaster and former pitcher Jeff Brantley. "He was playing right on the warning track, which I thought was a tough spot for J.C. Ramirez. His arm was adequate, he charged well, it just took him a long time to actually charge the ball."
SCOUT'S GRADE: 20
SPEED
Ferrell's wheels were the first item on the agenda of Zduriencik. The Mariners' general manager -- who has a background in scouting, by the way -- liked Ferrell's potential on film.
"In 'Talladega Nights,' when he ran up the race track, you saw quickness, great agility and someone who fears nobody," Zduriencik said.
Ferrell never reached base, but he did get to showcase his speed while in the outfield. Playing against the Reds in Scottsdale, Ferrell had to sprint back to the wall on an Ivan De Jesus triple, and he had to break in on a Brian O'Grady popup.
"He had a good quick first step," Brantley said. "There wasn't a whole lot after that."
Rickey Henderson, the greatest basestealer in the sport's history, wryly said he thinks Ferrell has the body of a basestealer. He just needs to learn the craft. What exactly does Ferrell need to learn?
"Count to three, put your head down, go," was Henderson's advice.
SCOUT'S GRADE: 20
HITTING
Ferrell's debut at-bat came in Tempe in a Cubs uniform, where he pinch-hit for Matt Szczur -- a move that wasn't originally planned.
Ferrell took two upper-80s fastballs from the Angels' Zach Stewart before swinging and missing at a 90-mph heater for strike three.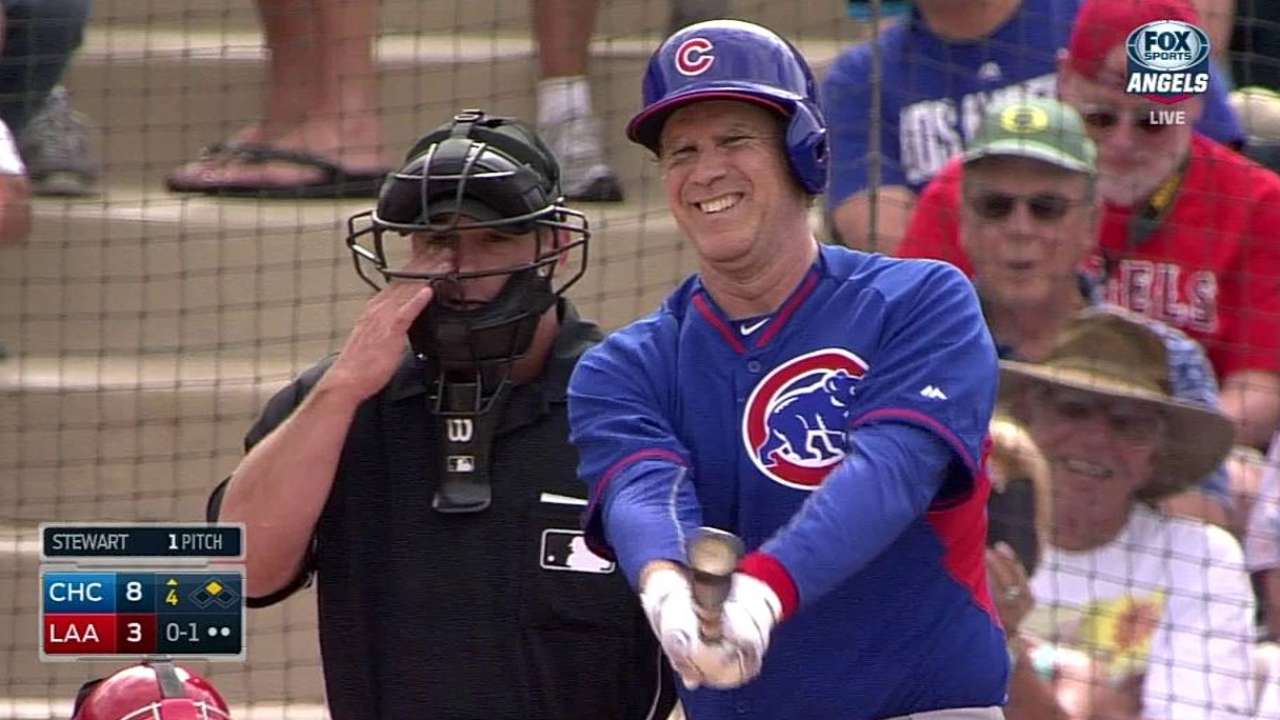 How did that swing look? A bit too slow for one scout's liking.
"You could time it with a stopwatch, that swing," one scout said. "But, to be fair, he did get beat by an average Major League fastball."
Another scout, who watched Ferrell strike out in Glendale, called Ferrell's swing "worse than a rusty gate."
SCOUT'S GRADE: 20
HITTING FOR POWER
Kelley, who watched Ferrell take batting practice in Mesa, thought the swing might be able to play.
"He's a power-hitting utility guy who's got a nice swing," he said. "You aren't going to find many like him."
Well, safe to say, his swing didn't play very well. He was well behind on every fastball he saw. The scout in Glendale called the swing "a little too long" -- in the same way Bob Uecker called Ricky Vaughn's fastball "just a bit outside."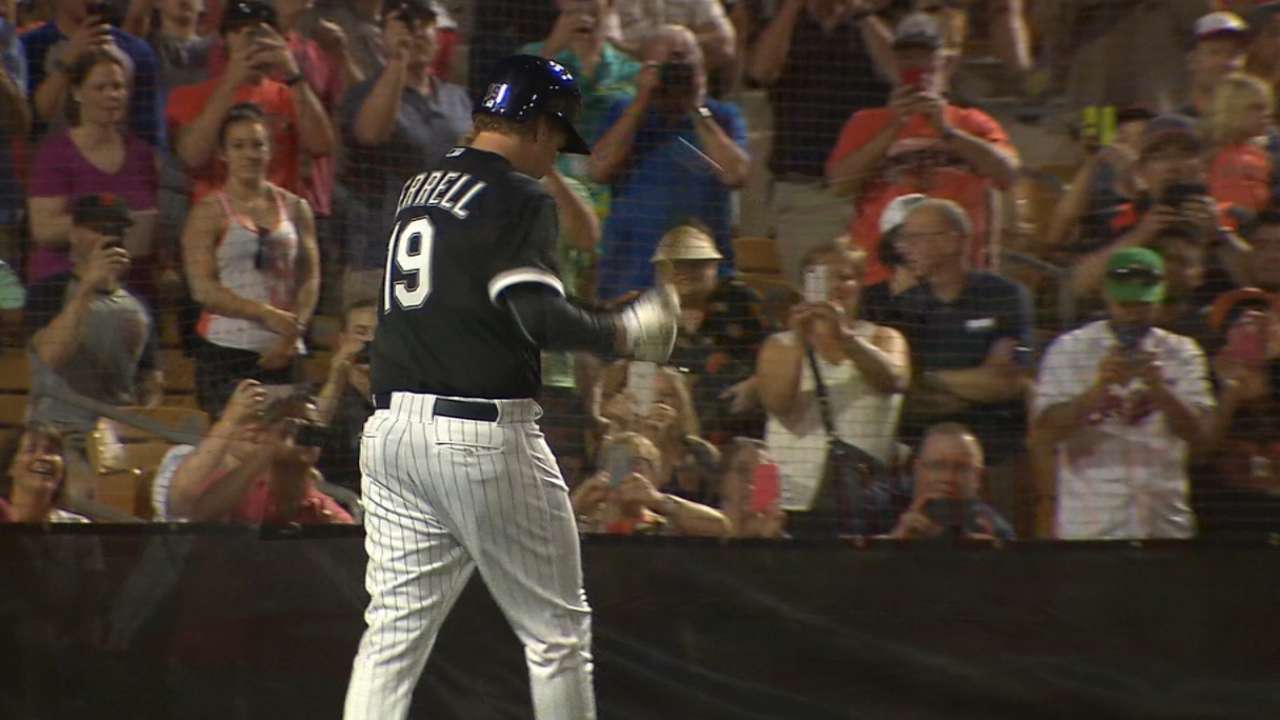 "I saw where the defense was playing," the scout said of the relatively drawn-in infield. "They probably were playing too deep."
SCOUT'S GRADE: "Below 20, probably a zero"
PITCHING
Ferrell threw one pitch, which hit 55 mph on the gun. He may not bring the heat, but he got Noel to bounce back to the mound. (OK, OK, it was a bunt. Still, Ferrell's ERA this spring is 0.00. That's better than Clayton Kershaw. And that was enough to impress the scouts in Peoria.)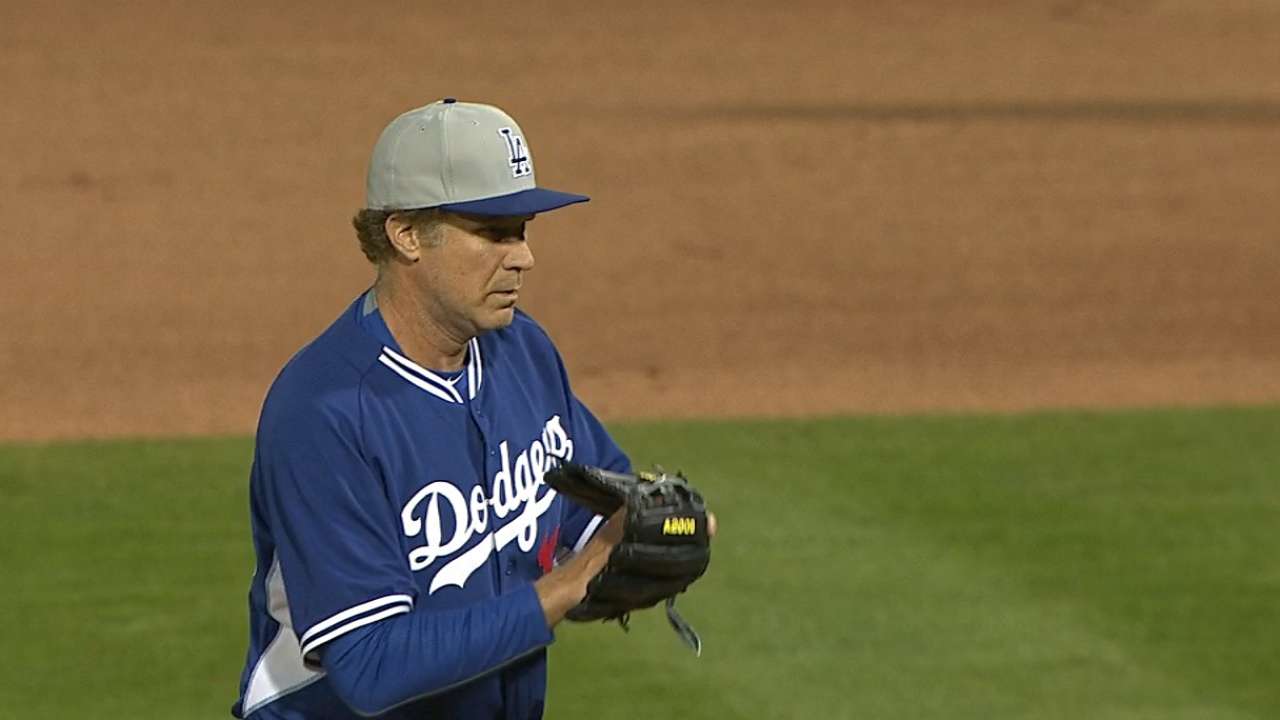 "You know what, he actually showed some serious coordination and balance out there," the scout said.
Kelley went one step further, calling Ferrell "the next Sidd Finch, except he's real." Finch was a fictional character made up as an April Fool's Day prank in 1985. He was said to be a prospect with a 168-mph fastball and pinpoint control.
Padres manager Bud Black -- a big leaguer for 15 years and a pitching coach for five years -- knows a good pitcher when he sees one.
"Ferrell's tough on lefties," Black said. "That's what we were told early on, that we had to send a right-handed bat up there because his assortment of offspeed pitches is very tough on the left-handed hitter."
SCOUT'S GRADE: 50
MAKEUP
Does Ferrell have the mental makeup to succeed in the big leagues? You bet, says one scout.
"He's a good teammate -- a top-step guy, cheering on his teammates," the scouting report from the Tempe scout read. "But sometimes it looks like he would be more comfortable with pom poms."
Sure, Ferrell probably was more comfortable toting pom poms and wearing a cheerleader outfit on Saturday Night Live than he was dealing with the sun field at Tempe Diablo Stadium.
Another scout appreciated Ferrell's talents, but worried whether he'd become a distraction.
"He's got the biggest entourage in baseball," he said. "It makes that dugout way too crowded."
Zduriencik didn't agree, however. He thought the positive energy outweighed all the extra attention.
"He's dynamic, his personality is one that everyone says is such a team leader and the chemistry he'll bring to a team is phenomenal," Zduriencik said. "We're all looking forward to getting to know him a little better." I asked one scout for a final verdict on Ferrell as a player: "Pluses and minuses," was the short response.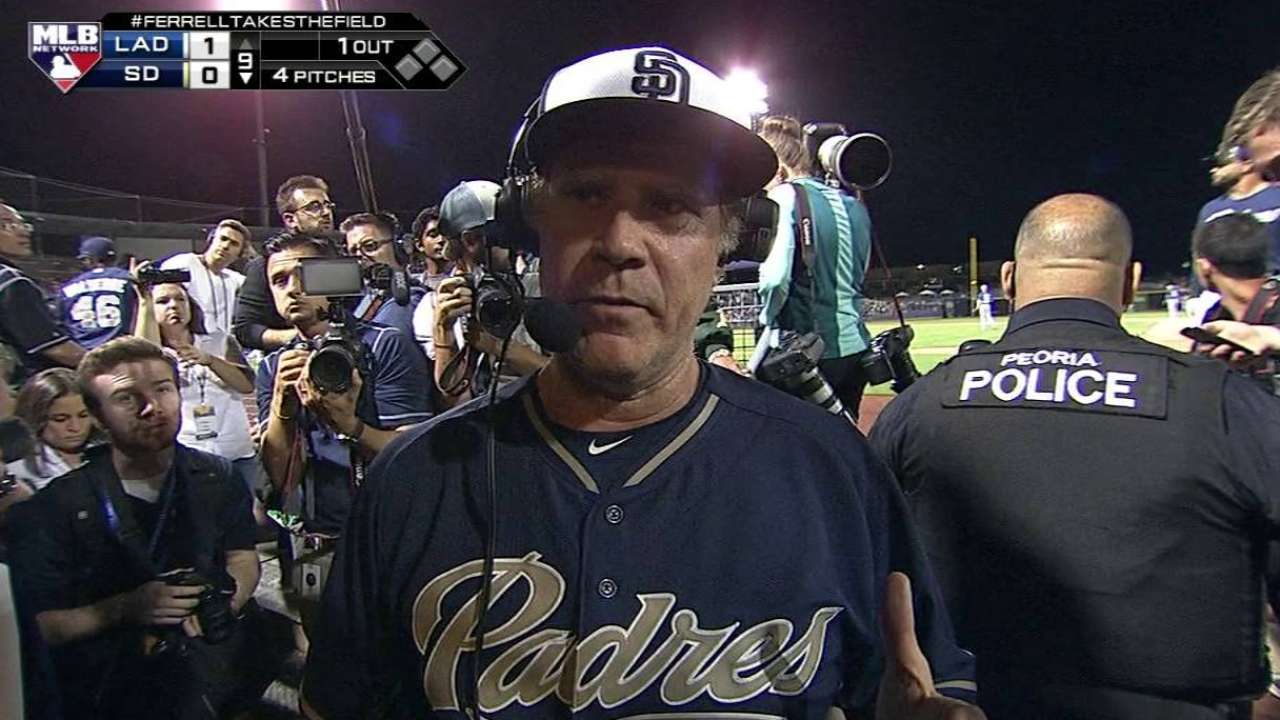 But at the end of the day, even the scouts enjoyed Ferrell's presence at the park.
"It's just great for our game," said the Peoria scout. "When someone who doesn't play can promote it like this -- everyone had a great time."
AJ Cassavell is a reporter for MLB.com. Follow him on Twitter @ajcassavell. This story was not subject to the approval of Major League Baseball or its clubs.