MLB.com Columnist
Jonathan Mayo
Breaking down the Tigers' 2015 Top 30 Prospects
With six of 2014's Top 10 traded away, Moya and Farmer make big leaps to top of list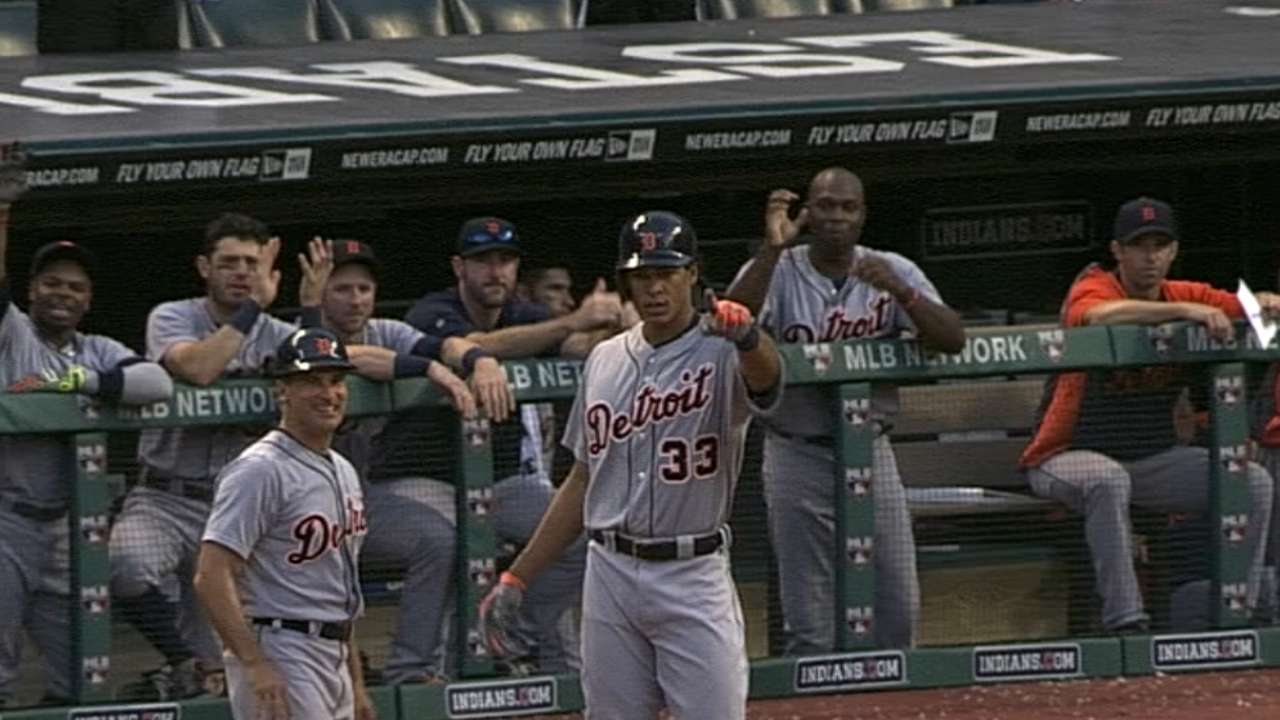 While the Tigers farm system may not be the strongest in baseball, it's worth noting that, as some within the organization like to say, "teams still want to trade with us."
That's not just internal executives blowing smoke. Just one look at last year's Top 20 prospects list compared to this year's Top 30, and it's pretty obvious. Sure, the Tigers tend not to have a ton of representation on the overall Top 100 list, but they have been able to turn prospects into big league pieces, some of whom helped them win their fourth straight American League Central title in 2014, some of whom they will count on to help them try to extend the streak to five this year.
Six players from Detroit's preseason Top 10 a year ago have been traded away, and that doesn't even count Willy Adames, who was unranked preseason, then made a huge leap up the list to the point where many believed him to be the organization's top prospect when he was sent to Tampa Bay in the David Price deal.
On this year's list, Steven Moya is the big leaper, going from the bottom of the Top 20 to the No. 1 spot, though Buck Farmer's ascension is equally impressive, going from unranked to No. 3. He is one of six players -- not including 2014 draftees, who obviously weren't eligible at this point last year -- who were unranked in 2014 and are now in the top two-thirds of the list.
Tigers 2015 Top 30 Prospects list
Biggest jump: Moya, OF (2014: 20 | 2015: 1)
Biggest fall: Jose Valdez, RHP (2014: 12 | 2015: 22)
Best tools
Players are graded on a 20-80 scouting scale for future tools -- 20-30 is well below average, 40 is below average, 50 is average, 60 is above average and 70-80 is well above average.
Hit: Derek Hill (55)
Power: Moya (65)
Run: Hill (70)
Arm: Dixon Machado (60)
Defense: Hill (65)
Fastball: Joe Jimenez (70)
Curveball: Artie Lewicki (55)
Slider: Jose Valdez (55)
Changeup: Kevin Ziomek (55)
Control: Chad Green (55)
How they were built
Draft: 18
International: 9
Free agent: 2
Rule 5/Trade: 1
Breakdown by ETA
2015: 10
2016: 4
2017: 14
2018: 2
Breakdown by position
C: 3
1B: 1
2B: 1
3B: 1
SS: 2
OF: 5
RHP: 13
LHP: 4
Jonathan Mayo is a reporter for MLBPipeline.com and writes a blog, B3. Follow @JonathanMayoB3 on Twitter. This story was not subject to the approval of Major League Baseball or its clubs.