Aggressive Reds run wild on Ferrell
Actor razzed good-naturedly after swapping jerseys, manning third vs. D-backs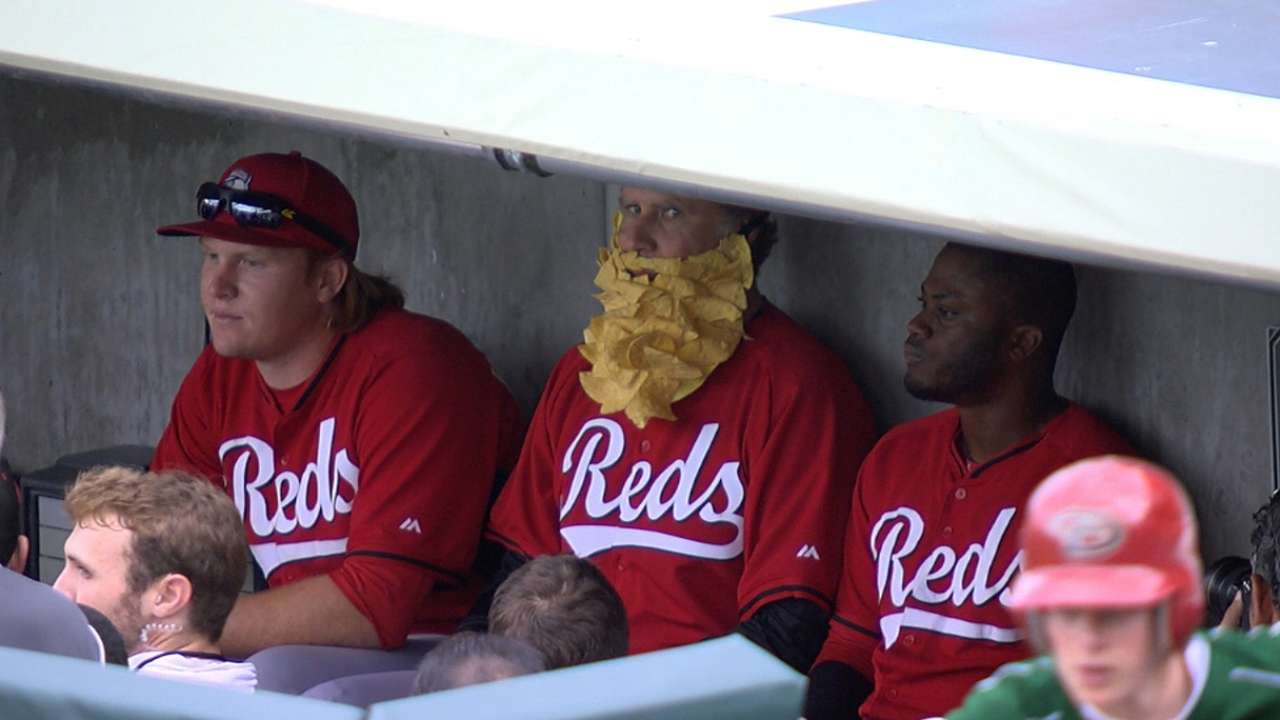 SCOTTSDALE, Ariz. -- Seeing actor Will Ferrell's journey around the Cactus League on Thursday bring him to playing left field for the D-backs in the seventh inning, the Reds' offense escalated quickly. The game almost got out of hand fast, and it perhaps jumped up a notch.
Ferrell, who was on a quest to play 10 positions with 10 different teams in five games for an HBO Funny or Die special that helped raise cancer awareness, was kept busy when he entered with Cincinnati leading by a 9-1 score. The Reds notched three hits in Ferrell's direction during a three-run rally.
"He was in trouble -- especially where he was in left field," Reds third baseman Todd Frazier said. "I'm surprised that many balls were hit at him. It was hysterical."
The 47-year-old Ferrell played way back, not far from the warning track, while fans chanted his name and cheered. After Irving Falu walked, Ivan De Jesus Jr. was the first to take advantage of the positioning and laced a liner to left-center field. By the time Ferrell retrieved the ball near the wall and threw it to the infield, De Jesus had an easy RBI triple.
"I thought, 'You know what? I could stop at second, but I've got to do my work,'" said De Jesus, a non-roster infielder. "I kept going to make it fun. I feel like I was in Hollywood making a movie with that funny guy in left field."
Next came non-roster catcher Kyle Skipworth, who lined an RBI double to left-center field that was fielded by Ferrell.
"All of a sudden, I see Will Ferrell coming up throwing and I had slight thought go through mind -- 'I am not going to get thrown out at second base, by Will Ferrell.' That thought crossed my head," Skipworth said. "This can't go down like that. This can't happen. I stayed on my horse and got to second."
Brian O'Grady, on the travel roster from Minor League camp, later hit a bloop double.
"I was just a little late and the ball ended up going there," O'Grady said. "Everyone started laughing and cheering. I didn't realize right away. He came up a little slow, so I got to get a double out of it."
After he spent the bottom of the seventh in the D-backs' dugout, Ferrell emerged after the inning in a Reds uniform while fans gave him a good-natured razzing as he crossed the field.
During the top of the eighth, Ferrell hung out in the Reds' dugout. He posed for pictures with the players and signed autographs for them.
"It was cool. He's just a human being, everyone can talk to him," Frazier said. "He took pictures with everybody."
"There were nachos delivered to the dugout," Skipworth said. "Just to sit back and watch it was pretty funny. Obviously, I've grown up and many others in the clubhouse, have grown up loving his movies."
With one out in the bottom of the eighth and Raisel Iglesias pitching for the Reds, Ferrell emerged again and replaced Minor Leaguer Taylor Sparks to play third base. No balls were hit to him, but he was told earlier by Frazier where to position himself and appeared to have happy feet, moving back and forth.
"I told him, 'Don't worry about the bunts, play as far back as you can and just be prepared. Let's do it," Frazier said.
After Jake Lamb was retired, Ferrell signaled "two out" with his hand to Falu at shortstop and participated when the ball went around the horn, throwing it to Iglesias a couple of times. Iglesias, a recent defector from Cuba, might have been the only person in the stadium unaware of Ferrell's celebrity.
Iglesias, through translator and teammate Brayan Pena, said he tried to throw the pitches inside so no one could slap a ball to Ferrell.
"I was trying to make it fun," Iglesias said. "It surprised me, because I didn't expect a guy like that coming in to play third base for me, then I saw the cameras and the commotion and wondered, 'Who is this guy?'"
Ferrell's day-long journey was also a tribute to Bert Campaneris, the first Major Leaguer to play all nine defensive positions in one game. Campaneris accomplished the feat on Sept. 8, 1965, for the Kansas City A's, and he tagged along with Ferrell throughout the day.
Mark Sheldon is a reporter for MLB.com. Read his blog, Mark My Word, and follow him on Twitter @m_sheldon. This story was not subject to the approval of Major League Baseball or its clubs.