Tanaka's first spring start well worth the wait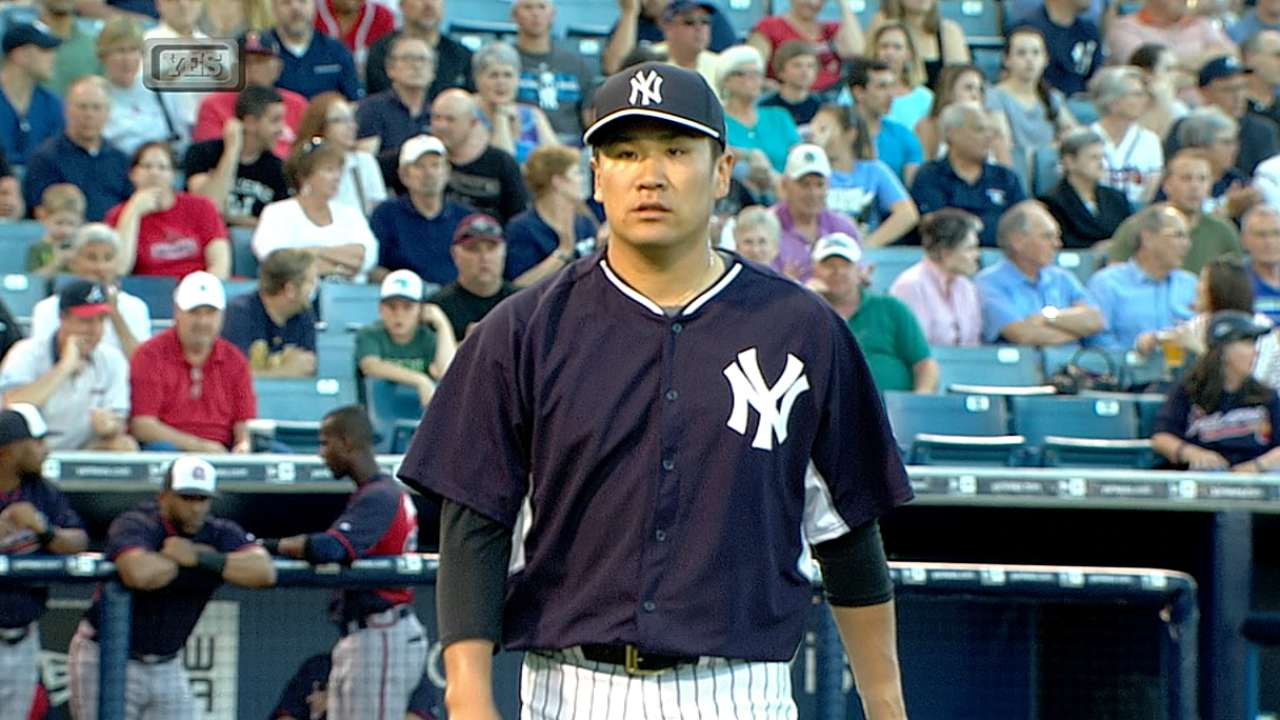 TAMPA, Fla. -- Masahiro Tanaka gave the Yankees even more reasons for optimism with his return to the mound on Thursday. The right-hander turned in a perfect Spring Training debut, retiring all six batters he faced against the Braves at George M. Steinbrenner Field.
Tanaka struck out two and induced four routine groundouts, throwing 15 of his 19 pitches for strikes. The 26-year-old required additional pitches in the bullpen just to reach his allotted count of 35.
"Overall, I think it was good," Tanaka said through an interpreter. "Probably the best part is that I was able to get first-pitch strikes a whole lot tonight."
After a pair of groundouts in the first, Tanaka froze Freddie Freeman looking at a called third strike, a call that Braves manager Fredi Gonzalez disputed, prompting his ejection after one pitch in the bottom of the first inning.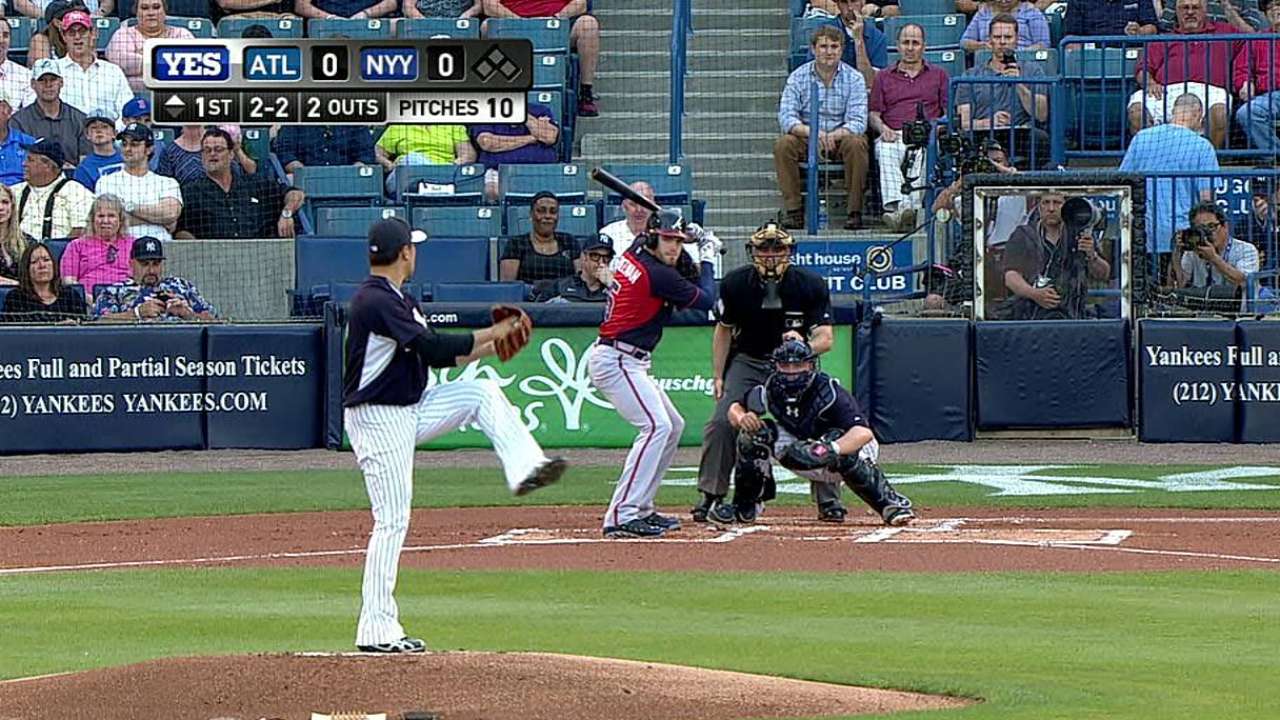 Tanaka also struck out Jonny Gomes swinging to begin the second inning, and said that he felt confident in dialing up his velocity. He was clocked as high as 94 mph with his fastball, ranging mostly 88 to 91.
"I think I was able to throw pretty close to how I would be throwing during the regular season," said Tanaka, who counted four splitters among his offerings. "I was able to get some swings and misses, so I liked the way it moved."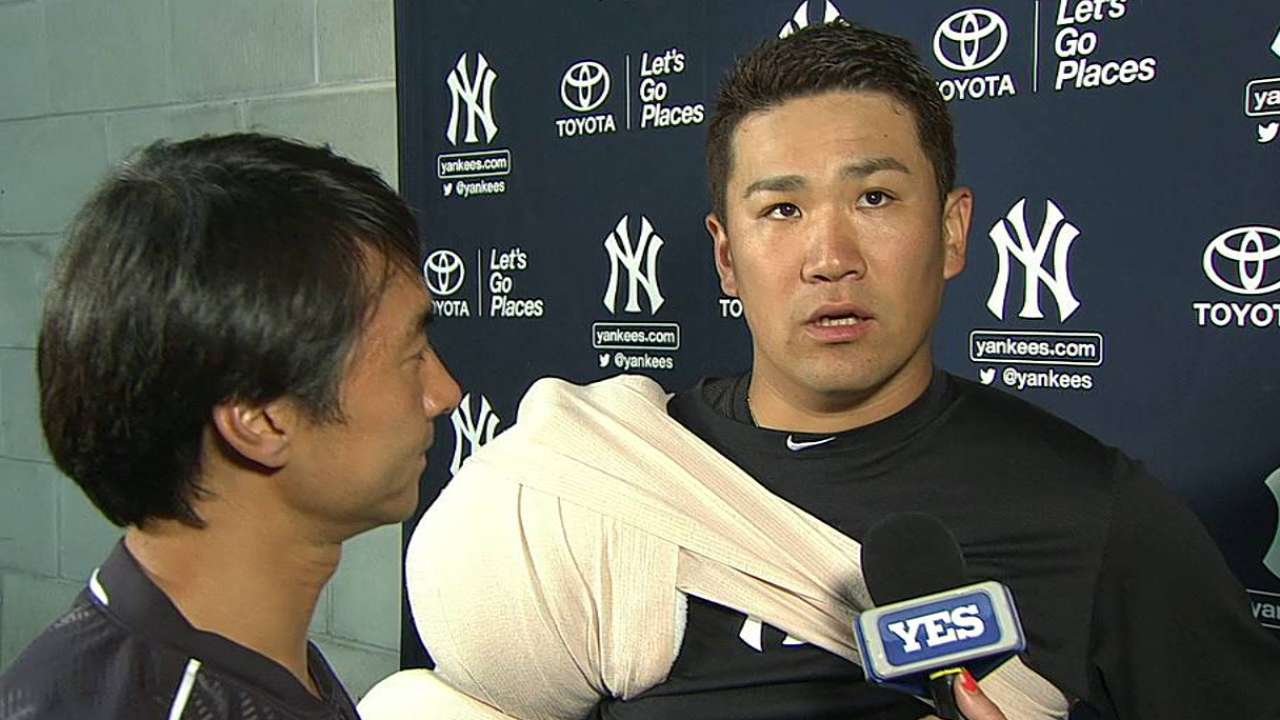 Catcher Brian McCann said that Tanaka seemed to have his confidence back.
"He looked great, kind of picking up right where he left off last year," McCann said. "His sinker tonight was what impressed me the most. He had good downward action on it. His split was there, and he had a couple of quick innings. He was putting the ball where he wanted."
From his perch at shortstop, Didi Gregorius said that Tanaka looked just like the pitcher he watched on TV in the first half of last season, when Tanaka was named to the American League All-Star team.
"For me, being behind him for his first outing, he was really great," Gregorius said. "It was nice to get a couple of ground balls. He works down in the zone. It was great. To be behind him for the first time, it was amazing."
Tanaka's health has been a major focus of the spring, and that concern will almost certainly spill into the regular season. He has reported no issues after sustaining a partial tear of his right ulnar collateral ligament last July, returning to make two starts in September.
"I feel better right now," he said. "I've had the time to prepare myself up to this point. It has gone well thus far."
Manager Joe Girardi feels good about the state of Tanaka's elbow. Unlike the two outings in September, Girardi did not find himself sitting on the edge of the dugout bench when Tanaka took the mound on Thursday. This, he said, felt much more like a normal outing.
"You want to get all your starters out there and try to get them going," Girardi said. "You can't spend your time worrying about what might be. You just approach every day, you know what you have, and you go forward."
Bryan Hoch is a reporter for MLB.com. Follow him on Twitter @bryanhoch and read his MLBlog, Bombers Beat. This story was not subject to the approval of Major League Baseball or its clubs.