MLB.com Columnist
Lyle Spencer
Former teammates Ryu, Kemp meet on memorable night
Dodgers-Padres matchup also featured actor Ferrell in action, Shields on hill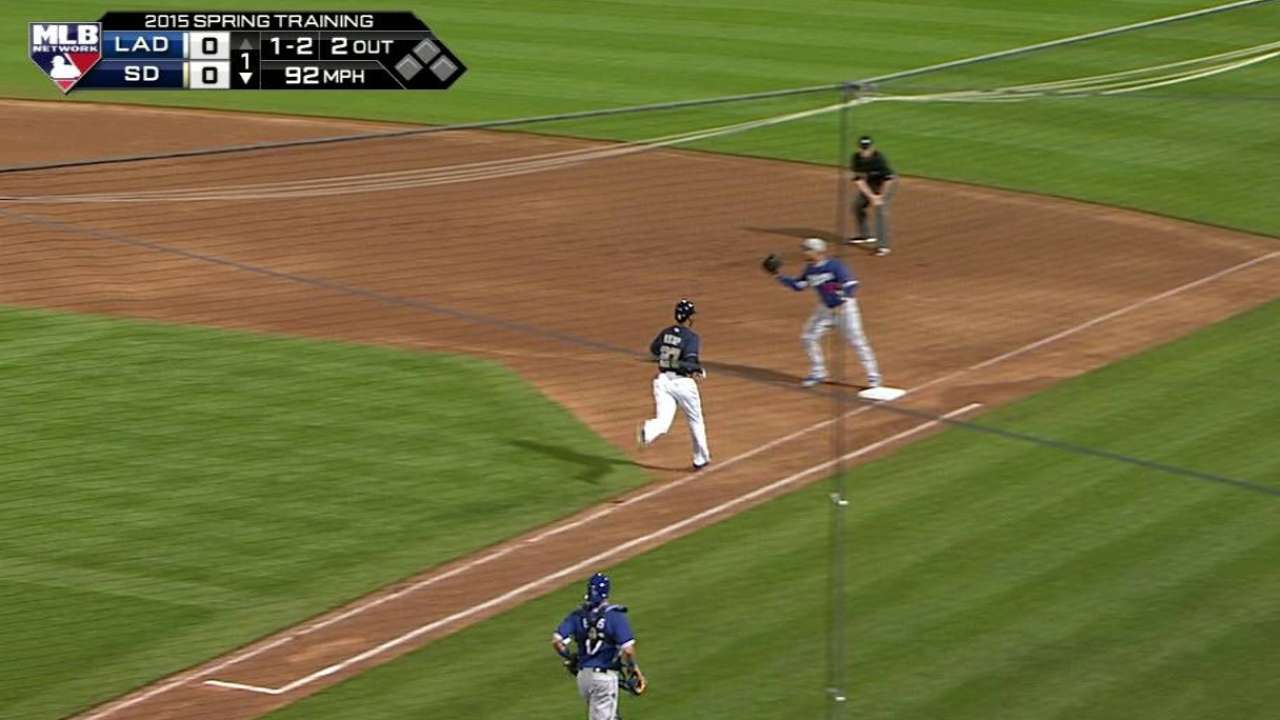 PEORIA, Ariz. -- Teammates for two seasons in Los Angeles, Hyun-Jin Ryu and Matt Kemp faced off for the first time on a baseball field as rivals in Thursday night's Cactus League game at Peoria Stadium, Ryu getting the upper hand with his glove.
The meeting of Ryu and Kemp preceded by not quite two hours the grand finale of Will Ferrell's magical mystery tour of Arizona diamonds.
Before taking over right field for the Padres and watching Joc Pederson's towering home run in the ninth decide a 1-0 Dodgers victory, Ferrell had his moment with a brief and effective spin on the mound in Dodger colors: one pitch, a bunt by Rico Noel fielded by Will the Thrill with a toss to first for the out. Ferrell departed reluctantly -- perfection personified -- at the behest of Dodgers manager Don Mattingly.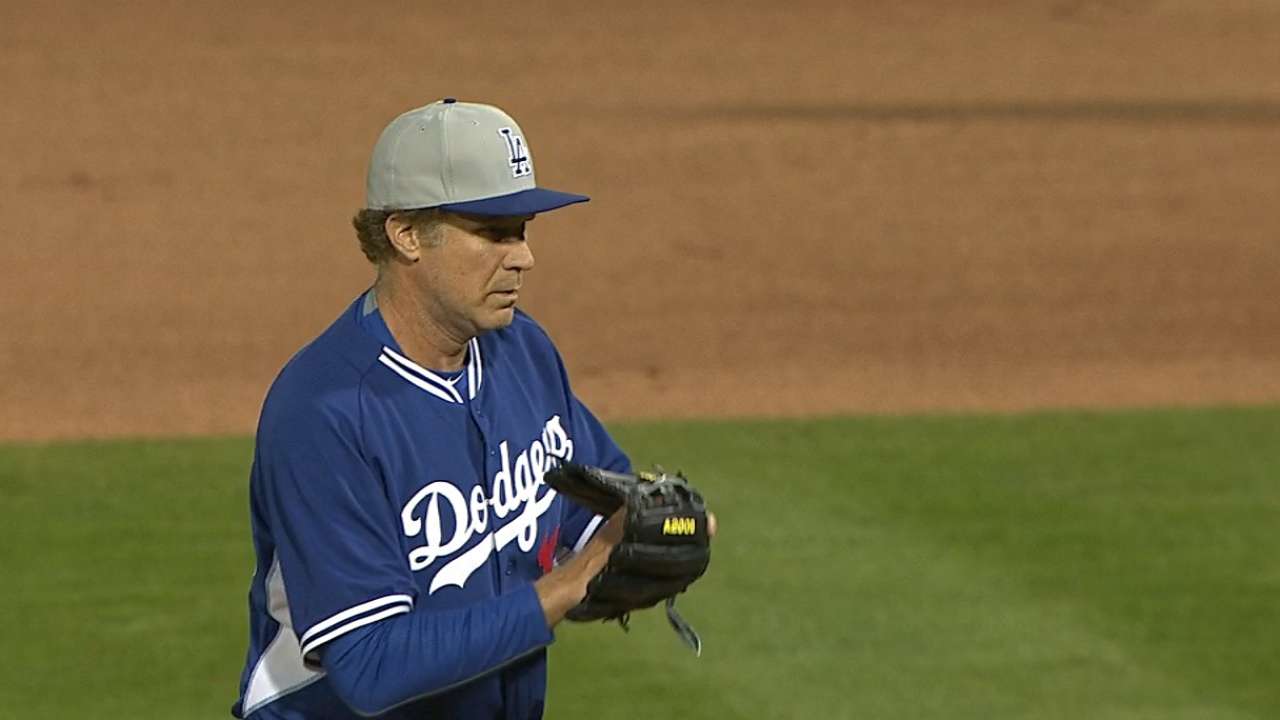 New Padres pitcher James Shields, who kicked off a dominant pitching theme with three perfect innings and five strikeouts, captured the spirit of the evening after Ferrell's colorful parting speech left the fans -- what else? -- laughing.
"This is a cool deal," Shields said. "He's playing for cancer [fighting organizations]. That doesn't happen too often. It's a great cause, and I'm glad Major League Baseball stepped up and made this happen."
After Shields put away the Dodgers in order, the fifth pitch Kemp saw from Ryu as San Diego's No. 3 hitter was stroked sharply, seemingly ticketed for a single to center. The 255-pound Ryu used his athleticism to spear it and record one of six consecutive outs that served to alleviate concerns of Dodgers fans over the lefty's physical condition. Mid-back stiffness had set him back this spring.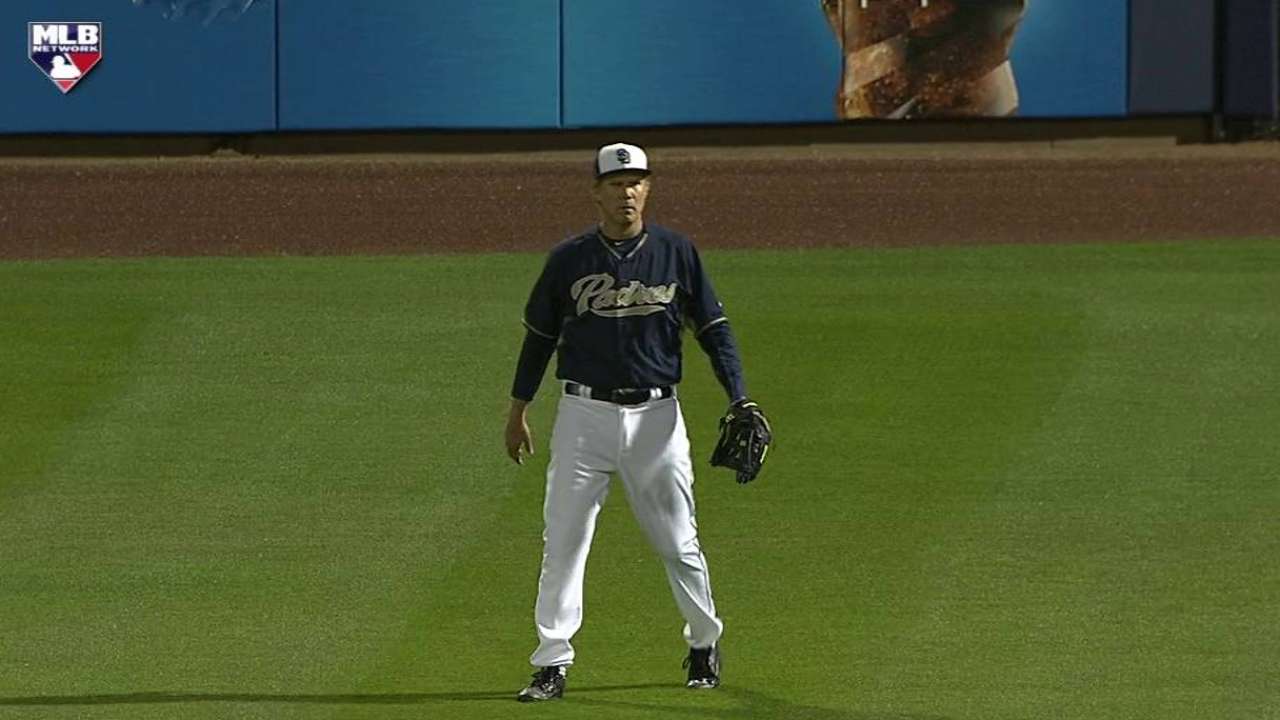 "I felt great," Ryu said, adding that he sees no reason why he won't be ready for his turn when the season opens. "No worries."
Dodgers manager Don Mattingly liked what he saw of Ryu.
"That was a middle-of-the-back soreness," Mattingly said. "He threw like five 'pens before camp opened. He threw the ball well in his bullpen sessions. [With] most guys, you worry about arm strength, but he threw enough 'pens that you're comfortable. He always throws the ball where he wants, so you don't really worry about his location."
Moving south to San Diego with the remodeled and suddenly dangerous Padres, Kemp will get many more meaningful shots at Ryu and the rest of the Dodgers' staff when the calendar flips to April and the real season opens.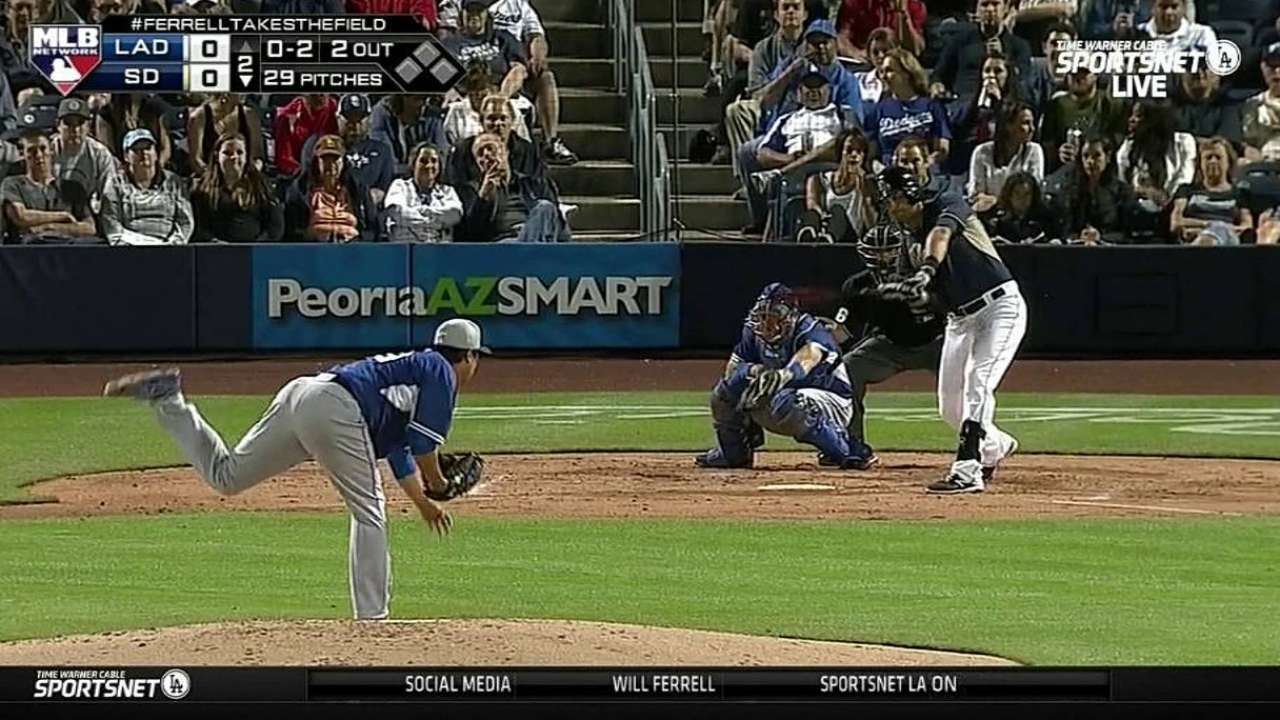 The most enthusiastic ovation of the night was reserved for Kemp before his first at-bat. Dodgers and Padres fans, mingling together in the crowd of 10,218, expressed their appreciation for what the man from Oklahoma has done in Los Angeles and what he plans to do in his new home.
"I'm really excited to be with these guys, with this team," Kemp said. "We have a lot of talent here. We're just getting started."
Kemp, who flied out in his second and final at-bat, is 6-for-13 in Cactus League play with one homer and four RBIs.
Shields, a staff and team leader with the Rays and Royals, brings a winning profile to the Padres along with Kemp, Justin Upton and Wil Myers, comprising the new outfield, and catcher Derek Norris.
"We're going to have a lot of fun," Shields said. "That's what this game's all about. Baseball players are entertainers. This is what we live to do. If we entertain and have fun, we're going to have a lot of success here."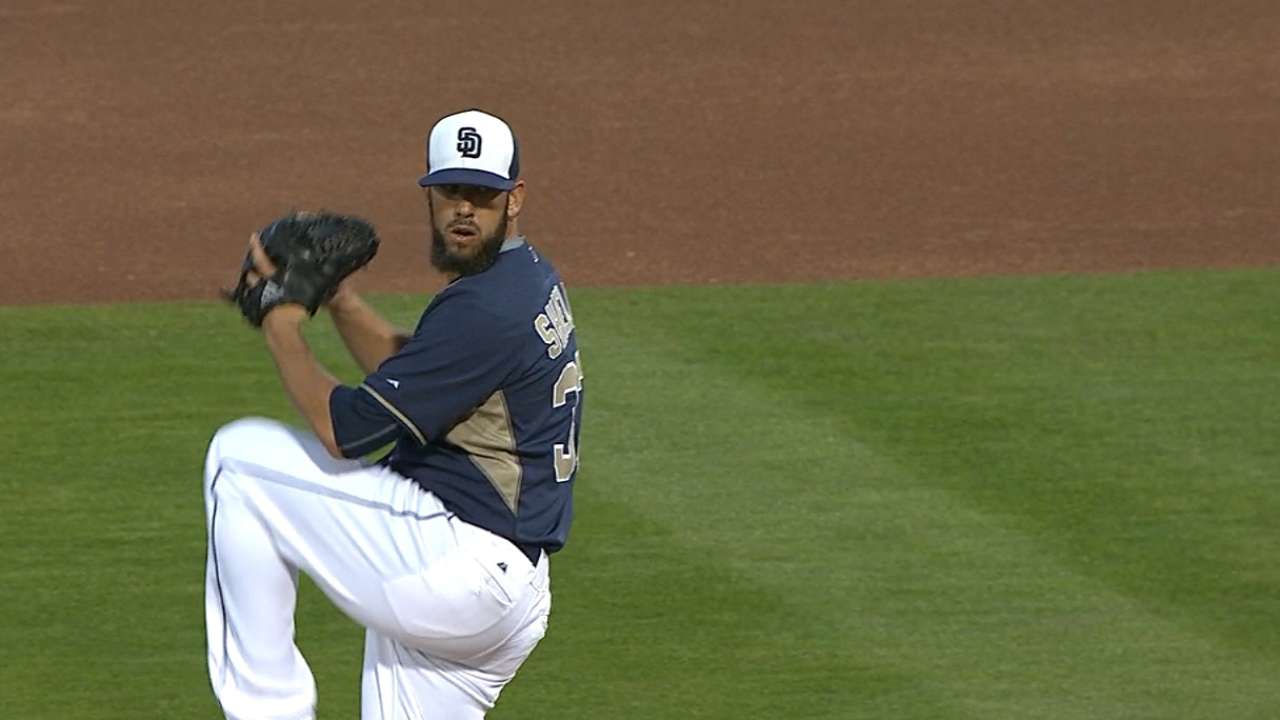 A healthy, productive Ryu is vital to the success of the Dodgers. Coming off a pair of 14-win seasons and turning 28 in two weeks, he slides into the middle slot in the rotation, behind Clayton Kershaw and Zack Greinke and in front of newcomers Brandon McCarthy and Brett Anderson. This is potentially as lethal a quintet as there is in the sport.
His meeting with Kemp, Ryu said through an interpreter, "was very unique. You wouldn't have thought I'd experience something like this, facing an old teammate."
It didn't take long for the novelty to wear off for Ryu.
"It was another hitter for me," Ryu said, "and that's how I treated him."
Ryu's spring debut couldn't have gone any better: two perfect innings, 30 pitches, 22 strikes. He struck out the last two men he faced, power hitters Carlos Quentin and Will Middlebrooks.
Shields, Ryu, Ferrell ... perfection everywhere on a memorable night in the desert.
Lyle Spencer is a national reporter and columnist for MLB.com. Follow him on Twitter @LyleMSpencer. This story was not subject to the approval of Major League Baseball or its clubs.