With nod to Gwynn, Ferrell plays right for Padres
After wearing No. 19 all day, actor dons No. 20 to cap charitable Cactus League campaign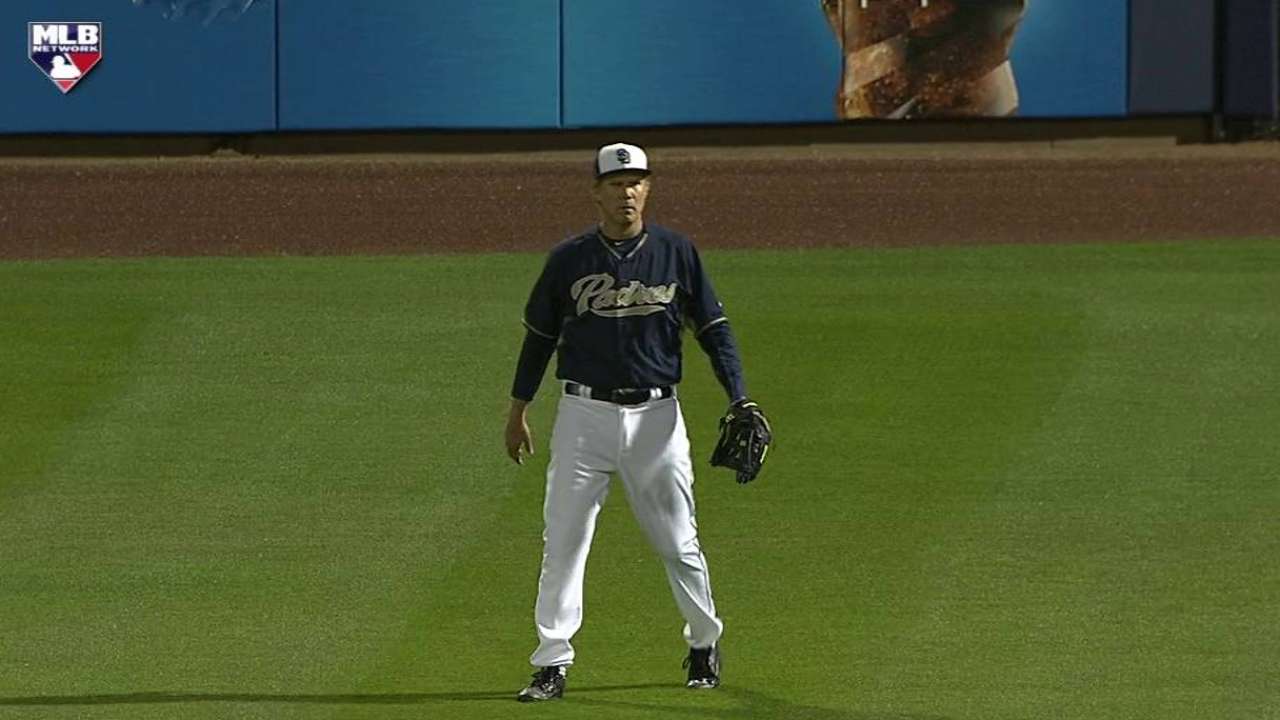 PEORIA, Ariz. -- Will Ferrell got his real-life semi-pro moment Thursday, and the nightcap was extra special for his adoring fans from San Diego.
The actor and comedian -- beloved by San Diegans for his popular Ron Burgundy role in "Anchorman" -- played 10 positions for 10 teams in five Cactus League games throughout the day, culminating in an appearance with the Padres on Thursday night at Peoria Sports Complex.
"My career has not gone according to plan," Ferrell told the crowd afterward. "Some teams made a horrible mistake by cutting me. Others I had a nice run with. It seems like just minutes ago I was playing right field for the Padres.
"Ah, the memories."
The 47-year-old Ferrell -- he was listed as a left-handed, 6-foot-3, 205-pound outfielder on the Padres roster -- wore No. 19 for each of his previous nine clubs (honoring A's legend Bert Campaneris), but the actor instead donned No. 20 for the Padres, in deference to San Diego icon Tony Gwynn, whose No. 19 has been retired.
The nightcap was the final stop on a long day that honored the 50th anniversary of Campaneris playing all nine positions in a Major League game, and benefited organizations dedicated to fighting cancer. It was filmed for a special from Funny Or Die in partnership with Major League Baseball, which will air on HBO later this year.
"It was pretty special, the fact that he's playing for cancer and it's a good cause," Padres pitcher James Shields said. "This doesn't happen very often, so I'm happy Major League Baseball stepped up and let this thing happen."
Things escalated quickly when Ferrell showed up in a Giants uniform from his previous engagement, eliciting good-natured jeers from the Dodgers faithful in the crowd. But he emerged from the dugout in Dodger Blue to start the bottom of the seventh. He threw a series of wild warmup tosses to catcher Austin Barnes, then needed just one pitch to retire San Diego's Rico Noel, who bunted it back to the mound for Ferrell to field cleanly.
"I was actually up there wondering if he was going to hit me or not," Noel said. "But he shook off a few times. I guess he was trying to find the right pitch. And he actually threw a strike, first pitch. I was pretty impressed. So I laid it down and was going to see if he was going to make the play, and he's actually got a pretty good arm."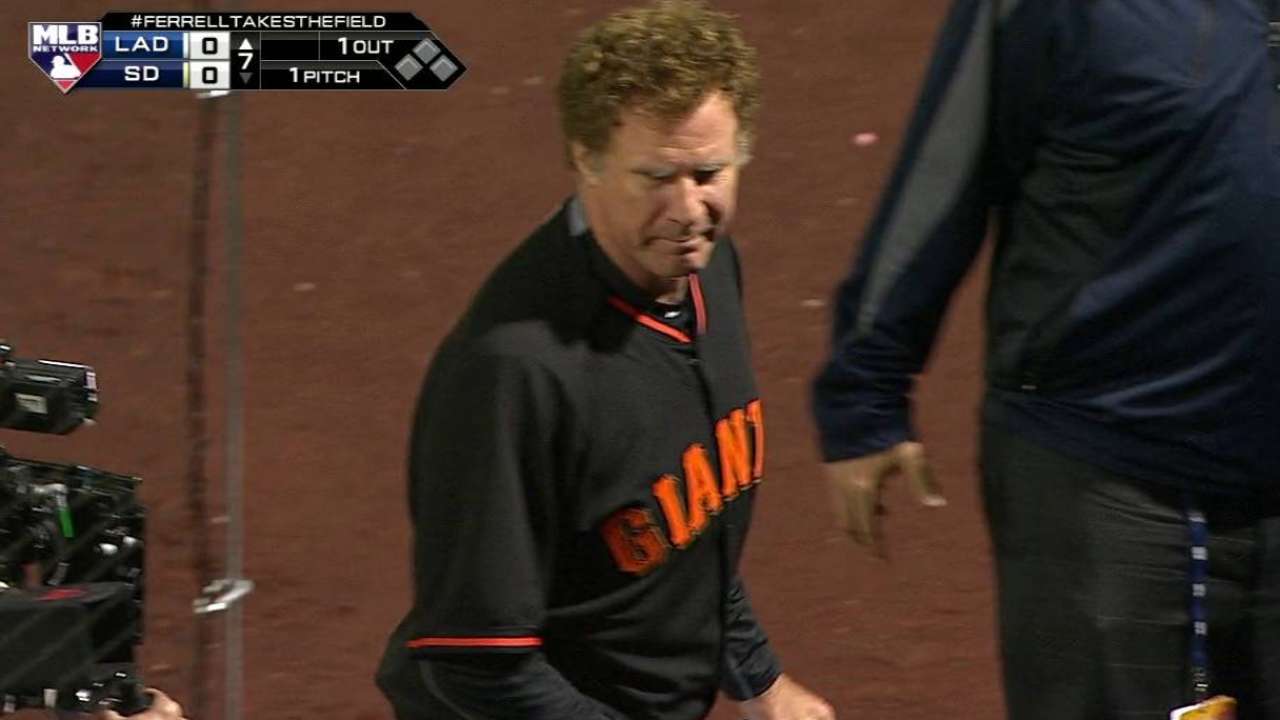 Dodgers skipper Don Mattingly was showered in boos when he came to give Ferrell the hook -- "I still made the team, right?" Ferrell asked -- before the boos turned into "leave him in" chants.
"There's no doubt I turned some heads today, even if it was just for a moment," Ferrell said. "I brought passion to the field, dedication, ability and a lot of ignorance. The ball moves fast out there, a lot faster than it moves on television. It's like a speeding bullet. It's horrible, terrifying."
Ferrell got his encore anyway in the ninth, when he took right field for the Padres, and found another human -- a ballboy dressed in a Buddy the Elf outfit with whom he warmed up -- who shared his affinity for elf culture.
Ferrell didn't get any action in right, but Wil Myers let Ferrell toss the ball in after he caught the first out of the inning, and Joc Pederson hit the game-winning home run straight over Ferrell's head.
"That's my guy," Myers said. "That's the only guy I think I would only ask for a picture from. I'm a big fan of his, a big fan of his movies. That was really cool."
Myers got his photo, and from all accounts, everyone came out of it OK.
"Ferrell's fine," Padres manager Bud Black said. "I'm going to go check with the trainers, but I think he's good. He's had a long day."
And in a nod to Ferrell's role as Chazz Reinhold from "Wedding Crashers", Black added: "Our postgame spread is going to be meatloaf."
Joey Nowak is a reporter for MLB.com. Follow him on Twitter at @joeynowak. This story was not subject to the approval of Major League Baseball or its clubs.