Comic relief: Ferrell retires lone batter he faces for Dodgers
Actor gets hook after bunt groundout in 7th inning as part of charity campaign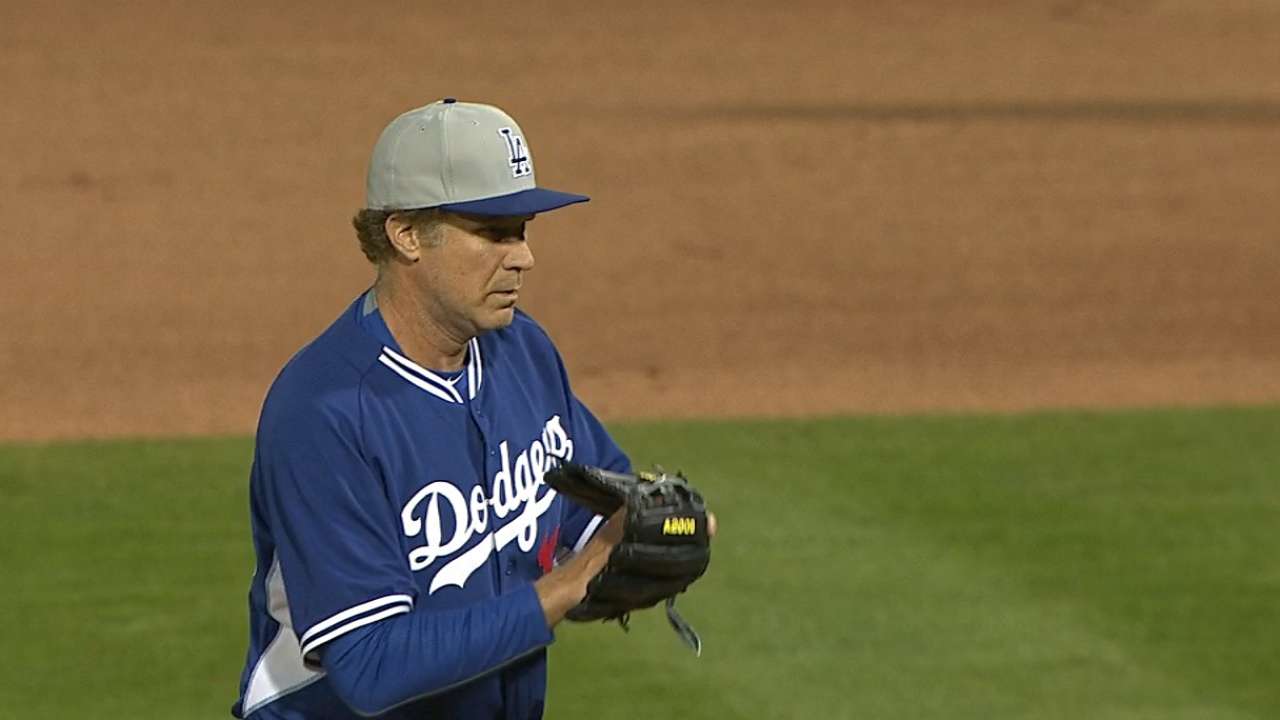 PEORIA, Ariz. -- A manager going to the mound to replace a pitcher who had gone 21-1 with a 1.92 ERA the previous season after he'd thrown only one pitch probably should expect a few boos, and that's what Dodgers skipper Don Mattingly received when he headed to the mound in the seventh inning Thursday night.
Of course, it might have had something to do with the fact it was comedian Will Ferrell, whose fictional 2014 stats displayed on the scoreboard at Peoria Stadium couldn't even match up with his 0.00 ERA after his one-pitch outing with the Dodgers -- including an assist, when he took a bunt from Padres Minor Leaguer Rico Noel and threw to first for the out.
The crowd was on Mattingly when he came to the mound, and Ferrell wasn't too keen on coming out, either, turning and walking toward second base when Mattingly reached the mound.
"He told me he wanted to keep going, but I was like, 'You've got to go,'" Mattingly said. "He told me he's a ground-ball pitcher."
Not only that, but Ferrell was an outfielder, a catcher and an infielder as well in a whirlwind tour through the Cactus League on Thursday, playing for 10 teams as part of a new HBO special from Funny Or Die in partnership with Major League Baseball to support the fight against cancer.
As he arrived for his final stop of the day, Ferrell was the one receiving the tongue-in-cheek boos at Peoria Stadium -- after all, wearing a Giants uniform (from his previous stop on the tour) is pretty bad form at a game pitting two of San Francisco's National League West rivals. Soon thereafter, Ferrell was cheered as he emerged from the Padres' home dugout wearing his Dodgers uniform with No. 19 on the back.
Ferrell took the mound and immediately threw his first warmup pitch about 45 feet from 60 feet, 6 inches away, the ball rolling to catcher Austin Barnes. (Maybe that's what he meant by ground-ball pitcher?) But he got his act together and was ready for the real deal, facing Noel -- who bunted the first pitch he saw right back to Ferrell, sending the crowd bursting into cheers.
After his "tantrum" upon Mattingly's arrival at the mound, he did some tip-toeing at the third-base foul line before getting to the dugout, where he chatted with pitching coach Rick Honeycutt before sharing a moment and posing for a photo with Dodgers legend Tommy Lasorda.
"I've never seen anything like it, really," the 87-year-old Dodger said of Ferrell's long day. "I can't ever think of anything like that -- it's impressive. It's for charity, so it's great."
Congrats on a great Dodger career, Will Ferrell. Your one contribution is greatly appreciated. #FerrellTakesTheField pic.twitter.com/bHTZnUtIxk

- Los Angeles Dodgers (@Dodgers) March 13, 2015
After jogging across the field to the Padres' dugout, Ferrell emerged with a No. 20 on his back -- he'd worn No. 19 for every other team but wore No. 20 in deference to the late Tony Gwynn, whose No. 19 has been retired -- and headed out to right field for the top of the ninth. There, he was a footnote to a towering blast from a prized young Dodgers player.
Joc Pederson crushed a fastball from Jose Valverde over Ferrell's head and way beyond the right-field fence for his first homer of the spring, and the 22-year-old phenom joined Kris Bryant of the Cubs as one of two top 15 prospects to homer over Ferrell's head on Thursday.
Pederson might be new to the big leagues, but he's sure of one thing: What Ferrell did Thursday was not just impressive because he took the field with Major League players on 10 teams, but because it was for a good cause.
"I think it's great," Pederson said. "It's raising awareness of cancer, so anything to help that and save some lives, I'm all in for it."
That was a sentiment shared by several other Dodgers.
Said veteran infielder Darwin Barney: "I know it's for a really good cause, so I think that kind of makes it different. Usually, this is what we do and we take it really seriously. Will Ferrell coming around doing something for a good cause, it kind of changes your outlook on your day and gives you some perspective."
Howie Kendrick said there was a bonus to the good deed.
"The cause part of it is pretty cool, but the other cool part is we get to meet him," Kendrick said.
As for Lasorda, meeting a celebrity like Will Ferrell has been standard operating procedure since he became the Dodgers' manager. He has plenty of background with the man who wore 10 uniforms Thursday but, according to Lasorda, has only one near and dear to his heart.
"I've known him a long time -- he's a Dodger man," Lasorda said.
John Schlegel is a national reporter for MLB.com. You can follow him on Twitter at @JohnSchlegelMLB. This story was not subject to the approval of Major League Baseball or its clubs.