Ferrell busy in left for D-backs as Reds run wild
Comedian takes 10-team charity tour of Cactus League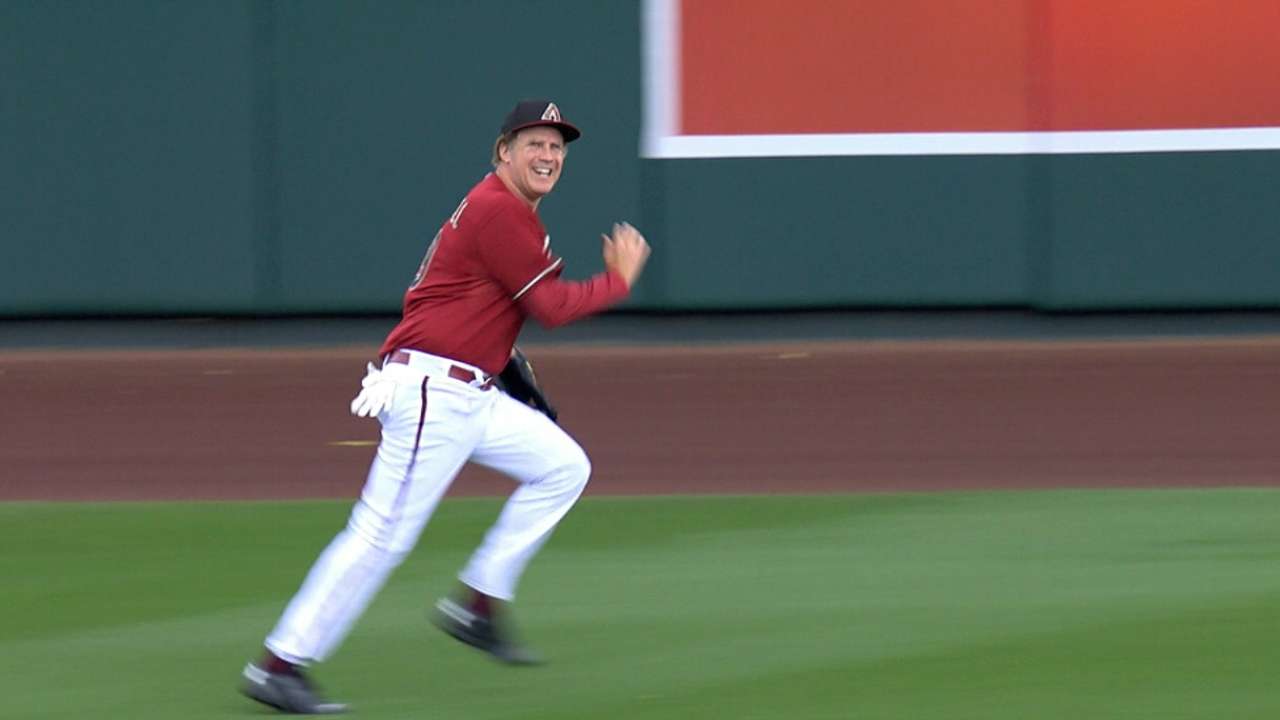 SCOTTSDALE, Ariz. -- Around the fourth inning, D-backs left fielder Cody Ross started looking over his shoulder towards the runway that leads from the Arizona home clubhouse to the field waiting for his replacement -- comedian Will Ferrell -- to arrive.
Ferrell was initially going to play left field in the fourth, but he didn't appear in the D-backs dugout until the sixth when they were already trailing the Reds, 9-1, on Thursday.
"He walked in and he goes, 'All right guys, we got this. We're only down by ocho,'" Ross said. "Everybody kind of chuckled."
Ferrell's time with the D-backs was one stop on his trek through the Cactus League as he played 10 positions in five different games as part of the filming of a "Funny or Die" production in partnership with Major League Baseball. It will air exclusively on HBO later this year.
Ferrell is dedicating the project to the fight against cancer as well as honoring the historic feat by Bert Campaneris five decades ago by playing every position on the field for the Kansas City Athletics.
Ferrell entered the game in the top of the seventh and it didn't take long for the Reds to test him.
After the leadoff batter in the inning walked, Ivan DeJesus Jr. hit a ball to the gap in left-center that bounced and rolled to the wall. Ferrell picked it up and while it might normally have been a double, it ended up as a triple as DeJesus tested Ferrell's arm.
Kyle Skipworth then hit what normally would have been a single to left, but he too tested Ferrell and made it to second safely.
Then Brian O'Grady blooped a ball to shallow left and he also pushed Farrell's defense, stretching it into a double.
Ferrell's defensive positioning might not have been optimal as he was pretty deep and over toward the line.
"He was shading the line a touch and the wall," Ross said. "Not necessarily where you would want him. I thought he was going to make the adjustment. He didn't make the adjustment."
After the inning was over, Ross shared that assessment with Ferrell.
"I had a couple of choice words for him, but it was dugout talk," Ross said, smiling. "What happens in the dugout stays in the dugout. But he took it very well. He moved around a lot better than I thought. His footwork was pretty good. It was fun to watch him. I mean, he made me look good."
Of course right after that, Ross went back to being a star-struck fan of Ferrell.
"I was sitting in the dugout and it was almost like he was a zoo animal, everyone was staring at him," Ross said. "I kept thinking that I've got to get a picture because if I don't I'm going to regret it."
After Ferrell left the game he was walking down a hallway outside the D-backs clubhouse when pitcher Andrew Chafin ran out to meet him.
"I saw him sneaking out the back, so I thought I would walk over there real quick and at least say hi and take a picture with him," Chafin said.
Turns out Chafin got something that meant far more than a picture -- Will Ferrell's seal of approval on the mustache he has grown this spring.
"He looked at me, did a little bit of a double take," Chafin said. "And he's like, 'Man, that mustache, I think that's fierce. That's fierce.' Now I've got to get my girlfriend's approval, but I'm working on that one."
An important part of the fundraising efforts will be game-used memorabilia from Ferrell's journey across the five ballparks, to be auctioned off on MLB.com later this year. The proceeds of the auction will be donated to Cancer for College and Stand Up To Cancer. Major League Baseball is the founding donor of Stand Up To Cancer.
Steve Gilbert is a reporter for MLB.com. Read his blog, Inside the D-backs, and follow him on Twitter @SteveGilbertMLB. This story was not subject to the approval of Major League Baseball or its clubs.