Left-field miscue aside, Herrera continues to help case
Rule 5 Draft pick showing he can hit, but natural infielder still adjusting to outfield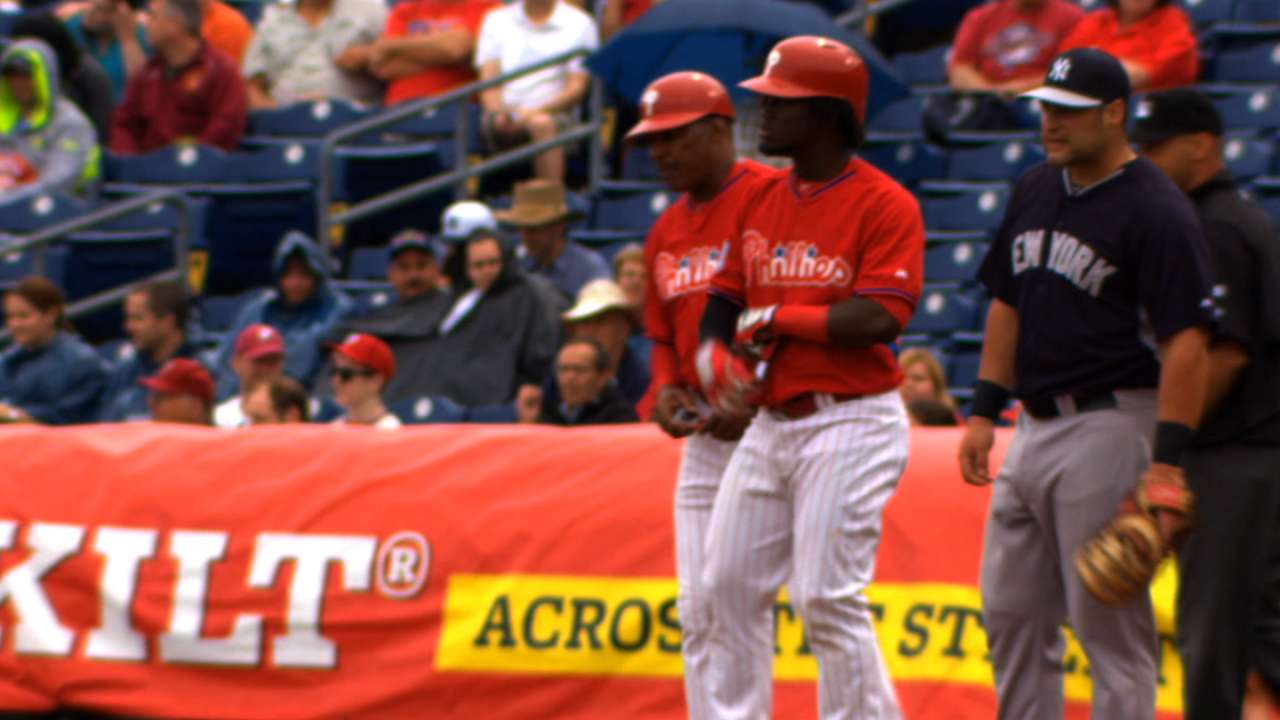 LAKELAND, Fla. -- Odubel Herrera smiled and promised everything will be just fine in left field.
The Phillies do not seem worried. Herrera, who is a strong favorite to earn a Phillies bench job as a Rule 5 Draft pick, had an interesting Thursday afternoon, other than his left field play in a 6-5 victory over the Tigers at Joker Marchant Stadium.
"He continues to impress," Phillies manager Ryne Sandberg said.
He also showed he is not a finished product. Herrera doubled to left-center field off Justin Verlander in the top of the first inning, but he got picked off.
He dropped a very catchable fly ball on the warning track in left-center field in the bottom of the first. It was ruled an error. Herrera did not look completely comfortable in left field, but he is a natural infielder and had played in left just 11 times in his career. The adjustment will take time.
"As the ball was coming down out of the clouds, the sun got in my eyes," Herrera said through translator Rickie Ricardo. "I do admit I kind of nonchalanted it a little bit and then I got caught with the sun. After that one botched-up play ... I felt comfortable the rest of the day, and it won't take me long to get comfortable out there."
Herrera picked up an infield single in the fifth and made a heads-up play when he scored from second on an error by Tigers first baseman Jordan Lennerton.
Herrera is hitting .333 (7-for-21) this spring. The Phillies need people who can hit. Herrera is certainly helping himself in that regard.
"I'm very pleased with the way I'm getting on base, because I think the team needs that kind of spark, a guy who can get on base, move around and score runs," he said.
Todd Zolecki is a reporter for MLB.com. This story was not subject to the approval of Major League Baseball or its clubs.