Fredi's night ends with early ejection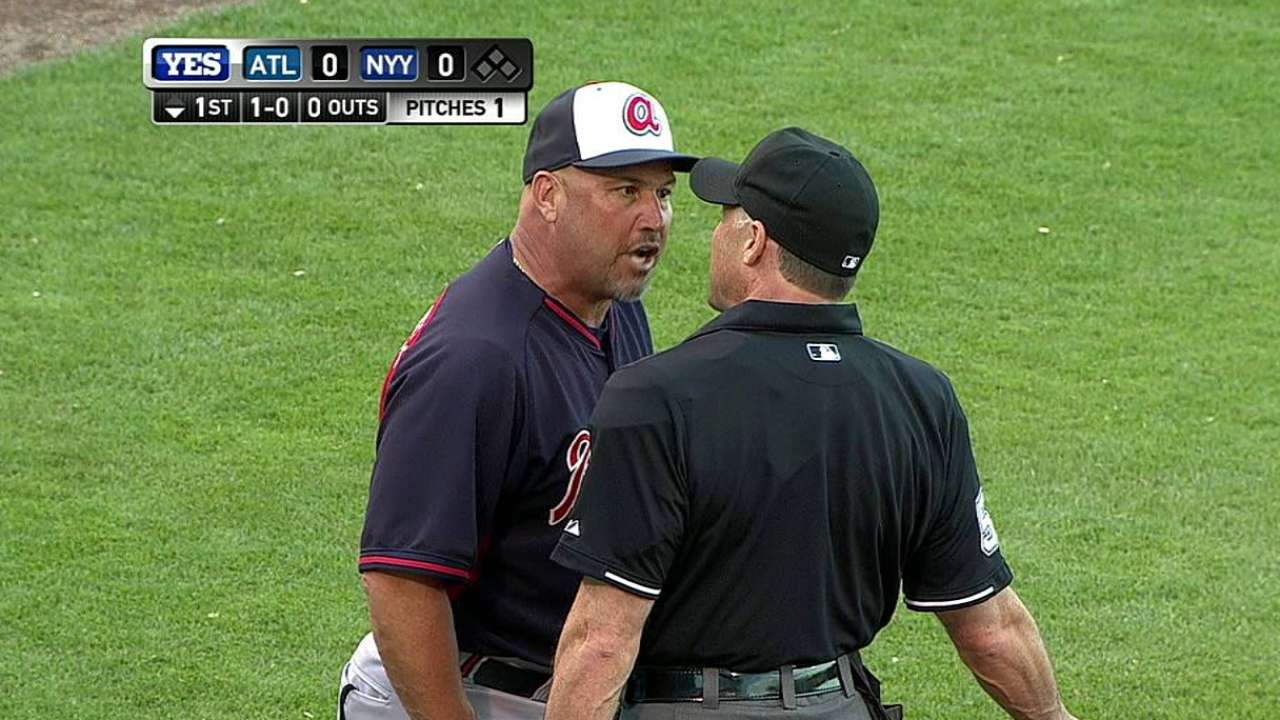 TAMPA, Fla. -- The Braves weren't too happy with the strike zone they saw in the top of the first inning of Thursday night's game against the Yankees at George M. Steinbrenner Field, a 3-2 loss.
It took manager Fredi Gonzalez one pitch to decide he didn't care for the strike zone in the bottom of the first, either.
The first pitch from right-hander Shelby Miller to Yankees leadoff hitter Jacoby Ellsbury, a fastball down and away, was called a ball by home-plate umpire Dan Iassogna. The Braves believed the pitch was a strike, particularly considering the strike zone given to right-hander Masahiro Tanaka in the top of the inning, which ended with a called third strike on first baseman Freddie Freeman.
But the call on Miller's first pitch was a ball, and Gonzalez clearly let Iassogna know he didn't agree. Gonzalez began shouting toward Iassogna, who then turned and pointed at Gonzalez. The argument continued, Gonzalez got out of his seat outside the dugout, and Iassogna ejected him.
The two briefly exchanged words afterward, then Gonzalez turned away and walked into the clubhouse.
Gonzalez wasn't exactly worked up about the unusual incident after the game, poking fun at himself and ultimately chalking it up to a typical disagreement about the strike zone.
"It's balls and strikes," Gonzalez said. "I thought the balls in the first inning, when we were hitting, were down that were called strikes. And then Shelby throws a pretty good pitch that they call a ball. It's balls and strikes. It's a late game in Spring Training. I get a little ornery because I'm usually in bed by this time. So maybe my temper got me."
Miller thought the pitch was a strike and he views what Gonzalez did as a sign of "sticking up for our team."
"It might have been borderline, but the strike zone in the top of the first, it was a strike to what he was calling -- what we thought, as a team," Miller said. "As pitchers and hitters, we're just looking for consistency. If the manager doesn't like it, he's going to let them know about it. That's what he did. You want a manager who will stick up for you."
Adam Berry is a reporter for MLB.com. Follow him on Twitter at @adamdberry. This story was not subject to the approval of Major League Baseball or its clubs.