Pirates won't hurry pitching prospect Kingham
Righty has been impressive, but Hurdle wants to make sure he continues to grow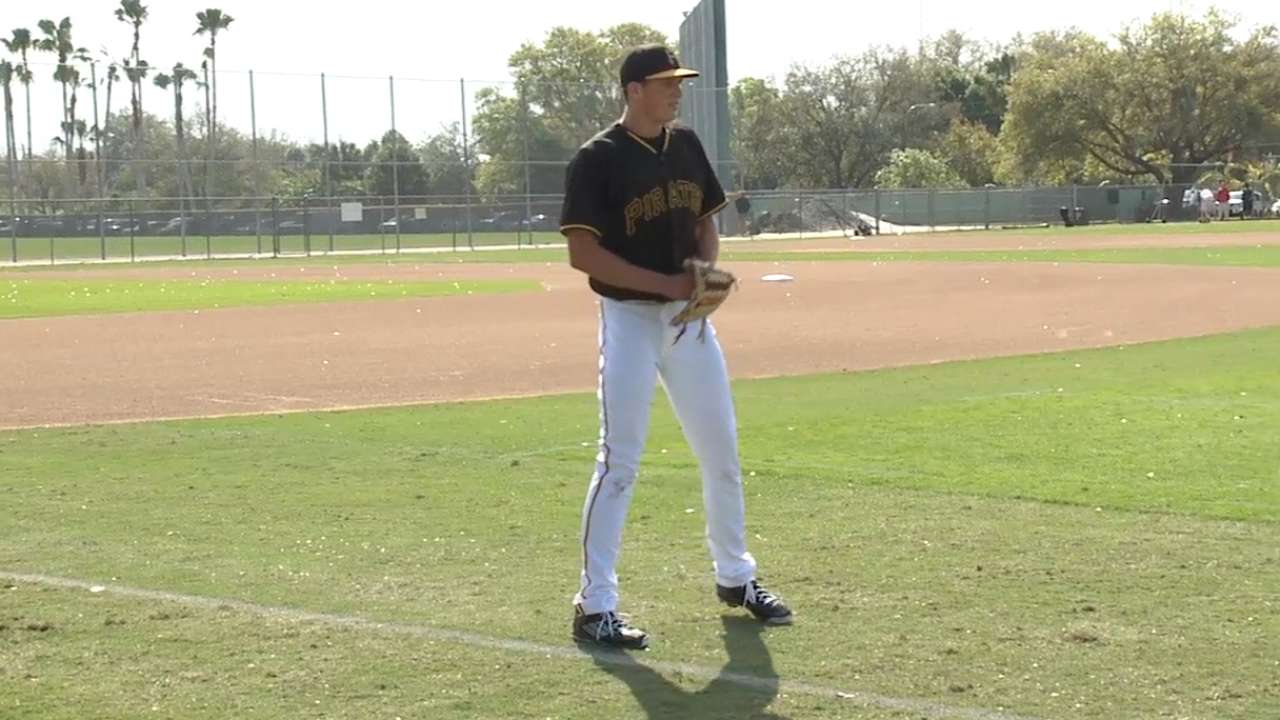 BRADENTON, Fla. -- When Nick Kingham first took the mound for the Pirates on Saturday, he was impressive. When the 23-year-old right-hander followed that up with two more perfect innings Thursday against the Red Sox, he was both impressive and heartening.
The latest performance came 48 hours after Brandon Cumpton's Tommy John surgery. If Kingham was on the Bucs' periphery for the 2015 season, the loss of Cumpton for 12-18 months certainly nudged him a little closer to the core.
"First of all, you never want to see anybody get hurt," Kingham said. "Knowing that [Cumpton] was going to be a big part of the 2015 Pirates, that's a tough break for us to get, but I'm sure we'll overcome it. Someone will have to step in his spot, and we'll see how it plays out."
Kingham, ranked by MLBPipeline.com as the Pirates' No. 5 prospect, may still be low on that chain.
"Will it change his seeding?" said manager Clint Hurdle, alluding to the effect of Cumpton's injury. "Yeah, because it changes everybody's as they all move up a notch.
"But we're in no hurry with Nick. He went from Double-A to spend some time in Triple-A [in 2014] and he was able to build, and I believe some of that has carried over into here. We want to make sure he continues to grow and gets to a very competitive spot when time comes for him to arrive."
Don't rule out 2015 for that ETA.
Interestingly, Cumpton, around his stints with the big club, and Kingham shared an identical record with the Indianapolis Indians last season. Cumpton was 5-4 in 11 starts, and Kingham was 5-4 in 14 starts.
Asked whether he had a chance to be one of the guys expected to "step in" for Cumpton, Kingham said, "I couldn't tell you. I'm just trying, when that time does come, to be as prepared as possible."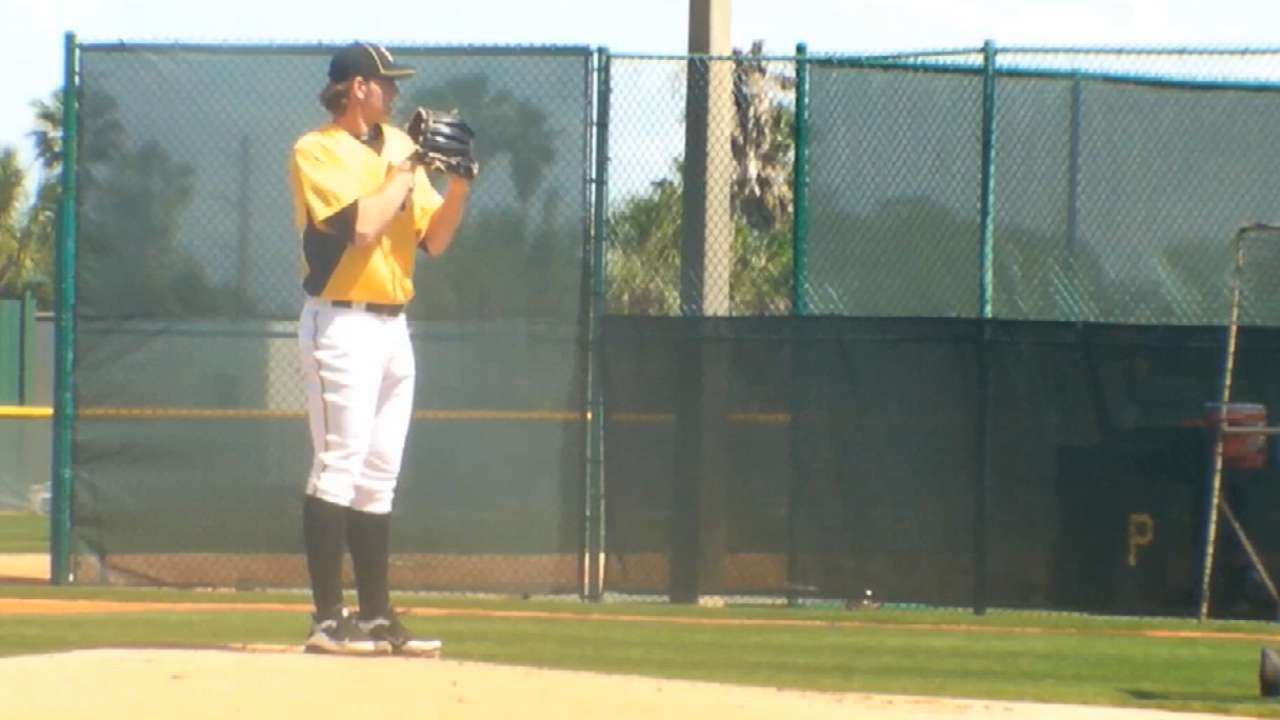 His early Grapefruit League impression won't hurt: In four innings, Kingham has allowed two hits with three strikeouts and no walks.
"There's a lot of reasons for us to like Nick," Hurdle said. "I've listened to people [about him]. I've caught video tape. Now it's time to put your eyes on the guy.
"I watch him in workouts, in the clubhouse, on the field, in the game. He's had the opportunity to pitch some innings now, and he's handled himself very well. He's had good poise and rhythm, so he's been good."
In citing some pitchers higher on that chain, Hurdle mentioned Clayton Richard, significant in that the veteran lefty is in camp on a non-roster basis. Also singled out by the manager were Casey Sadler, who puts his five-inning hitless spring on the line Friday against the Twins, and Radhames Liz.
Tom Singer is a reporter for MLB.com and writes an MLBlog Change for a Nickel. Follow him on Twitter @Tom_Singer. This story was not subject to the approval of Major League Baseball or its clubs.