Efficiency, not velocity, theme of Verlander's second start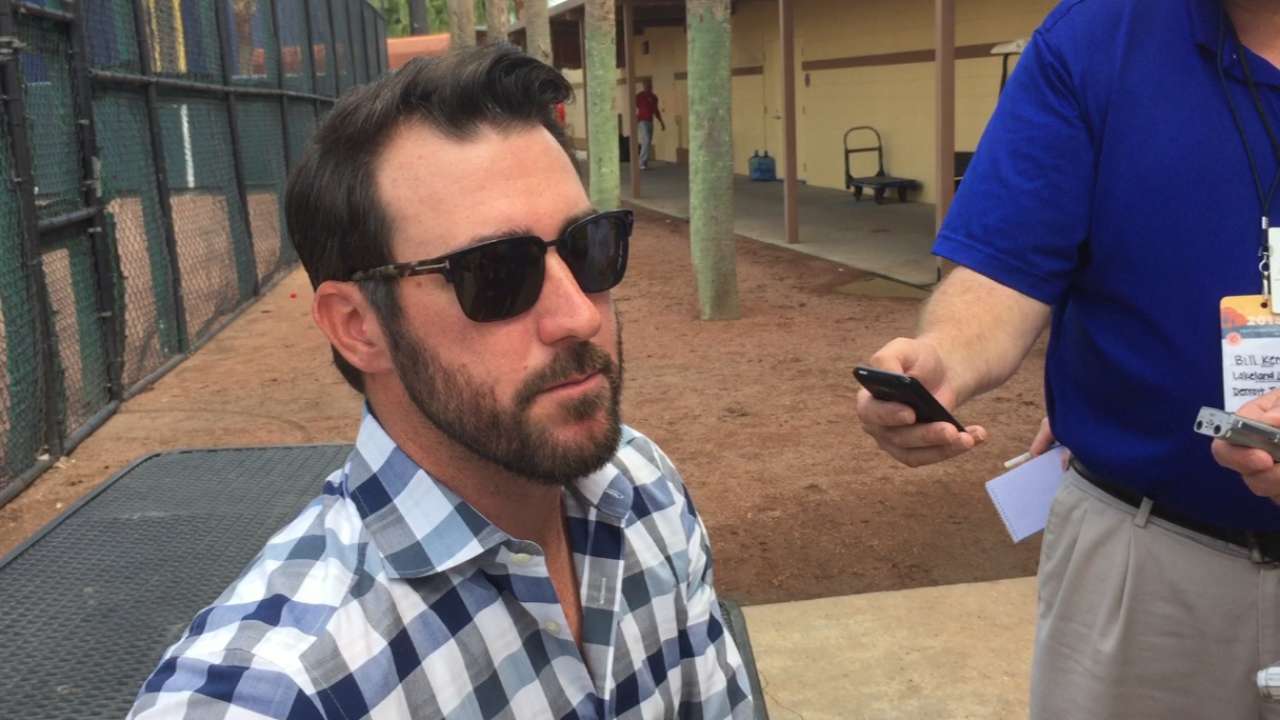 LAKELAND, Fla. -- The radar gun was on for Justin Verlander at Joker Marchant Stadium on Thursday. The focus on it was not.
As he worked his way through the Phillies' lineup on his way to the minimum nine batters over three innings, he did so with a fastball that averaged around 92-93 mph. He's not going to crank up the velocity at this point, though he still holds out hope that he can get more power out of it than last year.
At the same time, the righty seems better prepared for life as a low-to-mid-90s pitcher.
"If it doesn't [come back], obviously I'll still be able to locate," he said. "I think my mechanics are much more sound than they were at any point last year already, so that's a good sign."
Verlander had little trouble with a Phillies lineup that has struggled for runs for most of the spring. He needed just 29 pitches over his three innings, and 22 of them went for strikes. He reached only one three-ball count on his way through the order, and he dispatched that with a full-count curveball that Cody Asche popped up to short.
That's the pitch on which Verlander focused his first outing, last Saturday against the Braves.
"I didn't throw quite as many curveballs," Verlander said of his follow-up performance. "I know the ones I did throw I got some pretty good success out of. I got three outs on it."
The fastball was more a story of location, pounding the strike zone without giving up much solid contact. His lone baserunner, Odubel Herrera, reached by jumping a 90-mph first-pitch fastball for a one-out double in the first inning. Verlander promptly erased him with a 68-mph pickoff throw to second.
He used offspeed pitches to set up a 91-mph fastball for a called third strike to Jeff Francoeur in the second inning, his lone strikeout of the day. Before that, Verlander set up Ryan Howard with a first-pitch breaking ball for a called strike before getting him to ground out on a 92-mph fastball.
"Spotting it up," Verlander said. "Hopefully the velocity continues to climb and carry over the location with that."
It's the mix that impressed his pitching coach, Jeff Jones. It's the mix on which they want to focus.
"His curve was sharp, his changeup was good, he located his fastball well," Jones said. "I am happy for him, too, because he's worked so hard to get to where he's at right now. I thought he was better today than the last time out."
Verlander threw slightly harder last time, topping out at 94 mph. He threw more efficiently this time.
Jason Beck is a reporter for MLB.com. Read Beck's Blog and follow him on Twitter @beckjason. This story was not subject to the approval of Major League Baseball or its clubs.