Maddon has Ferrell play many roles for Cubs
Actor gets creative in third-base box, strikes out in adventurous day
TEMPE, Ariz. -- Will Ferrell made the most of his day with the Cubs, coaching third, playing first base and even getting an unexpected pinch-hit at-bat.
Ferrell played center field for the Angels on Thursday, then switched dugouts and donned a No. 19 Cubs uniform, taking over as the third-base coach for Gary Jones in the fourth. Whatever magic Ferrell possessed worked, as the Cubs rallied for four runs. Javier Baez led off the inning by flying to center and Ferrell waved him around, then waved Baez into the dugout.
Ferrell had some big cue cards, including one that read, "Don't pull a muscle," which he flashed to Jorge Soler. Soler didn't, as he crushed his second spring home run. Ferrell naturally pointed to himself to take credit for the homer.
What Ferrell didn't know was that Soler couldn't read the signs.
"He can't read English," Chicago pitcher Jason Hammel said. "I don't think Will knew that."
The actor/comedian had more cards. He held up one asking Mike Olt during his at-bat, "Did you sleep well last night?" then flashed "Swing as hard as you can" to Olt. Ferrell also suggested Olt "Take a pitch," but he didn't, swinging with two strikes.
"Yeah, I missed that sign," Olt said, somewhat sheepishly.
Olt did eventually draw a walk against the Angels' Frank Herrmann.
As he got to first, Ferrell's message was: "Don't steal." He didn't have to as Kris Bryant hit an RBI double.
What was Ferrell's advice to Bryant? The signs included "Remember these games don't count" followed by "Ignore that last card -- play hard." When Bryant got to third base, the two had a brief conversation.
"He said, 'What are you guys doing after the game?'" Bryant said. "I said, 'I'm going to Vegas.' He said, 'I love Vegas.' He said, 'What's your game?' I'm like, none. He said, 'My game's roulette.' This guy's crazy. It was kind of cool. He's an actor I enjoy watching and he's giving signs -- I thought that was really cool. It'll never happen again."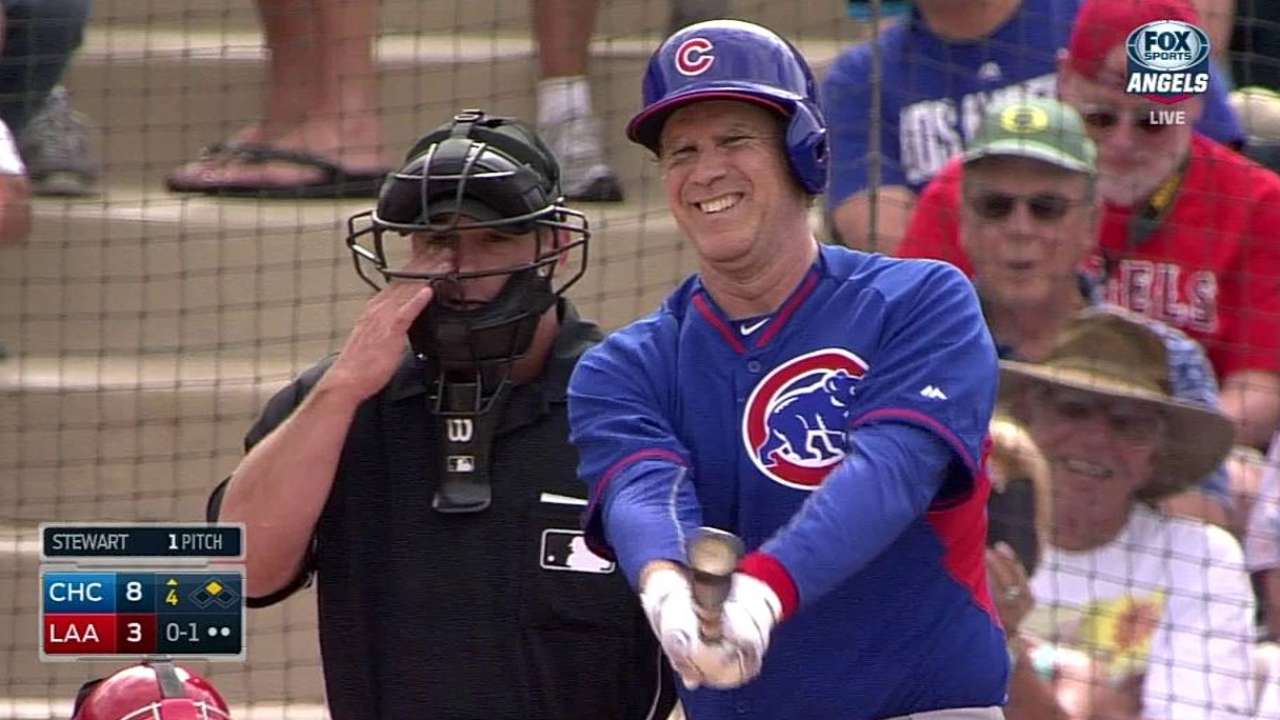 Welington Castillo gave Ferrell a thumbs up when he used the "You are so handsome" sign. Ferrell was serious. His next sign was: "I'm not just saying that."
Addison Russell was called down to third to chat with Ferrell, who seemed to be scolding the young shortstop. Cubs manager Joe Maddon said Russell was supposed to give Ferrell his bat to give the comedian a chance to hit. Then, Maddon asked Ferrell if he wanted to pinch-hit.
"I went up to him and said, 'Do you want to be a pinch-hitter?'" Maddon said. "I said, 'You're going to [be designated hitter] later, but you don't have pinch-hitting lined up for today's menu,' so he decided to do it."
Ferrell took three pitches from Zach Stewart and struck out swinging on the third.
"I think he came back and at that moment, he understood how fast a Major League fastball is," Maddon said. "I think he was kind of surprised how quick it was."
"It's such a lose-lose situation for the pitcher right there," Hammel said. "If you strike him out, you look like a jerk. If you walk him or hit him, you're the worst thing in the world."
But Ferrell's moment with the Cubs wasn't done. He took over at first base for Olt, and stayed there for one out in the Angels' fourth.
"We were warming up, and [Russell] threw one in the dirt and it was funny," Bryant said. "I'm used to guys who can actually catch it there, and I threw one hard to see what he could do and it went off on him. He caught it -- I was surprised."
Then, Olt came out to take over at first. Ferrell slammed his glove to the ground, and walked off the field.
"I think he said, 'Don't do this to me,'" Olt said. "I said, 'I've got to let you go. You're on your way.' And that was it."
The Cubs outfielders weren't told to play any differently on defense to help Ferrell out.
"Somebody will [be backing him up] -- hopefully, it's not the fence," Dexter Fowler said.
Maddon has watched "Talladega Nights: The Legend of Ricky Bobby" at least 20 times, and "Step Brothers" about 25 times. He used to play the song "Love Me Sexy" from the movie "Semi-Pro" in his office at loud levels. He also had a Will Ferrell moment at Yankee Stadium but didn't take advantage of it. During a Rays-Yankees game, Maddon heard someone razzing him from the stands in a "Hey, batter, batter"-type chant.
"Somebody was ragging on me the whole game," Maddon said. "After the game, the guys told me, 'That was Will Ferrell.' I said, 'Why didn't you tell me it was Will Ferrell?' He knows my name at least."
As part of a new HBO special from Funny Or Die, Ferrell's played for 10 teams at five different Spring Training ballparks in Arizona on Thursday. He was doing so to raise money for cancer research and honor the historic feat of Bert Campaneris, who five decades ago played all nine positions in game for the Kansas City Athletics.
Before suiting up for the Cubs, Ferrell played for the Angels, replacing Mike Trout in center field before Bryant's long blast. Two batters later, Ferrell nicely fielded a base hit to right-center, holding Castillo to a single.
Cubs pitcher Jon Lester wasn't at the game and was a little miffed. He posted on Twitter: "Bummed to miss the #FerrellTakesTheField fun today but love the cause! Remember, it's hot out there, milk would be a bad choice! @NVRQT
Maddon joked that the Cubs gave the Angels some burritos in exchange for Ferrell. The manager did get Ferrell to autograph a bat for his new granddaughter, Carson.
"It was a lot of fun," Maddon said. "He made a nice play in the outfield and he was a lot of fun on the bench. I think it's good for baseball to have him do something like that with his popularity. He's got athleticism. We had a good time with him in the dugout."
Carrie Muskat is a reporter for MLB.com. She writes a blog, Muskat Ramblings, and you can follow her on Twitter @CarrieMuskat. This story was not subject to the approval of Major League Baseball or its clubs.