Lee's injury generates interesting rotation battle
Williams, Buchanan and Slowey likely have inside track to start season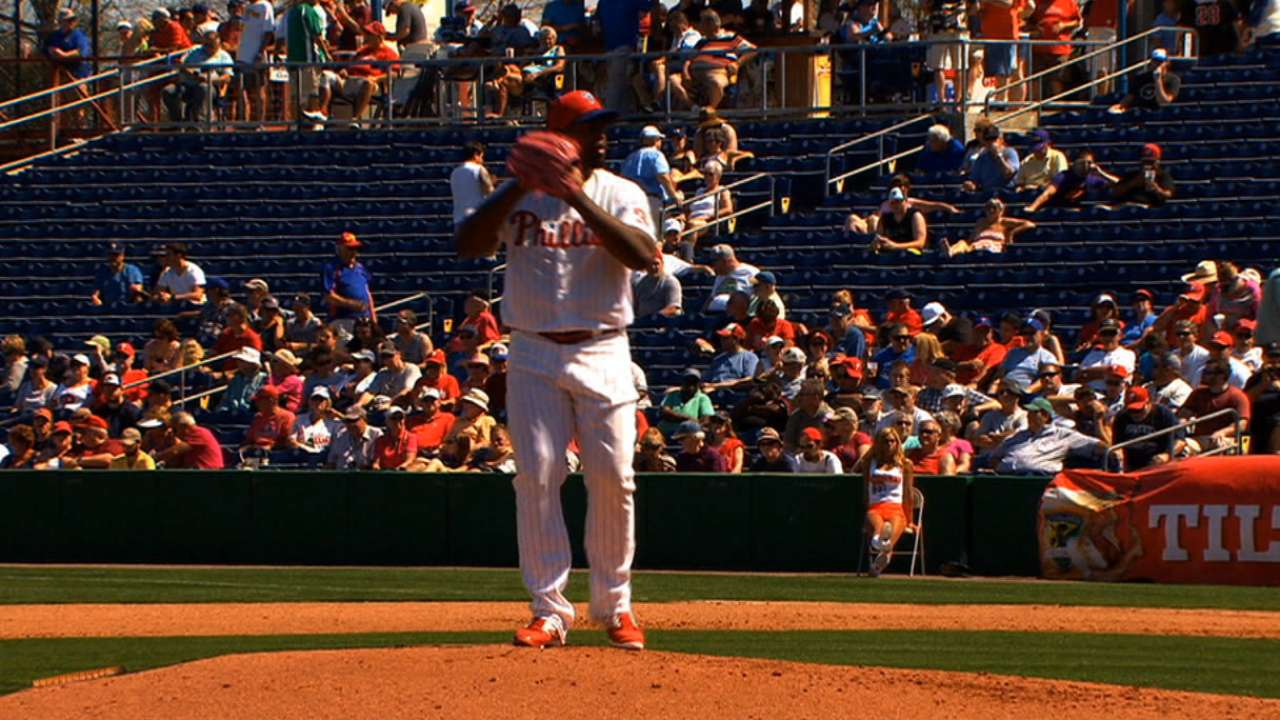 LAKELAND, Fla. -- Jerome Williams started, and David Buchanan and Kevin Slowey followed him Thursday afternoon in the Phillies' 6-5 win over the Tigers at Joker Marchant Stadium.
They could be in that exact order in the Phillies' rotation in April. Cliff Lee's injured left elbow could end his season -- the Phils offered no update Thursday on Lee's health -- which would make Cole Hamels, Aaron Harang, Williams and Buchanan the team's first four starters.
Slowey and Miguel Alfredo Gonzalez are competing for the fifth spot, which would be available if Lee can't pitch. Chad Billingsley is a candidate, but he isn't expected to be ready to pitch until late April.
"I'm not trying to put extra pressure on myself," Williams said. "All I'm trying to do is pitch. I say whatever happens, happens. I can't control anything except the way I pitch. I'm not really worried about that."
Williams (3.38 ERA in eight innings this spring) allowed four hits and two runs in three innings. Buchanan (2.57 ERA in seven innings) allowed one hit in three scoreless innings.
Slowey (0.00 ERA in six innings) allowed four hits in one scoreless inning. He replaced Hector Neris with runners on the corners and two outs in the seventh. Slowey allowed a couple bloop hits before Brian Bogusevic threw out a runner at the plate to end the inning.
"I tell you what," Slowey said about Lee. "That would be a real shame in a lot of ways if he can't pitch. But who knows? Wait and see what tomorrow brings. ... I'm ready from any pitch, whatever they need, whenever they need it. I want that to be the case over the course of the whole season."
Todd Zolecki is a reporter for MLB.com. This story was not subject to the approval of Major League Baseball or its clubs.