Nathan has rocky outing, says he'll learn from it
After three shutout appearances, Tigers closer allows six runs in two-thirds of an inning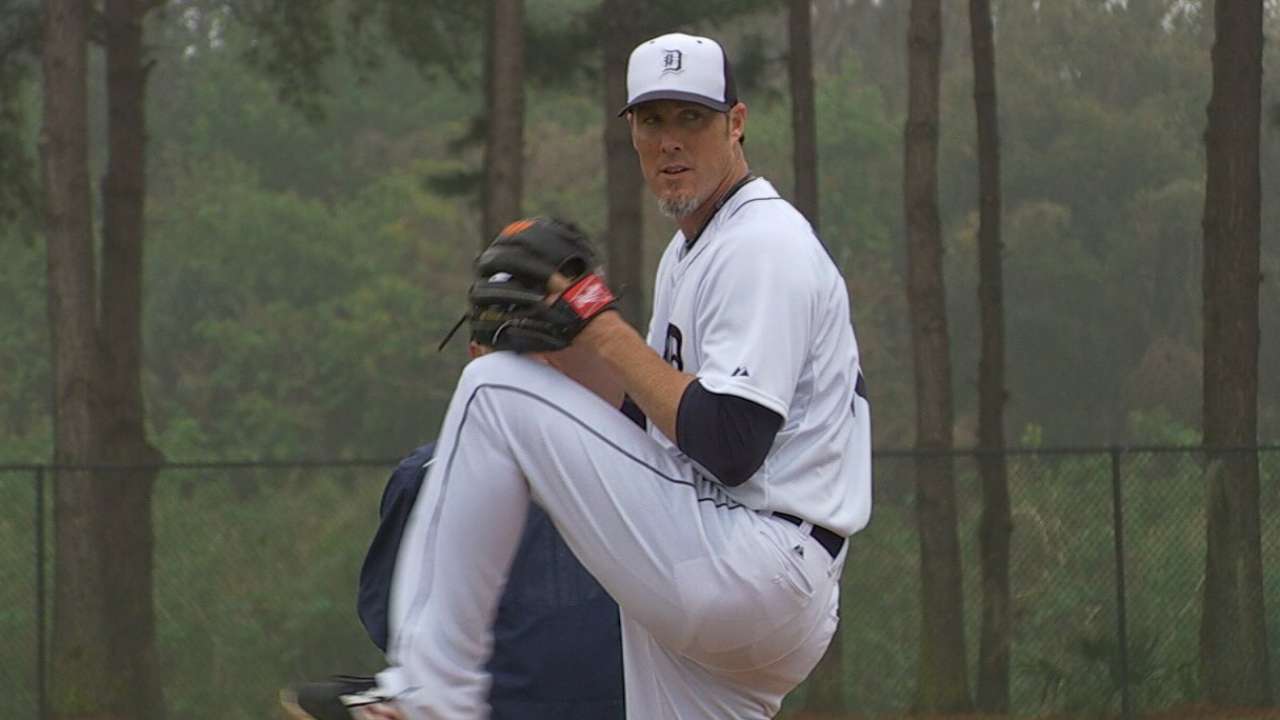 LAKELAND, Fla. -- Joe Nathan had one of those innings Thursday. His next innings will tell whether it was a rough step along his rebound or a return to the struggles that marked last year.
Either way, his status for Opening Day isn't at risk.
"That's what this process is about, getting back, and when you do get in these funks, learn from what you can do next time to kind of get yourself out of them and get some uncomfort in the hitters," Nathan said after giving up six runs, four earned, on five hits to the Phillies. "So next time out there, if we do start to get extended and they look comfortable, start to move some feet and back some guys up."
Nathan entered the game with three scoreless innings so far this spring -- one a little shaky, another efficiently clean, and another somewhere in between. He took the mound Thursday against a Phillies offense that has struggled mightily all spring.
By the time he left, the Phils had batted around with five runs in and another on the way. Only one of the five hits off Nathan went for extra bases, and none hit the fence. He wasn't overpowered so much as he was chased by hits in bunches.
The first three looked nearly identical, all line-drive singles to left from Jeff Francoeur, Cody Asche and Freddy Galvis. Nathan's velocity ranged around 89-91 mph, and it seemingly picked up as the inning went on. For Nathan, though, the velocity this spring has been secondary to the command.
"Control felt good," he said. "I didn't feel like maybe there was as much life today as I had [previously], but still had some pretty good movement."
Nathan put Andres Blanco in an 0-2 hole before evening the count. From there, Blanco ripped a 2-2 pitch inside first base and into the right-field corner for a two-run triple.
Nathan regrouped with back-to-back groundouts from Cameron Rupp and Ben Revere, spotting curveballs along the way, and he initially seemed to have a chance to end the inning with an Odubel Herrera grounder to first. Once Herrera beat Nathan to the bag, however, the inning fell apart with a Domonic Brown walk.
"I thought early, the first couple of batters, he was jumping out a little bit," pitching coach Jeff Jones said, "and that's what I told him when I went out there. I thought he made a good adjustment and started getting balls down in the zone, and his breaking ball starting getting better."
Nathan's 34th and final pitch resulted in a Ryan Howard grounder that Jordan Lennerton, a two-time Minor League Gold Glove Award winner, mishandled at first base for an error.
By inning's end, the Phillies had scored more runs than they had posted in their previous three games combined. And as Nathan left the mound, he heard the unusual Spring Training sound of boos.
"I don't want to make a bigger deal than it is," Nathan said. "Fans are going to be the way they are, and that's the way it is. That doesn't bother me."
Jason Beck is a reporter for MLB.com. Read Beck's Blog and follow him on Twitter @beckjason. This story was not subject to the approval of Major League Baseball or its clubs.