Pelfrey hanging tough in bid for fifth rotation spot
Pitcher made just five starts last year before undergoing season-ending elbow surgery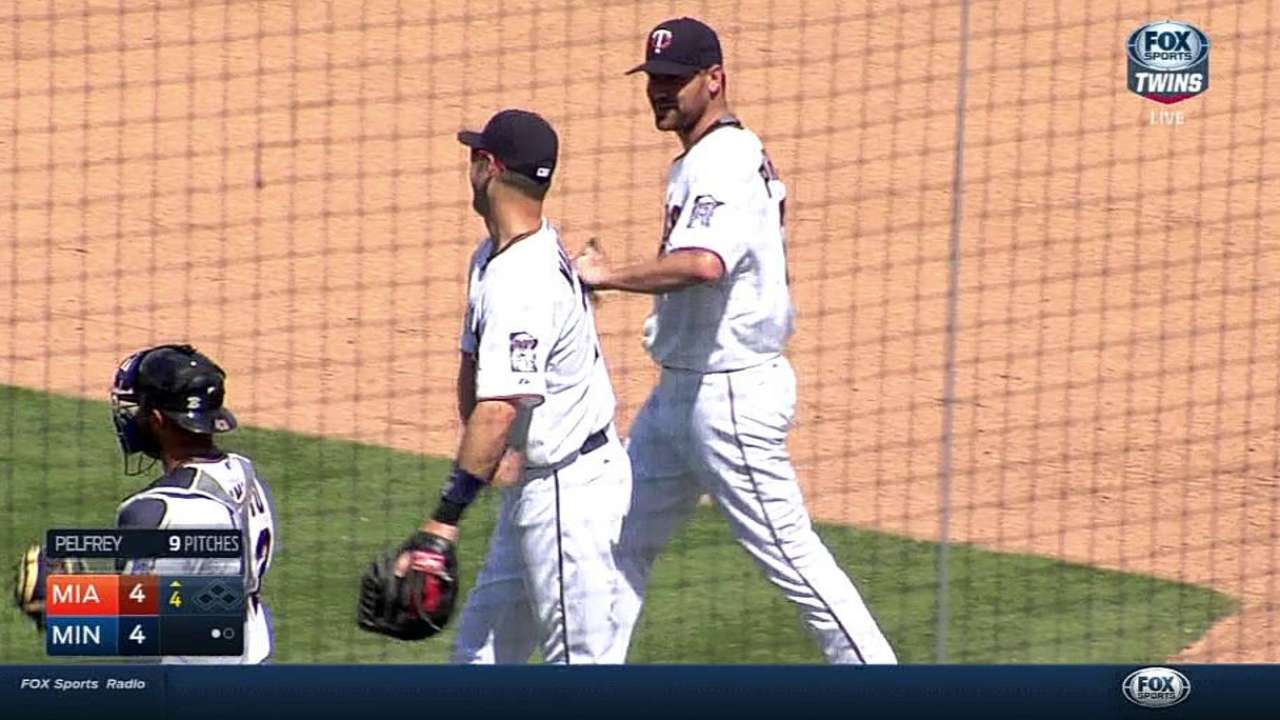 FORT MYERS, Fla. -- After a solid outing with three scoreless innings in the Twins' 7-6 win against the Marlins on Thursday, right-hander Mike Pelfrey isn't making the decision about the club's fifth starter any easier.
Just a day after lefty Tommy Milone was sharp with three scoreless frames against the Rays, Pelfrey matched him, including retiring the first eight batters he faced. Prospects Alex Meyer and Trevor May also remain in that mix, but Pelfrey said it remains his goal to make the rotation this spring.
"With everybody pitching good, hopefully it makes their decision harder," Pelfrey said. "I busted my tail this offseason with the position I'm in. Not only do I owe it to the Twins, I owe it to myself to go out there and give it everything I have. The best thing for me is I'm healthy. When I'm healthy, I feel like I can get people out and be successful. At the end of the day, as long as I feel good, whatever happens, happens."
Pelfrey, 31, wasn't healthy last year and made just five starts with a 7.99 ERA before underwent season-ending elbow surgery in May. It came just two years after undergoing season-ending Tommy John surgery on his elbow in '12. But Pelfrey made it clear he has no elbow issues this spring and isn't ready to move on from starting.
"I've started my whole career, so obviously I want to start," Pelfrey said. "This offseason, I made that commitment to myself to give it everything I have."
Pelfrey, though, acknowledged the fact he could open the year in the bullpen if he doesn't make the rotation out of camp. He said he wouldn't resist it if the Twins asked him to do it, but indicated it's not his preference, as he has only four career relief appearances.
"If they tell me that I don't have a choice," Pelfrey said. "is it my first option? No. But [if] at the end of the day, that's what they decide is best for the team, then so be it. I'll go out there and do my best."
Twins manager Paul Molitor liked what he saw from Pelfrey on Thursday, noting his offspeed stuff looked much better with an improved curveball and a split-changeup he's starting to incorporate more. He said the race for the fifth starter spot is still open, and Pelfrey isn't making it any easier on him.
"It was a strong outing for him," Molitor said. "When the first three hitters topped the ball straight into the dirt, it tells you he's getting his movement back. To me, obviously, getting that movement on his two-seamer is important, but his secondary pitches, he backed up nice today. … You want hard decisions. That's a good thing."
Rhett Bollinger is a reporter for MLB.com. Read his blog, Bollinger Beat, and follow him on Twitter @RhettBollinger. This story was not subject to the approval of Major League Baseball or its clubs.