Where there's a Will: Ferrell's foul ball steals the show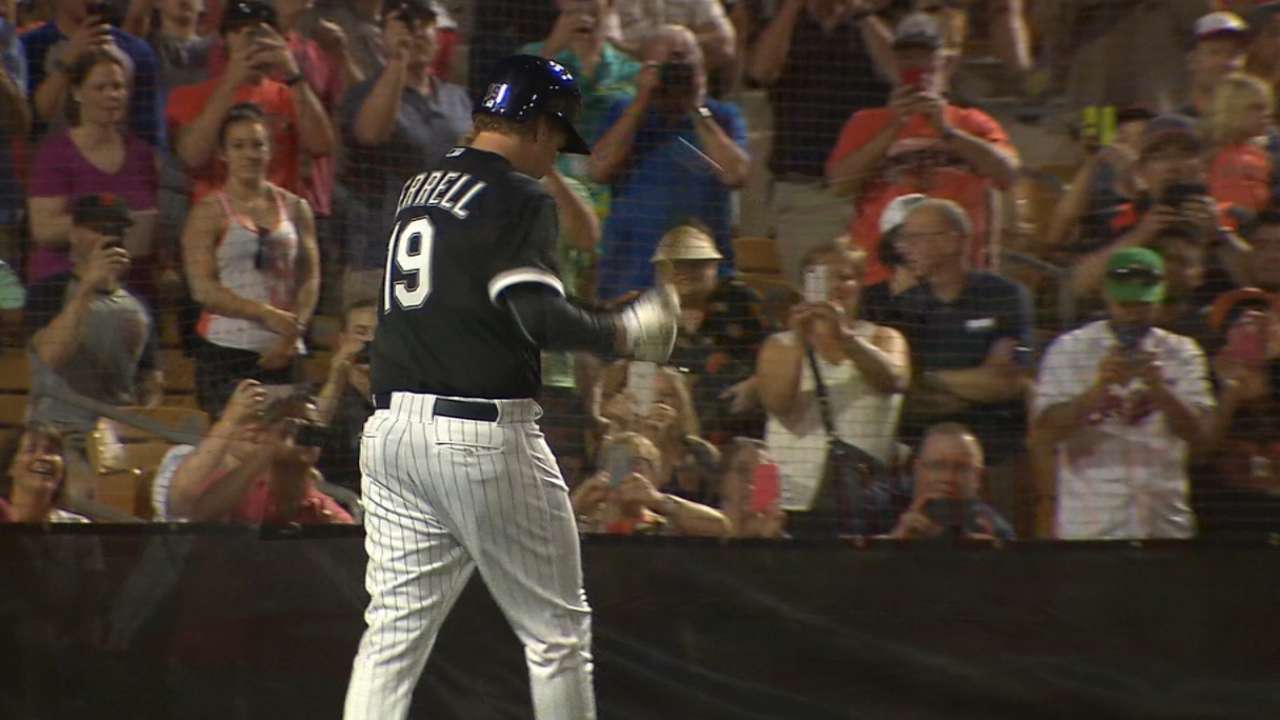 GLENDALE, Ariz. -- Will Ferrell's helicopter landed in center field at Camelback Ranch, with Blue Oyster Cult blasting over the loud speakers, prior to the top of the ninth inning of San Francisco's 7-4 Cactus League victory over the White Sox on Thursday. Yes, the comedic great arrived a little later than originally planned, but the wait was well worth it.
Ferrell pinch-hit for the White Sox in the bottom of the ninth against Giants reliever Jean Machi, striking out swinging -- but not before getting a piece of a 92-mph fastball.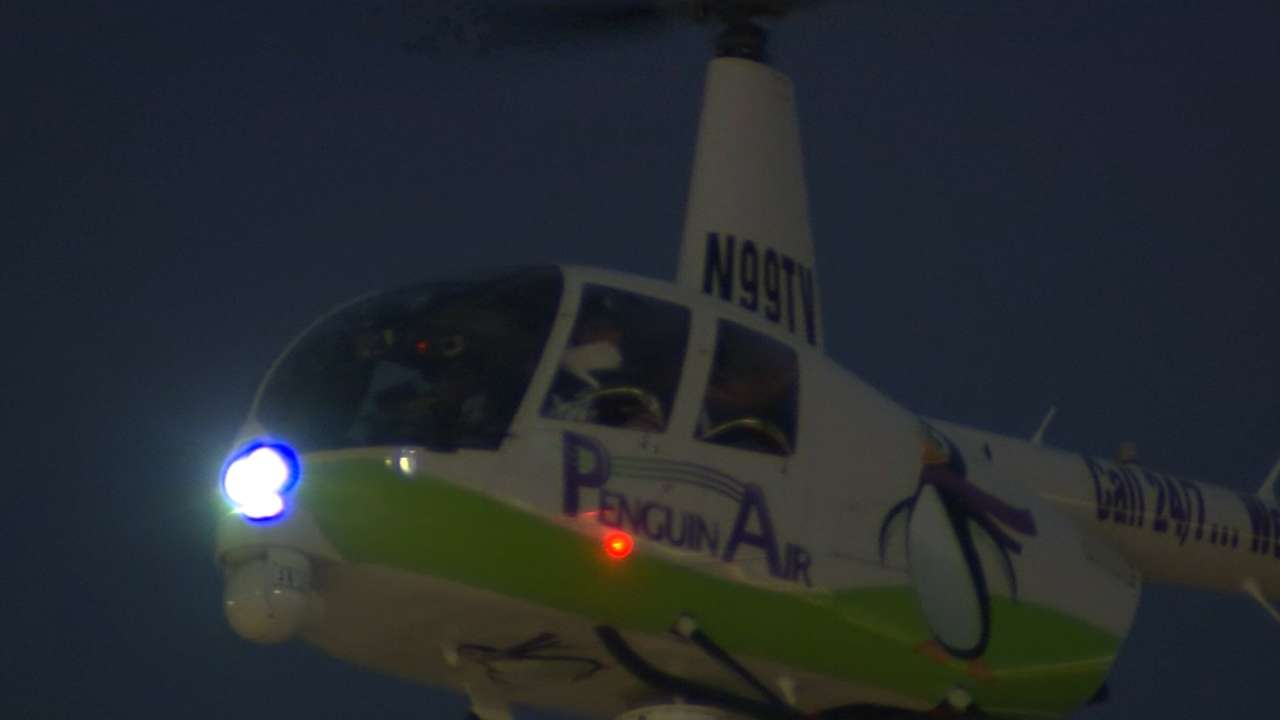 Ferrell jumped ahead in the count at 2-0, before taking a called strike on the outside corner then swinging and missing on the next pitch. Ferrell, the 47-year-old star of Anchorman, Old School and Step Brothers, to name a few of his hits, fouled off Machi's next offering with a bit of a late swing, before swinging and missing for strike three.
That contact stung Ferrell's hands, which he comically reacted to just outside of the batter's box, drawing a raucous reaction from the 8,454 in attendance, who loved every minute, as evidenced by the cheers and thousands of mobile-phone videos and pictures being taken.
Ferrell then was traded to San Francisco and moved in behind the plate, catching the man who had just set him down, only to be traded again after Machi intentionally walked Joey DeMichele, this deal sending him to the Dodgers-Padres tilt in Peoria.
All of the entertaining baseball activity was part of a production on a new special from Funny Or Die, in partnership with Major League Baseball, to air exclusively on HBO later this year. Dedicating Thursday's project to the fight against cancer, Ferrell also was honoring the historic feat by Oakland's Bert Campaneris five decades ago by playing every position on the field for 10 different teams in the same day.
This White Sox-Giants game marked his fourth stop, with the helicopter's arrival leaving those in the home dugout in a little bit of awe.
The on deck circle, where one apparently takes no practice swings. #FerrellTakesTheField pic.twitter.com/r29pszruc7

- Chicago White Sox (@whitesox) March 13, 2015
"I mean, it's like he's the president or something," said White Sox outfielder Trayce Thompson of Ferrell's entrance, which saw the actor emerge from the helicopter in full White Sox uniform, including bat and helmet. "For an actor to have that much power is pretty incredible. It was funny."
According to Thompson, Ferrell's first words upon entering the White Sox dugout were, "We are down two, guys. Let's go." After
Zach Putnam
worked the top of the ninth inning, Ferrell stepped to the plate in his White Sox uniform.
"Everyone loves Will Ferrell. If you don't love Will Ferrell, I don't know if you like movies," Thompson said. "It was great. Every single fan was on their feet. I think it was really funny and he's my favorite actor by far so to be a part of something like this is really cool."
DeMichele also counts Ferrell as his favorite actor, so getting intentionally walked with him behind the plate was a bit of an honor. Manager Robin Ventura had joked before the game that Ferrell had the green light to run if he reached first, and reliever Jesse Crain, who threw live batting practice early in the morning, talked about returning with his children to see the game.
Tyler Flowers, who was gone from behind the plate when Ferrell arrived, tried to figure out how Ferrell would handle a pitcher with electric stuff such as Chris Sale while going at full speed.
"I bet he would touch half of them. Touch, not catch," Flowers said with a laugh. "I think it's going to be really neat when it's done and it comes out as a finalized product. That will be even more fun to see and watch."
Hits a ball foul, hand hurts for the rest of the at-bat. #FerrellTakesTheField pic.twitter.com/8aEV4uAPHC

- Chicago White Sox (@whitesox) March 13, 2015
Flowers had hoped Ferrell would be able to hang in the dugout for a bit after his on-field exploits. But he was quickly off to Peoria, as Ferrell's show and one-day baseball career must go on.
"He's obviously very funny," DeMichele said. "Just to be there, kind of part of what he was doing, was pretty cool."
"Seeing him catch for the Giants was even funnier than seeing him hit," Thompson said. "It was definitely worth playing this game for that."
Scott Merkin is a reporter for MLB.com. Read his blog, Merk's Works, and follow him on Twitter @scottmerkin. This story was not subject to the approval of Major League Baseball or its clubs.