Ferrell shows off fielding skills while taking over for Trout
Actor plays center field for Angels, before donning Cubs uniform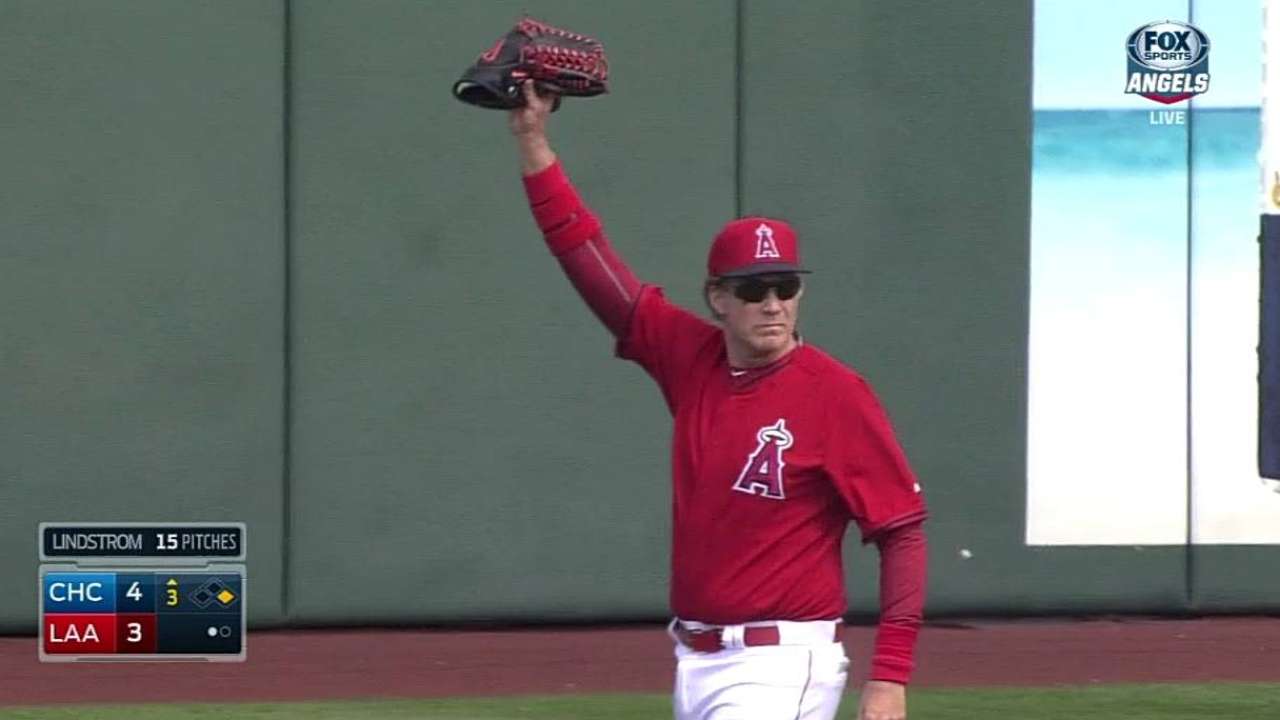 TEMPE, Ariz. -- Will Ferrell glided -- OK, tottered -- a few steps to his left, collected the base hit cleanly, crow-hopped expertly and flung the baseball back into the Angels' infield, holding Cubs catcher Welington Castillo to a mere single.
You know, just like Mike Trout would have done.
"He didn't get a double out of it," Trout said, "so that's pretty cool."
The second stop on Ferrell's quest to play 10 positions for 10 teams in one day brought him to Tempe Diablo Stadium early Thursday afternoon, where the Angels team he grew up rooting for hosted the Cubs team he's often linked to.
To start the third, Ferrell jogged to center field to inform Trout he was coming out of the game, news that had the 23-year-old phenom playfully throwing up his hands in disgust. Ferrell not only needed Trout's position; he needed his cap and his glove, too.
"I'm going to take your job," Ferrell told him.
"He was just trying to make people laugh the whole time," Trout said. "It was pretty neat just having him in the dugout."
Ferrell -- honoring Bert Campaneris and raising money for cancer research for an HBO special that will air later this year -- stayed at the Angels' facility a little longer than expected.
He jogged into the Angels' dugout in the middle of the second, high-fived the entire Spring Training roster, played a half-inning in center field, jogged to the Cubs' side, coached third base with an assortment of large signs, then put on batting gloves that were in his back pocket and grabbed a bat.
Ferrell was ready to hit, with Minor League right-hander Zach Stewart coming out of the bullpen to face him.
The pitcher wasn't going to let up.
"He's a menacing figure at the plate," Stewart said, "so I knew I had to bring my best stuff to get him out."
Stewart was brought over from Minor League camp for his first Cactus League game this spring and had no idea he'd be facing the famous actor/comedian until he finished warming up. He came at Ferrell with "just heaters, trying to blow his doors off." Ferrell watched the first two, complained to the home-plate umpire, then feebly swung through the third.
Stewart, a 28-year-old with 33 games of Major League experience, admitted he was "pretty amped up" and a little disappointed.
"It would've been cool if he would've been in character as Ron Burgundy out there."
"Anchorman" is one of Ferrell's most popular movies, but the overwhelming favorite in the Angels' clubhouse is "Step Brothers," the 2008 comedy Ferrell starred in alongside John C. Reilly. Angels right fielder Kole Calhoun saw it three times in theaters and twice on DVD.
After striking out, Ferrell -- raised in Irvine, Calif., and beloved in Cubs circles for his Harry Caray impression -- grabbed a first-base mitt, jogged to his new position and stayed there for one flyout to left field. And then, Ferrell - or Ricky Bobby, or Jackie Moon, or Ron Burgundy, or Chazz Michael Michaels, or Frank "The Tank" -- was gone.
He had more games to attend, more positions to play, more people to entertain.
"Growing up watching him," Trout said, "it was pretty cool to seed him in real life."
Alden Gonzalez is a reporter for MLB.com. Read his blog, Gonzo and "The Show", and follow him on Twitter @Alden_Gonzalez. This story was not subject to the approval of Major League Baseball or its clubs.