Miller happy to have gotten back on track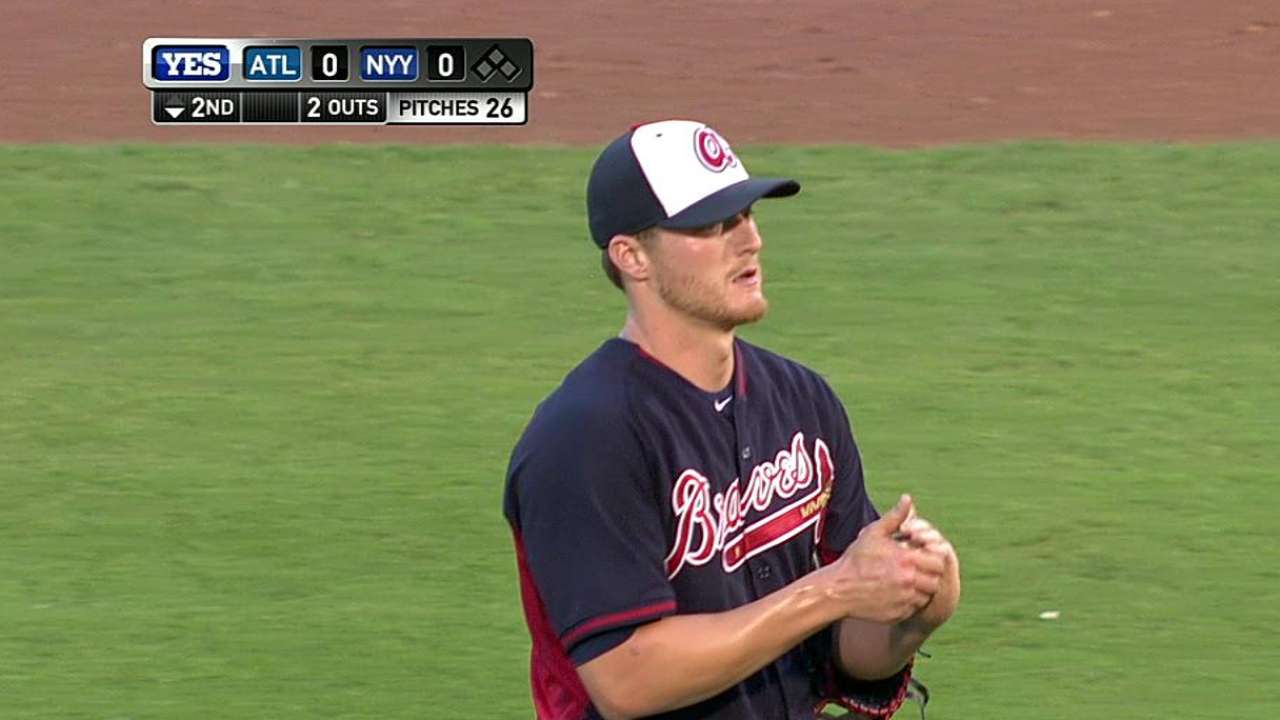 TAMPA, Fla. -- Coming off a shaky Spring Training debut, right-hander Shelby Miller got back on track against the Yankees on Thursday night at George M. Steinbrenner Field.
Granted, Miller had plenty of room for improvement after giving up four runs on three hits and two walks while recording only one out against the Tigers on Saturday. But he felt better about both his numbers and his performance in his second outing with the Braves after allowing one run on three hits and a walk while striking out two over three innings.
"You always want to do better than the last time out. It wouldn't have been too much harder to beat. It was a pretty rough outing," Miller said. "Today was just more trying to learn from last time and just getting more feel for the [strike] zone, which I felt like we did a good job of."
Miller's outing was almost immediately interrupted, as home-plate umpire Dan Iassogna ejected manager Fredi Gonzalez following Miller's first pitch. Miller later gave up a two-out single to Carlos Beltran but rebounded to strike out Mark Teixeira.
Miller issued a two-out walk to Alex Rodriguez in the second inning, but once again escaped when Stephen Drew flied out to center field.
Miller could not get out of the third inning unscathed, however. Yankees shortstop Didi Gregorius ripped a line drive into the gap in left-center and sped around the bases for a triple. Jacoby Ellsbury reached on the next play, when Miller thought Gregorius might break for home plate.
Brett Gardner wound up driving in Gregorius with a fielder's-choice grounder to second base, but Miller induced an inning-ending double play the next at-bat to limit the damage.
"That inning could have been a lot worse, and we got out of it," Miller said. "So that's a positive thing."
Miller wasn't working on anything in particular during Thursday's outing. He wanted to stay away from the middle of the plate -- where too many of his pitches gravitated on Saturday -- and hoped to make more effective use of his curveball and changeup, which he felt he did.
"Besides that," he said, "[I was] just trying to get quick outs and get through three innings."
Yankees manager Joe Girardi sent the same lineup he might use on Opening Day. The group is stacked with lefties and switch-hitters, the only exception designated hitter Alex Rodriguez, presenting a more difficult test for the right-handed Miller.
But Miller worked through the lineup efficiently, needing only 47 pitches to get through three innings.
"They have extreme talent over there, veterans throughout the whole lineup who have been around the game for a while -- and not only been around the game for a while but succeeded," he said. "It's definitely a tough lineup to face with a lot of great bats, and definitely a good matchup."
Adam Berry is a reporter for MLB.com. Follow him on Twitter at @adamdberry. This story was not subject to the approval of Major League Baseball or its clubs.