MLB.com Columnist
Tracy Ringolsby
Lucroy's steady improvement great news for Crew
Mending catcher pivotal to success of Milwaukee's lineup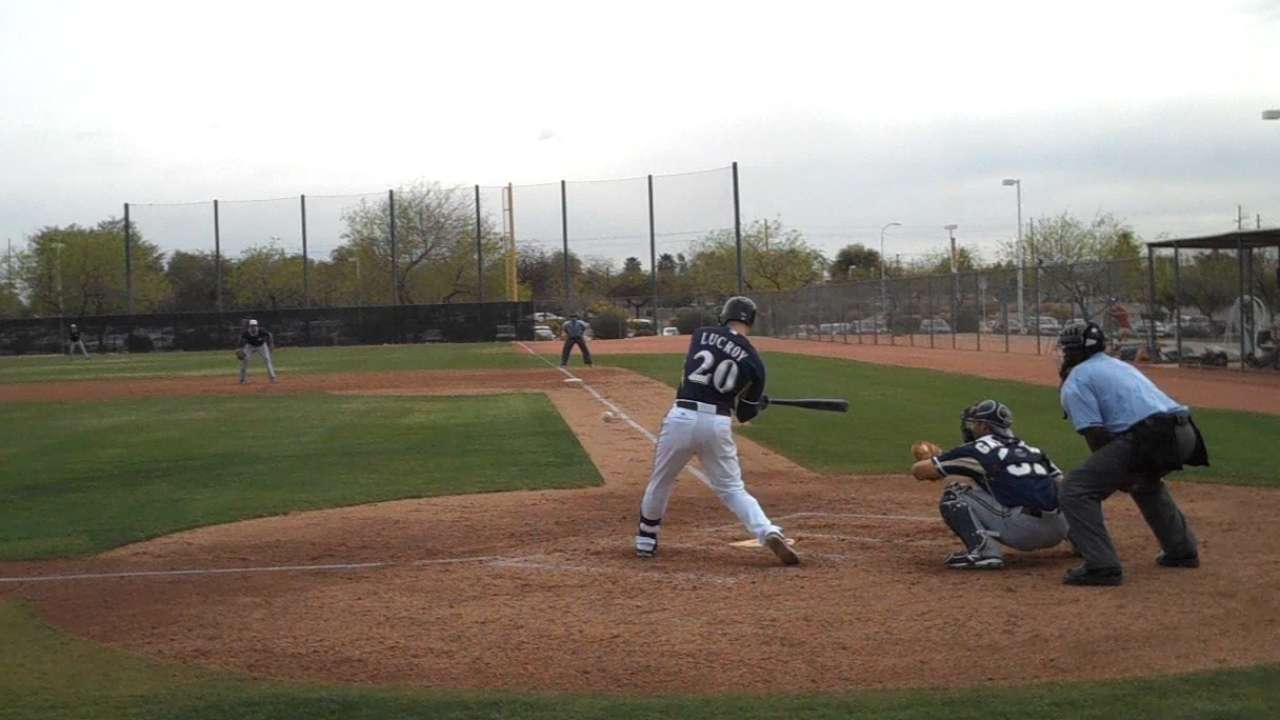 PHOENIX -- This spring hasn't been much fun for Brewers catcher Jonathan Lucroy.
He's one of those guys who wants to play 182 games in a 162-game season.
He is uncomfortable sitting and watching.
He, however, is also too important to the Brewers for them to take any chances.
So here it is, two weeks into Spring Training, and there Lucroy was on Thursday morning taking his first at-bats of the spring in a Minor League intra-squad game on the Minor League fields of the Maryvale Baseball Complex while the rest of the members of the Brewers big league roster were in a daily meeting with the coaching staff.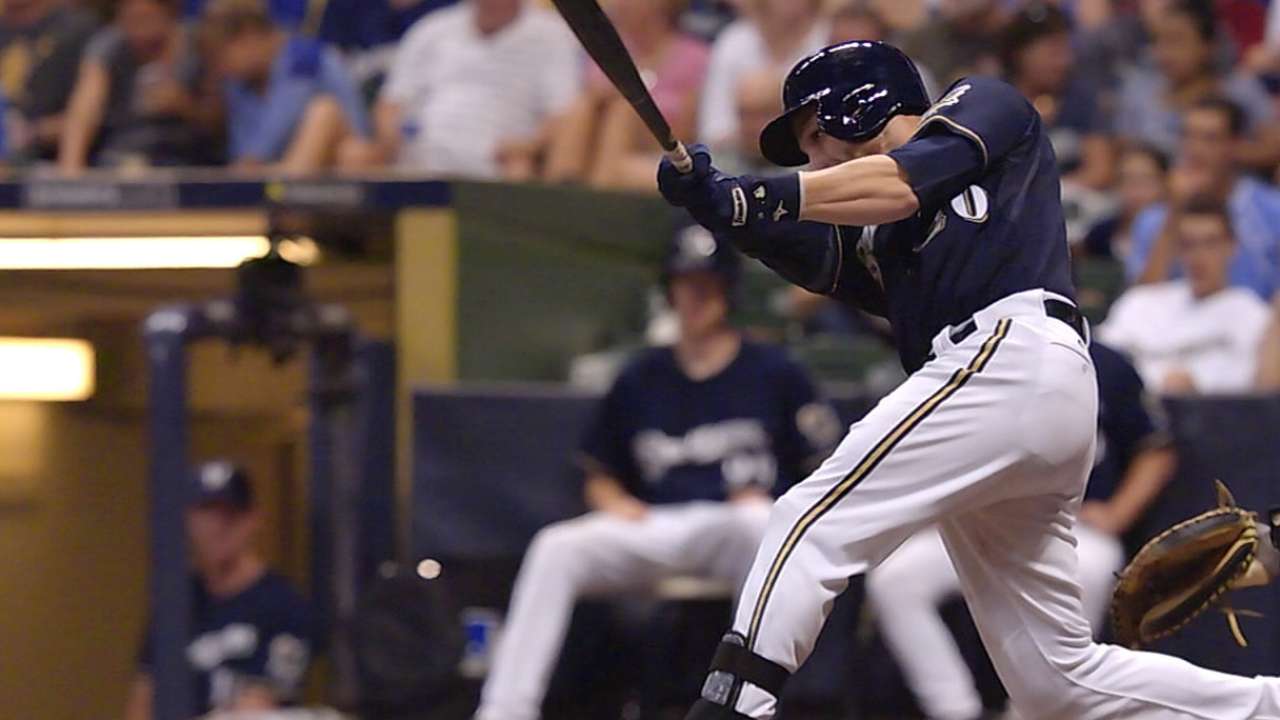 It wasn't overpowering, by any chance, but it was a chance to swing against pitchers, and that, alone was a major step for Lucroy in his recovery from a strained right hamstring that he sustained shortly before checking into Spring Training. He struck out in his first and fifth at-bats, but had two singles and a line drive to center in three other trips to the plate.
Even a bout with pink eye, which will keep Lucroy from his scheduled workout on Friday, couldn't put a damper on the step forward taken on Thursday.
"Seeing as I haven't seen live pitching since September," said Lucroy, "I'm pretty happy."
The Brewers are real happy.
They are confident Lucroy will be just fine by the time they open the regular season at Miller Park against the Rockies on April 6.
The Cardinals and the Pirates were both in the postseason last year. The Cubs were among the most active teams in the game, drawing attention to their bid for an NL Central title this season.
The Brewers haven't been a hot topic in the offseason, but they are confident that they have a chance to make a statement in the divisional battle, if they can avoid the injury problems that haunted them last year when they faded down the stretch, finishing 82-80 after losing 22 of their final 31 games.
They are encouraged by the health this spring of Ryan Braun and Aramis Ramirez.
And they are excited about the emergence of Lucroy, who won't turn 29 until June 13.
Lucroy earned big-time acclaim a year ago. There were discussions over whether Lucroy was better than Cardinals catcher Yadier Molina, including the Brewers having an All-Star vote campaign that was built around Lucroy claiming to be the best.
That was uncomfortable for Lucroy.
"Obviously, [Molina] is one of the best players to ever play the game," said Lucroy. "To be mentioned in the same breath as him. … I try not to get caught up with it. I worry about the Brewers and myself."
Best or second-best, Lucroy is a factor. He's a top-of-the-line receiver, but also the type of hitter who primarily hits somewhere between second and fifth in the Brewers' lineup.
Over the last two seasons, he has hit .291 and driven in 151 runs. Those numbers add up to the reason the Brewers want to be careful with Lucroy this spring.
"The injury is not that bad, but at his position we want to be careful," general manager Doug Melvin said. "He has been able to do everything but run. He's been catching pitchers and hitting [in batting practice]. The only thing he has not been able to do is run.
"We're getting him some at-bats now and look to play him in the last 10 [spring] games," said Melvin.
Lucroy is antsy to get into games with his big league teammates, but he understands the situation.
"It's a matter of me getting comfortable with my legs," he said. "I have to get by being gun shy. I have to be able to let loose. I want to be comfortable going first to third."
Lucroy had a chance to try that in his final at-bat.
He struck out in the first inning against Josh Roenicke, nephew of Brewers manager Ron Roenicke, and then poked a single to right field in his next at-bat against Jorge Lopez. After lining out to center against Roenicke, he singled up the middle off Lopez and then struck out against Tyler Wagner.
The big test came after that second single off Lopez.
"I'm at the point where a lot of it is mental," he said. "The last time I got on base, I tried to go first to third with a decent effort just to get a feel, and it felt good."
Just seeing Lucroy on the field felt good for all of the Brewers.
Tracy Ringolsby is a columnist for MLB.com. This story was not subject to the approval of Major League Baseball or its clubs.