Bats back deGrom, post nine-run eighth to outslug Nats
Rookie of Year whiffs five in three innings; Granderson, Cuddyer, Castellanos go deep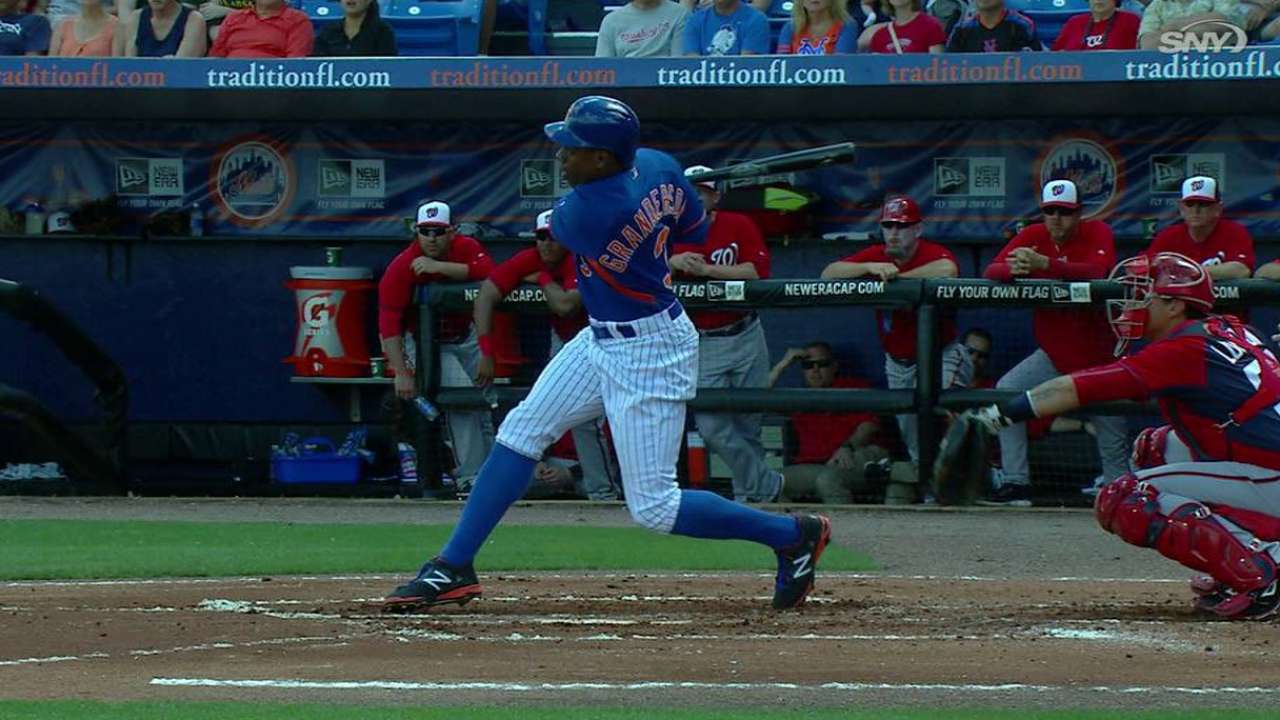 PORT ST. LUCIE, Fla. -- Not so long ago a significant area of concern, the Mets' outfield is evolving into a potential strength. That was on full display Thursday, when Juan Lagares' three-hit day complemented solo homers from Curtis Granderson and Michael Cuddyer in an 11-9 win over the Nationals.
Facing rookie A.J. Cole instead of Stephen Strasburg, whom the Nationals scratched with an ingrown toenail, Granderson led things off for the Mets with a solo homer in the first inning. After Michael Taylor doubled in two runs to give the Nats a third-inning lead, Cuddyer smashed his first spring homer off Evan Meek to square things at 2.
Highlighted by Matt den Dekker's RBI triple and Alex Castellanos' two-run homer, the Mets took the lead for good during a nine-run, eighth-inning rally. Pitching prospect Matt Bowman continued his strong spring with two shutout innings to earn the win, and is now unscored upon in four Grapefruit League innings.
Mets starter Jacob deGrom limited the damage to Taylor's double, striking out five and walking one in three innings. In that sense, he outpitched Cole, who walked two and allowed four hits over 1 2/3 innings of one-run ball.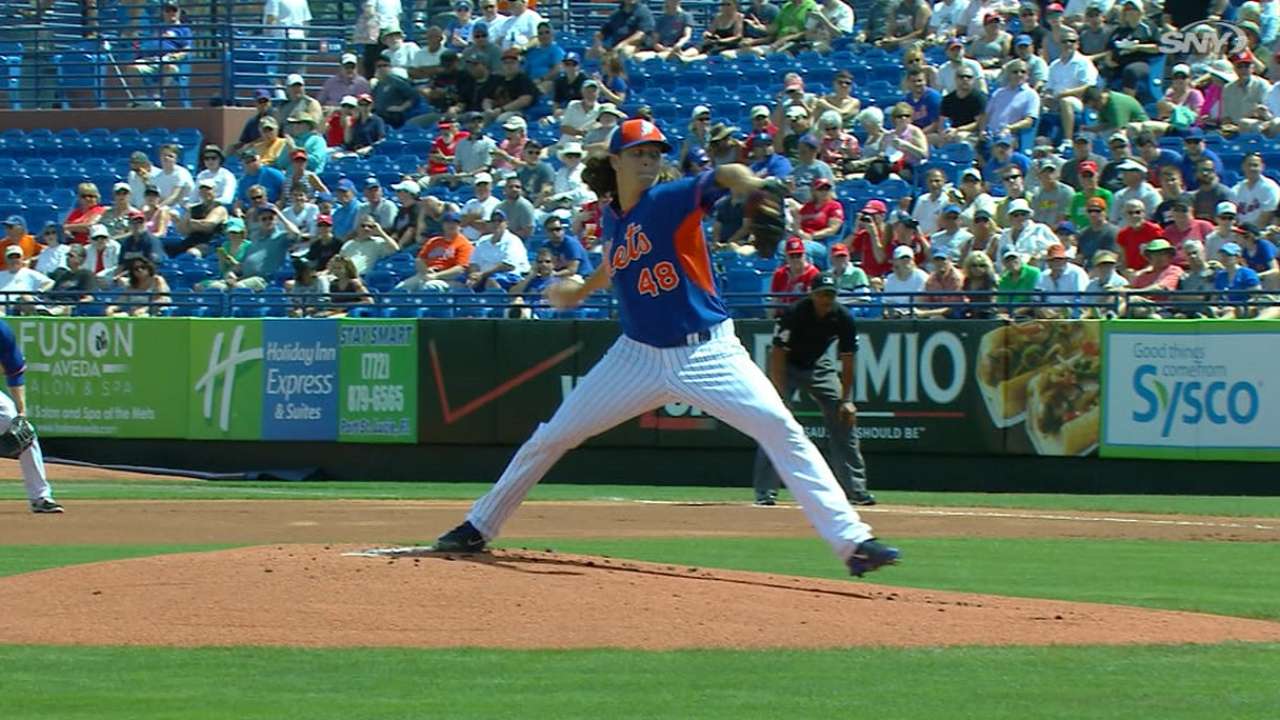 "I had command of all of my pitches and felt really good," deGrom said, noting that he was working in particular on his curveball and slider. "I gave up [Taylor's double] that was hit really hard. It was just a pretty good slider and he took a good swing at it."
Rookie left-hander Steven Matz also bemoaned a few bad pitches, despite a fastball zipping in as high as 97 mph. The Nationals played small ball against Matz in the fifth, taking their second lead of the day on Tony Gwynn Jr.'s RBI groundout. They doubled their lead on Danny Espinosa's leadoff homer off Matz in the sixth.
Lagares, who is fighting for the right to serve as New York's leadoff hitter, recorded a double and two singles to finish 3-for-4, while Espinosa and Tyler Moore each reached base twice for the Nationals.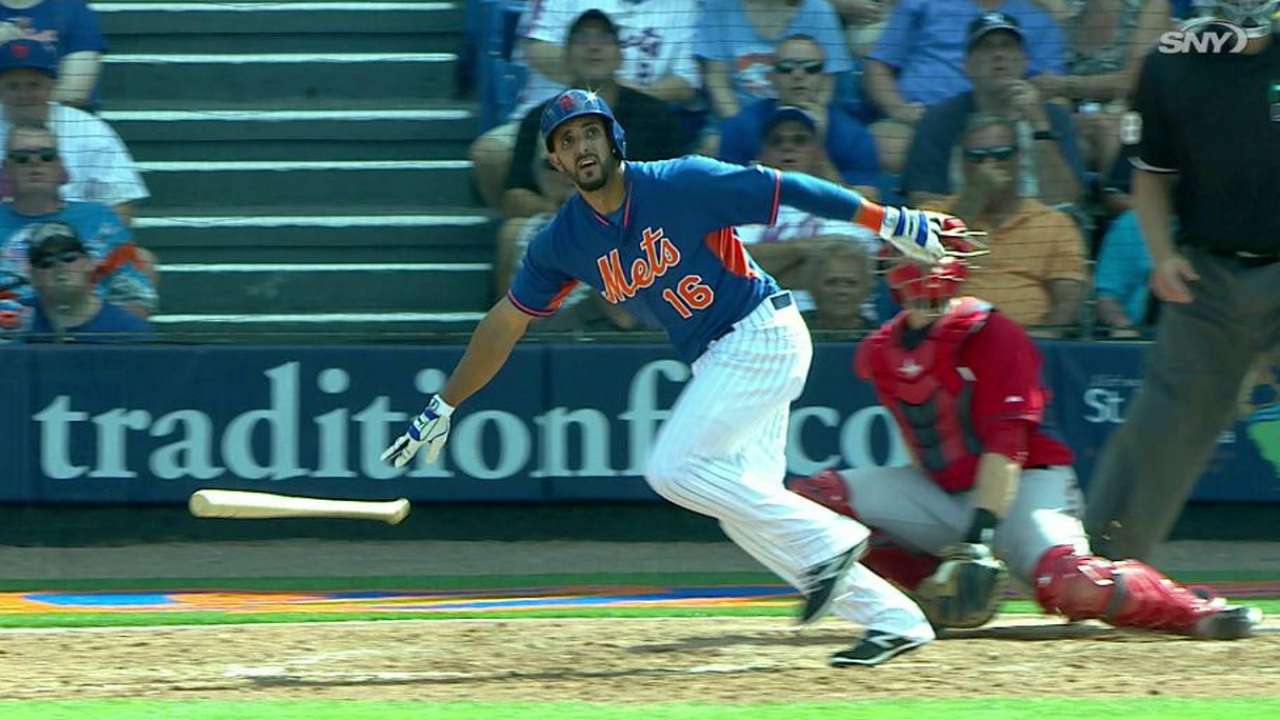 Washington's Clint Robinson highlighted a five-run ninth with a grand slam off Carlos Torres to cut the Mets' lead to 11-9.
Up next: The Mets' left-handed bullpen competition, suddenly wide open now that Josh Edgin is debating Tommy John surgery, will resume Friday against the Braves at Tradition Field. Lefty relievers Scott Rice and Sean Gilmartin are both scheduled to appear in the in a 1:10 p.m. ET game on MLB.TV, which Jon Niese will start opposite Manny Banuelos -- both of them lefties as well.
Anthony DiComo is a reporter for MLB.com. Follow him on Twitter @AnthonyDicomo. This story was not subject to the approval of Major League Baseball or its clubs.