Cobb has high standards for 'No. 1 starter'
Despite being Rays' ace, righty believes only a few pitchers actually deserve label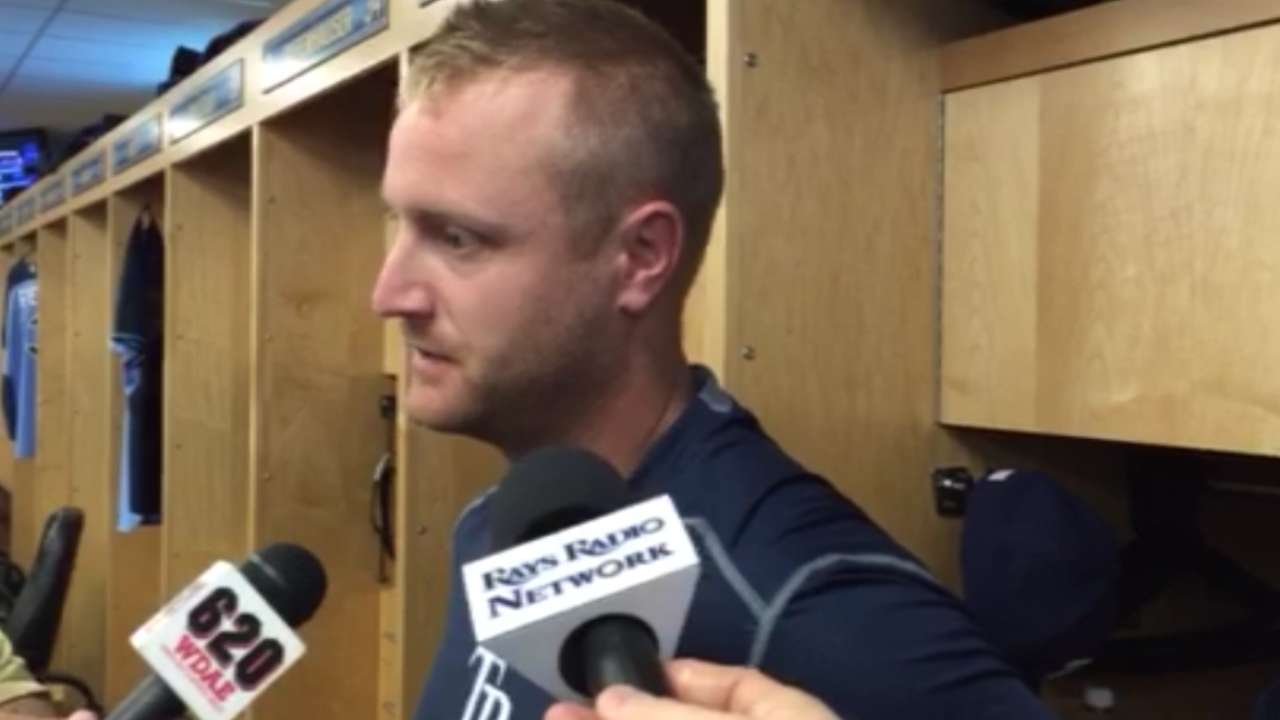 PORT CHARLOTTE, Fla. -- Alex Cobb is the ace of the Rays' staff. He's the guy who will pitch at the top of the rotation. Just don't confuse pitching in the top spot with being a No. 1, at least in Cobb's mind.
Cobb has a high standard for what he considers a true No. 1 starter.
"A legit No. 1 starter is a guy you can count on to go 200 innings," said Cobb, who allowed three runs in 2 1/3 innings to the Blue Jays in Thursday's 10-3 win. "And when he takes the ball that night, 95 percent of the starts he makes, he's going to give you a legitimate chance to win that game.
"I feel that guy hasn't only done that for a year or two. He's done that for five or six years. And I don't think there's as many legit No. 1s in this game as the media hypes there is."
Without naming names, Cobb figures there are five or six true No. 1 starters in the Major Leagues.
"By my definition, I'm nowhere close to earning that label [as a No. 1]," Cobb said. "I understand. It's like everything in this world. The label has kind of taken on a new meaning. I feel like now it's the guy who takes the ball on Opening Day.
"I think [the media has] associated No. 1 starter with ace just because. I think there's a big difference between a No. 1 and a standout ace. Every team has its ace. But when I think about ace, I start with 200-plus innings. And somebody who sustains that for a long time."
Cobb's 2.87 ERA ranked sixth in the American League in 2014 and fourth in club history. After the All-Star break he posted a 1.79 ERA over 14 starts. In addition, Cobb is the only AL pitcher with 10-plus wins, a winning record, and a sub-3.00 ERA in each of the last two seasons. Still, don't call him a No. 1, which begged the question: How do you get there?
"It's just confidence," Cobb said. "It's being in the league and having some success and building on that success. That guy just doesn't come out of nowhere. Five years of 200-plus, low ERA, type of guy. There are a lot of growing pains that come along, a lot of success that comes along that they've built upon.
"It doesn't happen overnight. It happens one year -- getting your feet wet in the Major Leagues. … I can have a great amount of success in this league, but it's up to me. And then you just build upon that. And before you know it, it's there, and it's for your taking."
Bill Chastain is the Rays beat reporter for MLB.com. He has been covering the club since 2004.
This story was not subject to the approval of Major League Baseball or its clubs.