Dozier homer, Herrmann sac fly lead Twins
Starter Hughes pitches 1 2/3 innings, striking out side in first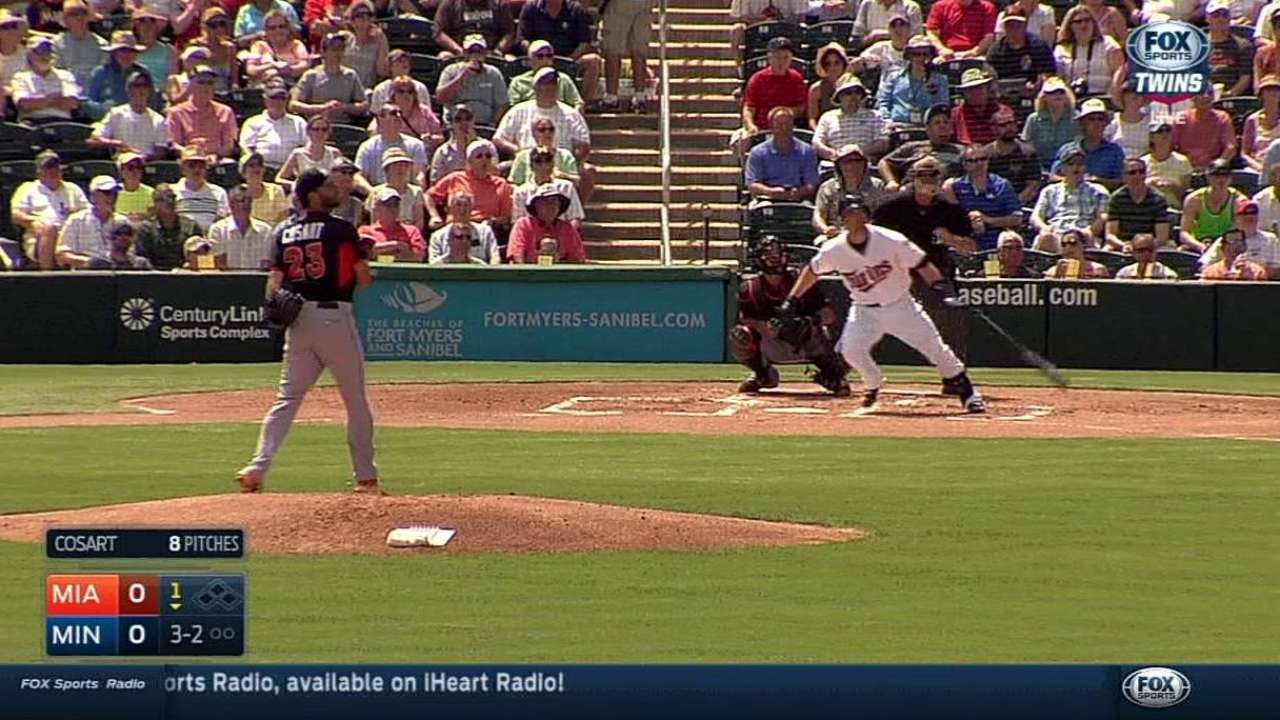 FORT MYERS, Fla. -- Chris Herrmann lifted the Twins to a 7-6 win over the Marlins with a go-ahead sacrifice fly in the eighth inning on Thursday at Hammond Stadium.
After a one-out walk from Argenis Diaz and a single from Eddie Rosario to advance him to third, Herrmann connected on a sac fly to left, giving the Twins the lead for good in a back-and-forth game. Right-hander Phil Hughes, who is lined up to be Minnesota's Opening Day starter, struggled in his second Grapefruit League outing, giving up four runs on three hits and a walk over just 1 2/3 innings.
After striking out the side in the first, Hughes ran into trouble in the second. He served up a three-run homer to Jeff Mathis before exiting with two outs and a runner on second after a four-pitch walk and a wild pitch. Right-hander Jason Wheeler relieved Hughes and promptly gave up an RBI single to Dee Gordon that gave the Marlins a 4-1 lead.
Marlins right-hander Jarred Cosart, who is in the running to be Miami's No. 2 starter, also struggled, giving up three runs on four hits over two innings. He served up a leadoff homer to Brian Dozier to open the bottom of the first before giving up two more runs in the second. Eduardo Escobar brought home the first run with an RBI single before the Twins scored on a double play hit into by Josmil Pinto with runners at the corners.
"Cosart is nasty," Dozier said. "I fouled off a couple good pitches I thought I could hit, but then he made a mistake right over the middle. I put good wood on it."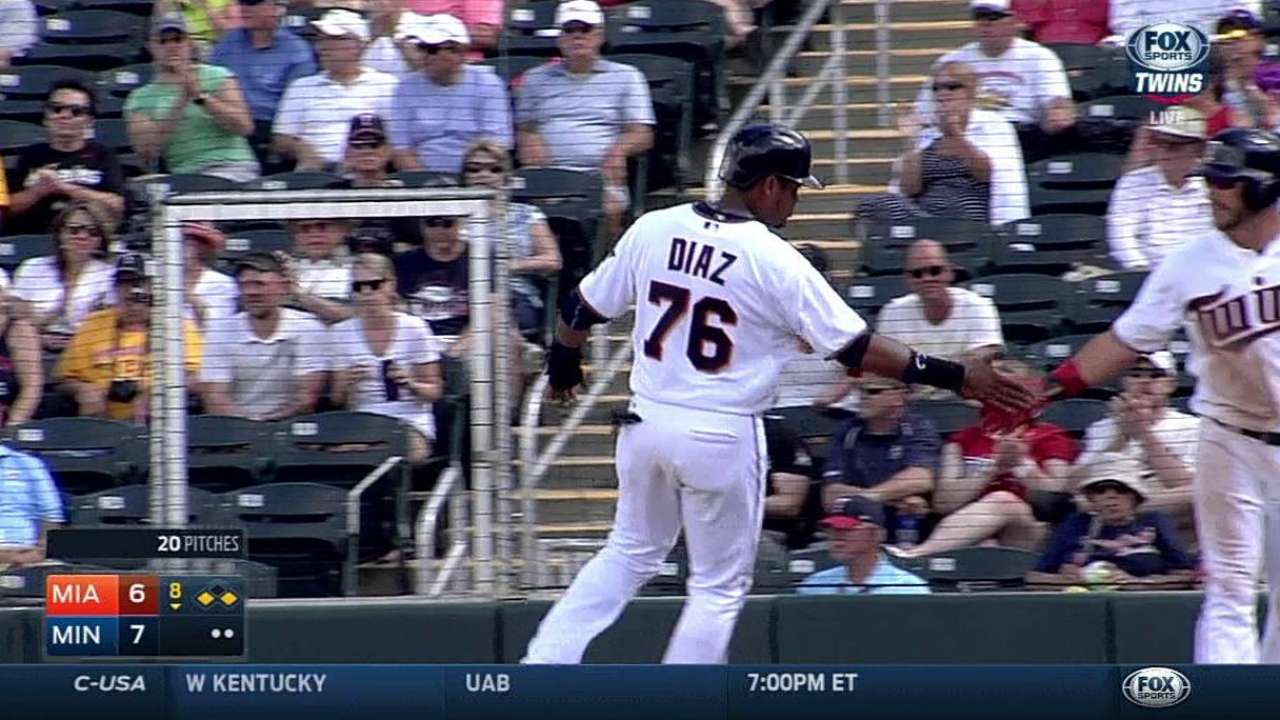 Right-hander Nick Masset took over for Cosart in the third and gave up a run after Shane Robinson and Joe Mauer singled to open the inning to put runners at the corners with nobody out. The Twins tied the game on another run-scoring double play, this time from Kennys Vargas.
Twins right-hander Mike Pelfrey, who is competing for the fifth spot in the rotation, fared well by throwing three scoreless frames. He retired the first eight batters he saw before giving up a two-out double to Christian Yelich in the fifth inning. But after an infield single from Marcell Ozuna, Pelfrey got out of the jam by getting Justin Bour to ground out to shortstop.
The Twins went ahead in the sixth on an RBI single from Rosario off left-hander Chris Narveson before the Marlins retook the lead with two runs in the seventh against reliever Blaine Boyer on an RBI single from Avery Romero and an RBI groundout from Jordany Valdespin.
Minnesota tied it up with a run in the seventh, as Heiker Meneses connected on an RBI single off reliever Preston Claiborne.
Up next: Right-hander Ervin Santana is set to make his second start of the spring when the Twins travel to Bradenton to face the the Pirates at McKechnie Field on Friday at 12:05 p.m. CT. Right-hander Jose Berrios, ranked as the No. 32 overall prospect by MLB.com, is also scheduled to see action.
Rhett Bollinger is a reporter for MLB.com. Read his blog, Bollinger Beat, and follow him on Twitter @RhettBollinger. This story was not subject to the approval of Major League Baseball or its clubs.