Results aside, Norris feels he is making progress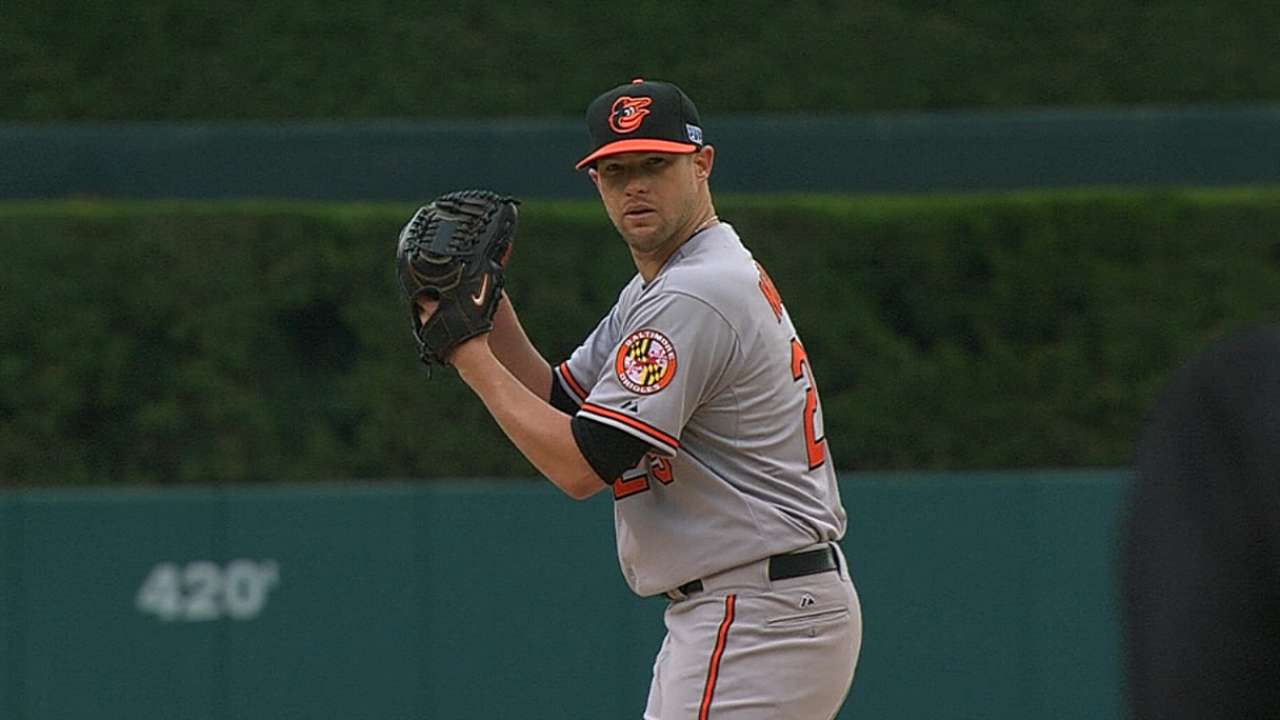 JUPITER, Fla. -- Right-hander Bud Norris accomplished his main missions during Thursday afternoon's outing against the Cardinals: remain healthy and increase his pitch count.
Norris, who drove from Sarasota with top prospect Dylan Bundy the night before, threw 54 pitches (28 strikes) over 2 2/3 innings in the Orioles' 8-2 loss to the Cardinals. He allowed three runs on four hits with three walks and a strikeout. Norris escaped trouble in both the first and second frames, including a bases-loaded situation in the opening inning.
The biggest blow came with one out in the third on Mark Reynolds' three-run homer to left on a 2-0 pitch. Norris bounced back by inducing a popout to first before exiting.
In his Spring Training debut on Saturday, the Red Sox knocked Norris around for four runs on four hits in an inning with a walk and two strikeouts. When asked whether this outing went better than the previous one, he believed so.
"I really didn't feel that great after my last one," Norris said. "My back and stuff kind of flared up, but I felt good, really good now. I'm hoping the next [few] days progress well and [I] get another side [session] in and be ready to go on -- I believe -- Tuesday."
Manager Buck Showalter said it was the first he had heard of the back flare-up. He considered both of Norris' outings similar in nature, but expects the results to improve as the spring progresses.
"Not where he's going to be or needs to be," Showalter said. "Got his pitch count in and arm strength's fine. He's healthy. Draw from that."
• Both Dylan and Bobby Bundy pitched in the Orioles' 8-2 loss on Thursday afternoon to the Cardinals at Roger Dean Stadium.
It marked the first time the brothers had appeared in the same game during their professional careers.
Dylan, Baltimore's top prospect, gave up a run on two hits over two innings. Bobby, inheriting Mark Hendrickson's jam in the seventh, recorded consecutive outs with a pair of runners on to escape further damage.
They rehabbed from Tommy John surgery together in 2013-14. During the process, however, their mother, Lori, passed away.
Bobby, 25, has yet to make his Major League debut. Dylan, 22, tossed 1 2/3 scoreless innings in 2012 during a brief call-up before injuring his elbow.
"Especially both of them had long roads back, you do take that in," Showalter said of the unique situation. "If I was mom and dad, well obviously mom's not living anymore, but if I was his dad, I'd get a picture of the box score tomorrow. That's cool. Pretty good."
Christina DeNicola is a contributor to MLB.com This story was not subject to the approval of Major League Baseball or its clubs.