Mariners thrilled to share field with Ferrell
Actor plays inning at second base for Seattle in whirlwind charity campaign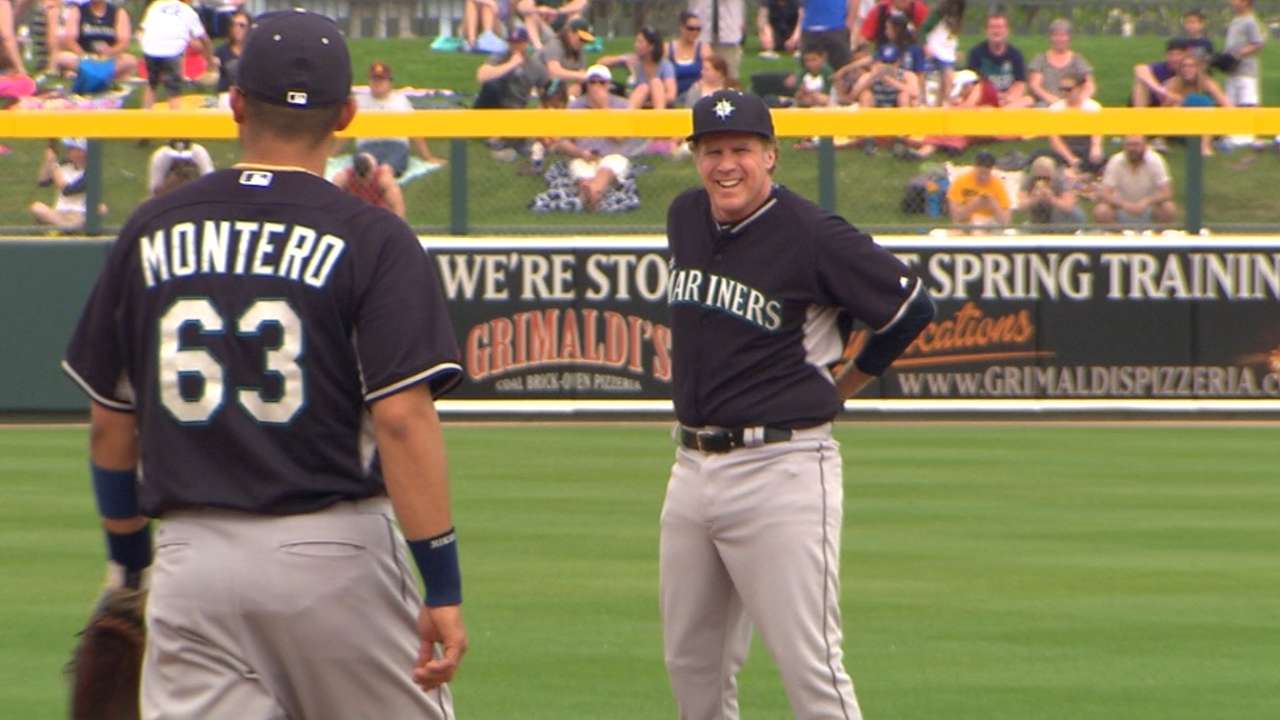 MESA, Ariz. -- Mariners leadoff hitter Austin Jackson would have loved to test the fielding prowess of Will Ferrell, but the actor-turned-ballplayer escaped Hohokam Stadium with a clean jersey and a lot of new friends after Thursday's initial game of his Cactus League scramble.
Ferrell didn't have a ball hit his way during his half-inning defensive stints with the A's and Mariners, but not for lack of trying by the players involved.
Jackson said he would have loved to find the shortstop hole where Ferrell was lined up in the top of the first for the A's, though he instead drew a walk and was left wondering what role he might have played in Ferrell's HBO special.
"I was just trying to hit it," Jackson said. "But it would have been funny. I feel like if I'd have hit him one in the hole he'd have probably went over there and made the [Derek] Jeter throw on me and I'd have been on top 10 Will Ferrell plays."
Ferrell's tenure with the Mariners was brief, but the team's temporary second baseman made a lasting impression with those who witnessed the start of his one-day Cactus League odyssey.
The comedic actor started for the A's at shortstop, then switched over to the Mariners to play second base in the second inning. It was his first leg of a crazy afternoon that has him playing 10 positions and suiting up for 10 teams as part of an HBO production and fundraiser for cancer-related charities.
The lack of on-field action didn't stop all eyes -- and a flock of cameras -- from following his every move. Ferrell spent his pregame with the home-team A's, suiting up in their clubhouse and taking batting practice on their side.
After his first inning in the field, he spent several minutes in the A's dugout before high-fiving all of his teammates, pointing to his cap and saying, "I'll miss you guys" to A's fans in the front row and then heading over to join the Seattle squad.
While Ferrell shook hands with everyone on the Mariners' dugout rail, his time with his second team was brief as he had to hustle to change uniforms and get on the field.
A tip of the cap to Will for a glorious inning. Thank you for supporting @SU2C & @CFCcharity. #FerrellTakesTheField pic.twitter.com/gvUuIfgOgb

- Seattle Mariners (@Mariners) March 12, 2015
With starting pitcher Jordan Pries already finished with his warmup tosses and the infielders standing in wait, Ferrell eventually emerged from the dugout with his jersey untucked and ran to his position to form a very unique infield of Jesus Montero at first, Ferrell at second, Ketel Marte at short and Patrick Kivlehan at third. None of his Mariners teammates has ever played a Major League game at those positions either, but Montero -- a former catcher now working at first -- spent most of the inning helping position Ferrell in the right spots for each batter.
Pries kept things simple, however, striking out the first two hitters he faced that frame before A's catcher Josh Phegley ripped a hard shot to Marte. The 21-year-old shortstop's throw was low to Montero, but Montero snared it with an excellent catch to retire Phegley and draw a rousing reaction from Ferrell.
Pries, a 25-year-old who pitched in Triple-A Tacoma last season, said Ferrell's presence was not a distraction.
"Whether it's fans or Will Ferrell doing his thing, you just have to push it all aside and have fun with it, really," Pries said. "I never would have thought I'd have Will Ferrell playing second base behind me. So I was appreciating it but also trying to stay focused because I'm trying to do a job and get my work in. But it was fun. I heard him one time, I threw a cutter and he goes, 'I like that bleep.' So I kind of put that one in the belt."
The actor then shook hands with his teammates, interacted briefly with some fans next to the dugout and was hustled out of the park -- headed to Tempe Diablo Stadium for his next game, between the Cubs and Angels.
"I didn't realize the spectacle it was going to be, the circus it was," Pries said, "but I had time to prepare for it and went with a plan of not being too serious. You don't want to be that guy. It's Spring Training and we're trying to get work in. But it's fun, too. So that's kind of how I approached it."
Did he wish he'd had a chance to actually pitch to Ferrell and maybe dust him inside?
"Honestly, no," Pries said with a grin. "I don't want to interfere with whatever he's got going on. I don't want the world to hate me because they can't get any more Will Ferrell."
Greg Johns is a reporter for MLB.com. Follow him on Twitter @GregJohnsMLB as well as his Mariners Musings blog. This story was not subject to the approval of Major League Baseball or its clubs.