Elder Ferrell proud of comedian's Cactus League tour
Lifelong baseball fan a special guest as son suits up with 10 teams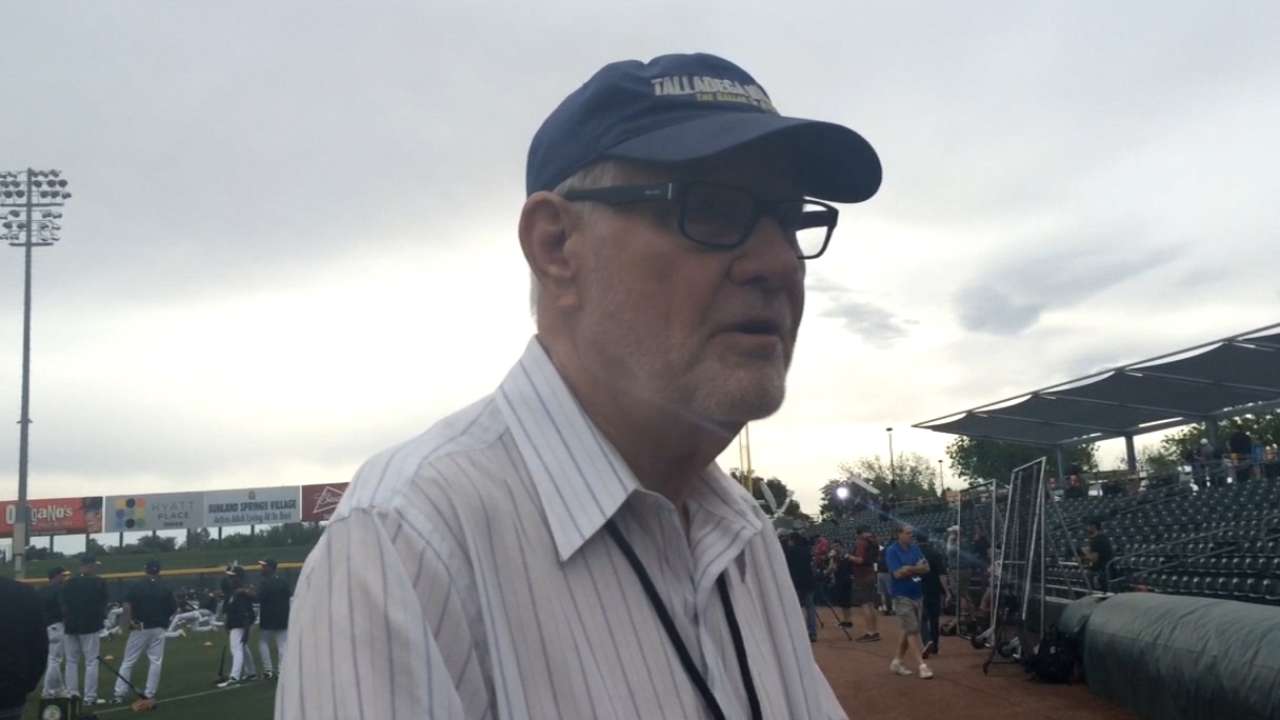 MESA, Ariz. -- Off to the side of the Oakland A's clubhouse, away from the hustle and bustle that erupted as soon as one of the modern era's most famous comedic actors walked through the doors, stood an unassuming older gentleman looking bemused at the scene unfolding around him.
Tall, lanky and wearing a "guest" credential around his neck, there wasn't anything unusual, except for one thing -- the ballcap sitting atop his head.
"Talladega Nights," the hat read. "The Ballad of Ricky Bobby."
Much like a parent of a college student might wear paraphernalia from the kid's chosen school, Will Ferrell's dad, Lee, looked every bit the part of the proud dad touting his son's greatest achievements. As Will Ferrell made his way around the A's clubhouse, glad-handing players and coaches and suiting up in uniform, Lee Ferrell lingered behind, taking in the mob scene that had formed around his son.
"This is a cool day," Lee Ferrell said. "It's going to be fun."
How could it not be? By the end of the day, Will Ferrell was to visit five Spring Training parks, play for 10 teams and man all nine positions (plus a stint as a DH), all in the name of charity. Ferrell's jaunt through the Cactus League, documented step by step by HBO and in conjunction with Major League Baseball, was to raise approximately $1 million, all of which will go toward college scholarships for cancer survivors.
As a lifelong baseball fan, Lee Ferrell couldn't have dreamed up a more perfect way to spend a day in the desert.
"To me, with all the popularity of football and basketball, baseball is still the No. 1 fun sport to me," Lee Ferrell said. "We can understand what's going on. You don't have to be too big or too little or too anything. You just have to be skilled, which is hard enough."
Speaking of skills. … In terms of baseball abilities, how much, exactly, does Will have?
According to Pops Ferrell, plenty.
"He's a natural athlete," Lee said. "He played all through high school and the Little Leagues growing up. He's very good. He should do well. I hope so."
Will Ferrell, rumor has it, had been preparing for this day for a while, to make sure he could hang with the Major Leaguers, even for just a few innings. The 47-year-old participated in early morning stretching with the A's, including a short session with the team-appointed yoga instructor. He shagged fly balls during batting practice and took some hacks -- making contact more than he didn't -- in the cage.
Watching this from the side, Lee Ferrell gave his personal scouting report.
"I hope he's stretched out enough where he can handle the strenuous stuff these guys go through every day," he said. "It's hard to jump in that if you don't do it every day."
Thursday's adventure was an event for the entire Ferrell family. Will's wife and kids were also along for the accelerated ride through the Cactus League.
As far as which team he hoped his son would impress the most, Lee stuck with the safe choice.
"I live close to the Angels," Lee Ferrell said. "You have to root with your home team, don't you?"
Alyson Footer is a national correspondent for MLB.com. Follow her on Twitter @alysonfooter. This story was not subject to the approval of Major League Baseball or its clubs.