Triple-A Express got first look at Ferrell in uniform
Actor appeared as 'Rojo Johnson' in 2010 to raise money for charity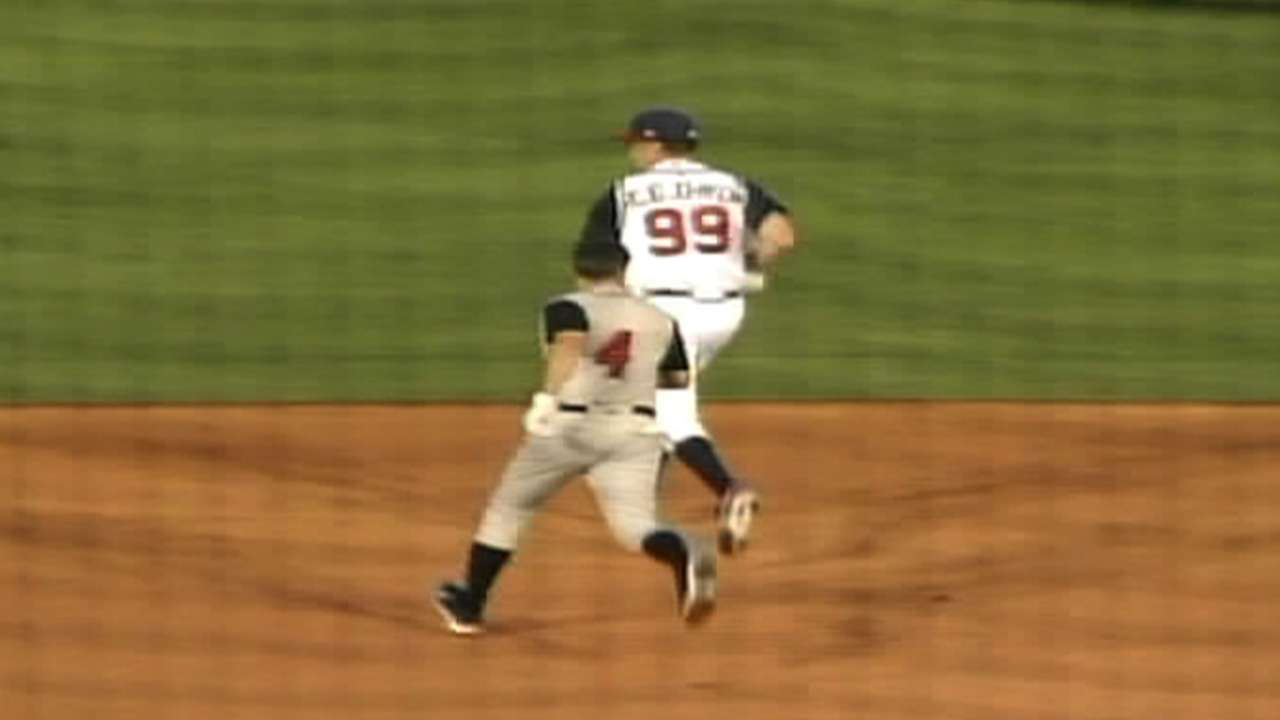 KISSIMMEE, Fla. -- Will Ferrell's barnstorming tour around the Cactus League on Thursday wasn't his first foray into baseball. Astros catcher Jason Castro had a front-row seat when Ferrell, in character as "Rojo Johnson," pitched for the Round Rock Express in 2010.
Astros president of business operations Reid Ryan, who founded the Express, coaxed Ferrell to Round Rock -- then the Astros' Triple-A affiliate -- to have fictional Venezuelan phenom Rojo Johnson pitch in a game to raise money for charity. Ferrell, dressed as Rojo, wore No. 99 and sported heavy chains and a thick mustache. He came onto the mound in the sixth inning and threw behind a batter, with Castro set up behind the plate.
There was an argument with the home-plate umpire, an ejection, and then Ferrell's character sprayed beer on the batter, pulling it from the bag of cans he had brought to the mound. There was a chase scene around the outfield and lots of laughs.
"That was pretty cool," Castro said. "I still have friends that were sending me videos and stuff of it, especially now that he's getting involved again. We didn't have a lot of background information going into the game. We knew he was going to be there, but they didn't really tell us what he was going to do or how or when.
"He came out and just winged it, and we had to kind of play along with him. It was a funny experience, and just watching him do his thing, he's obviously a great actor and funny guy. It seem liked [baseball] was pretty natural for him. Some of the guys said he seemed a little nervous in the bullpen prior to running out there, but once he was out there, he was locked in character. It was fun to be a part of."
When Ferrell first came onto the field, he came up to Castro and asked about their signs.
"I told him basically, 'I'm pretty sure you only throw fastballs,' and he said, 'Good point,'" Castro said.
Castro inadvertently added to the tomfoolery when he accidentally threw a baseball over Ferrell's head while he was warming up.
"On my first throw back to him, as I was throwing it crossed my mind that I didn't know how hard to throw the ball back," Castro said. "We hadn't talked before. I wasn't sure of his baseball experience prior to that. I didn't want to throw it too hard, and then I short-armed it and I overthrew him. He took it in stride and slammed his glove to the ground. He just rolled with it. It was pretty funny."
Brian McTaggart is a reporter for MLB.com and writes an MLBlog, Tag's Lines. Follow @brianmctaggart on Twitter. This story was not subject to the approval of Major League Baseball or its clubs.