Ferrell cracks up A's as starting shortstop
In tribute to Campaneris, comedic star takes field in 10-team charity campaign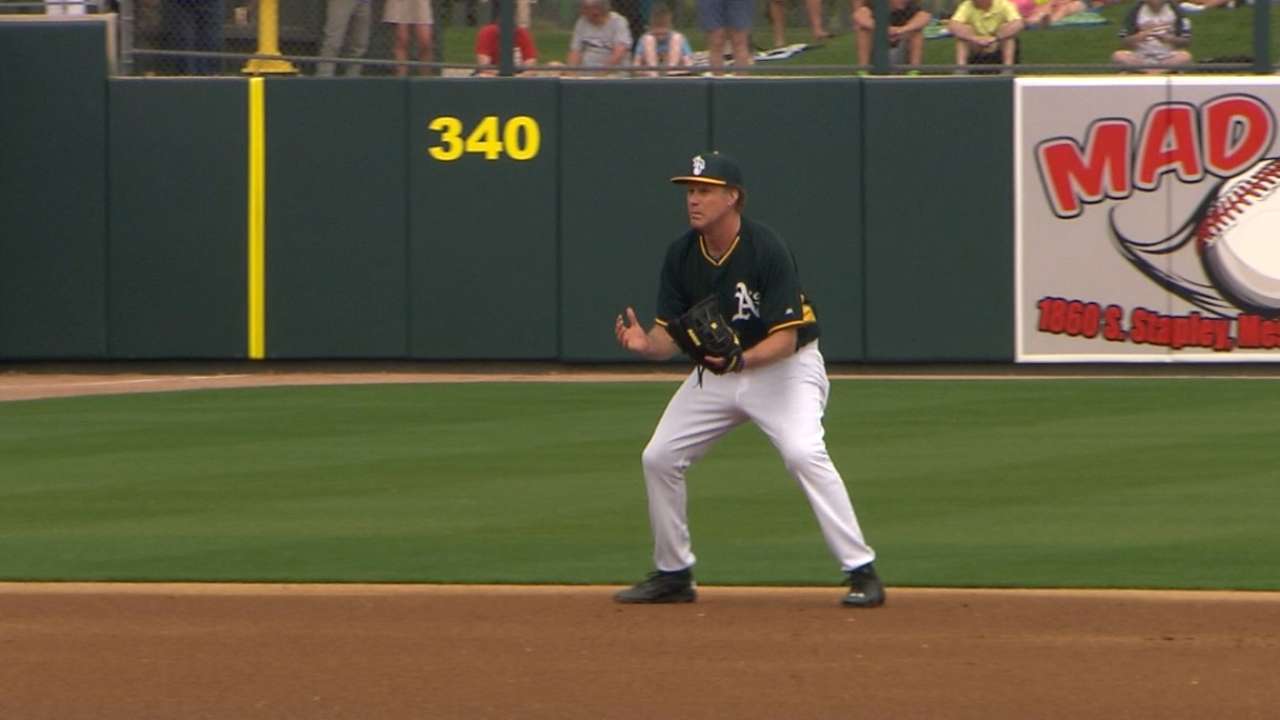 MESA, Ariz. -- The A's welcomed yet another new player into camp Thursday, then flipped him just hours later in a trade that will surely be met with as much criticism as giggles.
Comedian Will Ferrell lasted just hours in an A's uniform, playing one inning at shortstop before general manager Billy Beane informed him he had been dealt across the way to the Mariners' dugout.
"He didn't take it very well," said manager Bob Melvin. "He asked, 'What did I do wrong?' And I told him, 'Well, you're out of position a little bit.' He said, 'I like to be creative out there.'
"He came after me, and I kind of had to push him back."
Melvin could hardly keep a straight face. No one could Thursday. With dozens of cameras following Ferrell's every move at Hohokam Stadium, where he began his journey of playing 10 positions with 10 different teams in five games for an HBO special, the A's were told at times not to laugh at America's funniest man. They did, anyway.
"He's hilarious," A's reliever Evan Scribner said. "It's amazing how one guy can make everyone in the whole city's day. All the players, all the fans, everybody."
"It was fun," catcher Josh Phegley said. "It's always cool to come that close to a big-time celebrity and someone you watch all the time. It was fun seeing him interact with guys. It seems like he's always in character. We assume he's like that in real life, and he really is."
Ferrell began his tour of the Cactus League as the starting shortstop for the A's, just as Bert Campaneris did a half-century ago when he played all nine defensive positions in one game for the franchise. His goal is to honor Campaneris, with whom he sat and chatted up Thursday morning, while also raising funds for the fight against cancer.
Beane & Melvin broke the trade news to Will. Told teammates he won't forget where he came from. #FerrellTakesTheField pic.twitter.com/oRHH5z57aX

- Oakland Athletics (@Athletics) March 12, 2015
Ferrell was in A's camp bright and early to undergo a routine physical, which accompanies any new player's arrival. Next, he took the field for yoga and, eventually, batting practice.
"I was cracking up the entire time," said left-hander Scott Kazmir, who started Thursday's game. "He was having a little trouble with those yoga poses."
Kazmir had his own trouble keeping his focus on his first spring start, when Ferrell was standing nearby at shortstop.
"All I wanted to do was turn around and see what he was doing back there," he said. "I heard him pretty much every pitch. Just pep talk between every pitch. I threw a couple balls, and I heard him behind me chirping, making sure I get back on track. I gotta thank him for that."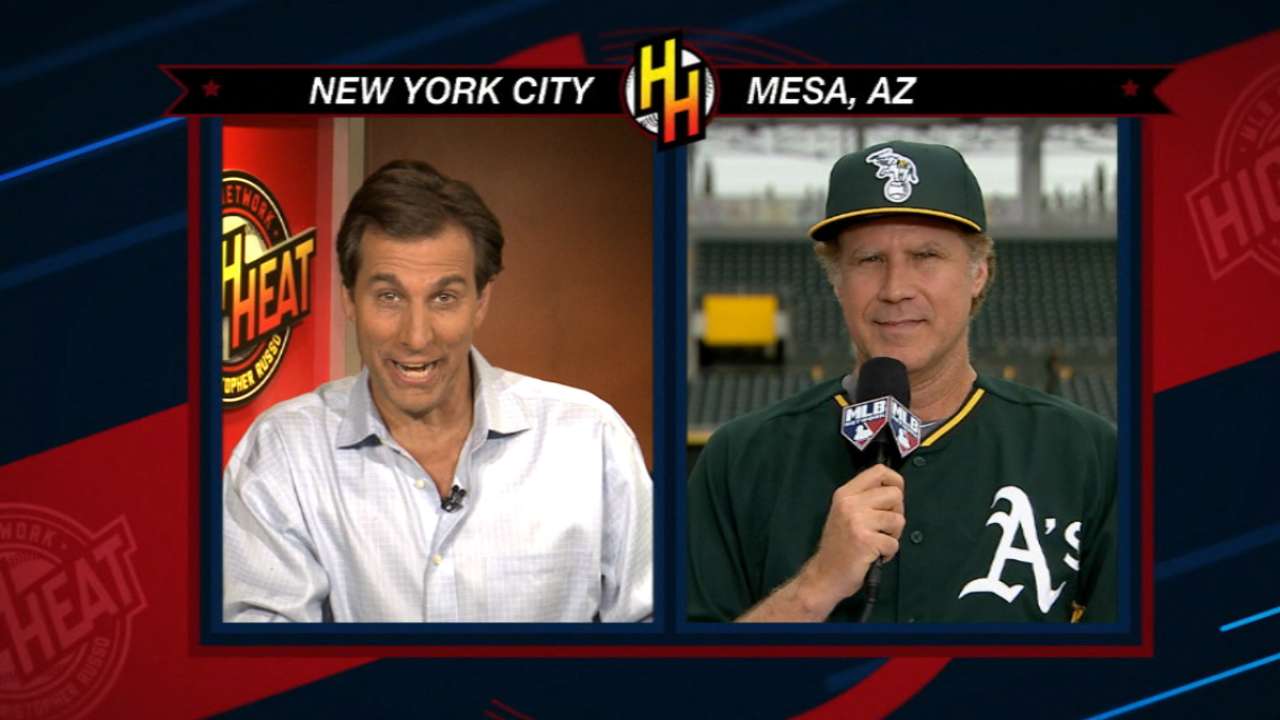 Ferrell used Josh Reddick's outfield glove, despite playing the infield, but he didn't have a ball hit his way in a scoreless top of the first inning. The A's played on, though disheartened by Ferrell's departure, and rallied for a walk-off win, after Ferrell played second base for the Mariners in the second inning.
"It looks like it took until that last inning to get over the fact that we traded Will Ferrell," said Melvin. "After that first inning, we were a little down."
The good news? Shortstop Marcus Semien can keep his job.
Ferrell told the youngster before the game, "I could catch fire today and you could be on a bus back to Triple-A."
Jane Lee is a reporter for MLB.com. This story was not subject to the approval of Major League Baseball or its clubs.