Bryant homers twice as Ferrell suits up for Cubs
Soler adds long ball of his own as prospects continue to impress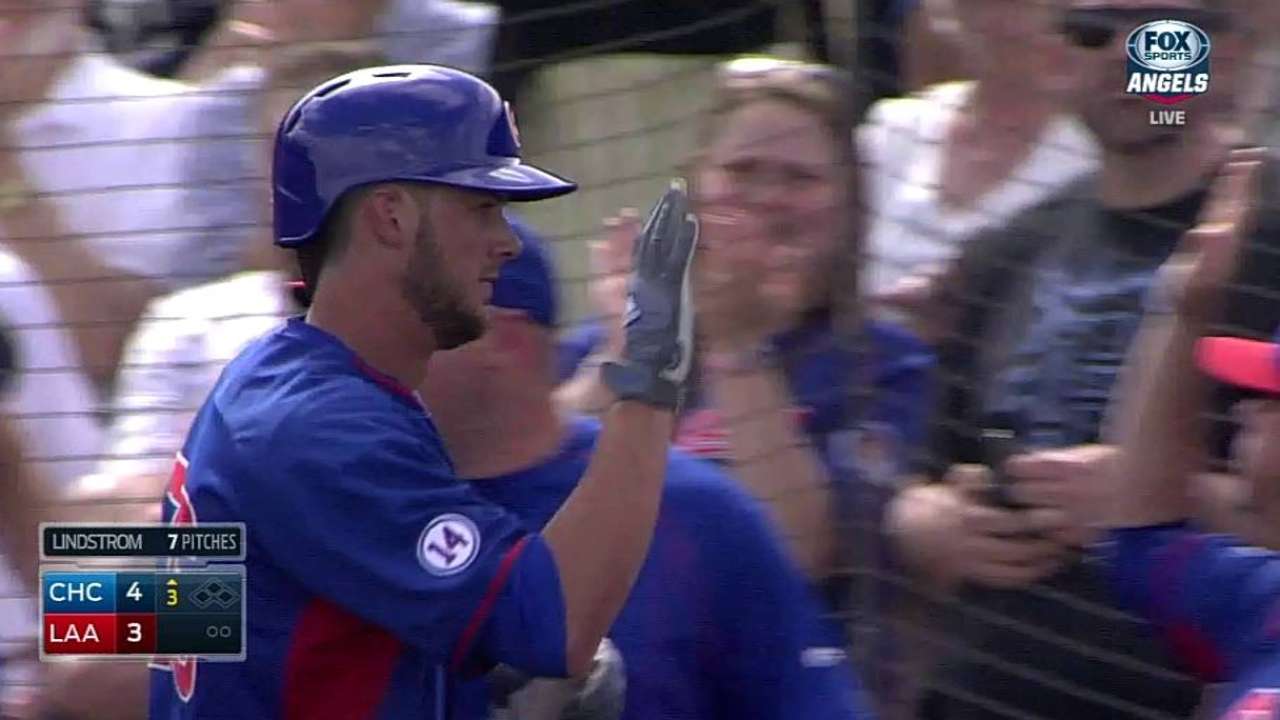 TEMPE, Ariz. -- Kris Bryant hit a ball not even Will Ferrell could reach.
Moments after the actor/comedian took Mike Trout's place in center field in the top of the third, the Cubs' prized prospect took a fastball from Angels reliever Matt Lindstrom and blasted a towering shot way out to left-center field in the Cubs' 10-9 loss to the Angels at Tempe Diablo Stadium on Thursday.
Ferrell could only watch helplessly as Bryant crushed his first of two homers on the day. But he beamed at Jorge Soler's home run an inning later, which came while Ferrell was coaching third base for the Cubs and holding up a white sign that read, "Don't pull a muscle."
Bryant homered again in the sixth.
The Cubs plated eight runs in the first four innings, which ended with Farrell striking out on three pitches from Zach Stewart.
Trout lined a two-out RBI double off Cubs starter Jason Hammel in the second, then scored on Albert Pujols' single to right field -- Pujols' eighth hit in 15 Cactus League at-bats -- before being replaced by Ferrell in the next half-inning. Trout later came back into the game, finishing 3-for-3 with a walk.
Sean Newcomb, the 21-year-old who has drafted 15th overall by the Angels last June, started in place of C.J. Wilson (left knee) but couldn't finish his inning. He topped out at 95 mph and shattered a couple bats, but gave up two runs on three hits and a walk and recorded only two outs.
Soler hit an RBI single off Frank Herrmann in the first, with Javier Baez scoring on a throw to second. Bryant added his two-run homer in the third and the Cubs scored four runs off Herrmann in the fourth, on a leadoff homer from Soler, a sac fly from Junior Lake and back-to-back RBI doubles by Welington Castillo and Addison Russell.
Felix Doubront, competing for the fifth spot of the Cubs' rotation, yielded five runs in the bottom of the fifth. David Freese, C.J. Cron and Collin Cowgill singled, and Drew Butera -- a favorite to be the Angels' backup catcher -- hit a three-run homer. Three batters later, Trout laced an RBI single to left.
"It's early, but after the first three or four at-bats he's really gotten comfortable," Angels manager Mike Scioscia said of Trout, who also stole a base and drew a walk. "He's just seeing the ball, getting hits with two strikes and doing a good job."
Hammel wasn't happy with his outing. "Nothing's crisp, my breaking ball is not sharp right now. It's a matter of building stamina and repetition. I guess it's that time of spring."
Hammel didn't get a chance to talk to Ferrell much.
"I gave him a high five and good effort after his at-bat," Hammel said. "He took a swing. I was wondering if he was going to swing, I was hoping he was going to swing. It's such a lose-lose situation for the pitcher right there. If you strike him out, you look like a jerk. If you walk him or hit him, you're the worst thing in the world."
Cubs-Angels was Ferrell's second stop in his quest to play 10 positions for 10 teams in one day, in honor of Bert Campaneris to raise money for cancer charities.
"We're huge fans," Scioscia said. "He's as funny as a guy can be. Everybody in our dugout loves him, we were happy to have him here, and it didn't become too much of a distraction."
Up next: The Cubs have split-squad games Friday. Jake Arrieta will start for the Cubs in Las Vegas against the Athletics, while Tsuyoshi Wada will start against the Indians at Sloan Park in Mesa. This will be Wada's first start, as the lefty enters the competition for the one opening in the rotation. He was limited to one inning in his only outing because of some discomfort in his left thigh, but has said he's ready. Las Vegas native Bryant is on the travel roster for the series vs. the A's. The game from Las Vegas will be televised on Comcast SportsNet, while the game vs. the Indians will be available on Cubs.com with radio analyst Ron Coomer joining Mick Gillespie.
Alden Gonzalez is a reporter for MLB.com. Read his blog, Gonzo and "The Show", and follow him on Twitter @Alden_Gonzalez. This story was not subject to the approval of Major League Baseball or its clubs.