Third annual T12 to give opportunity to Canadian players
Hall of Famer Alomar to act as Commissioner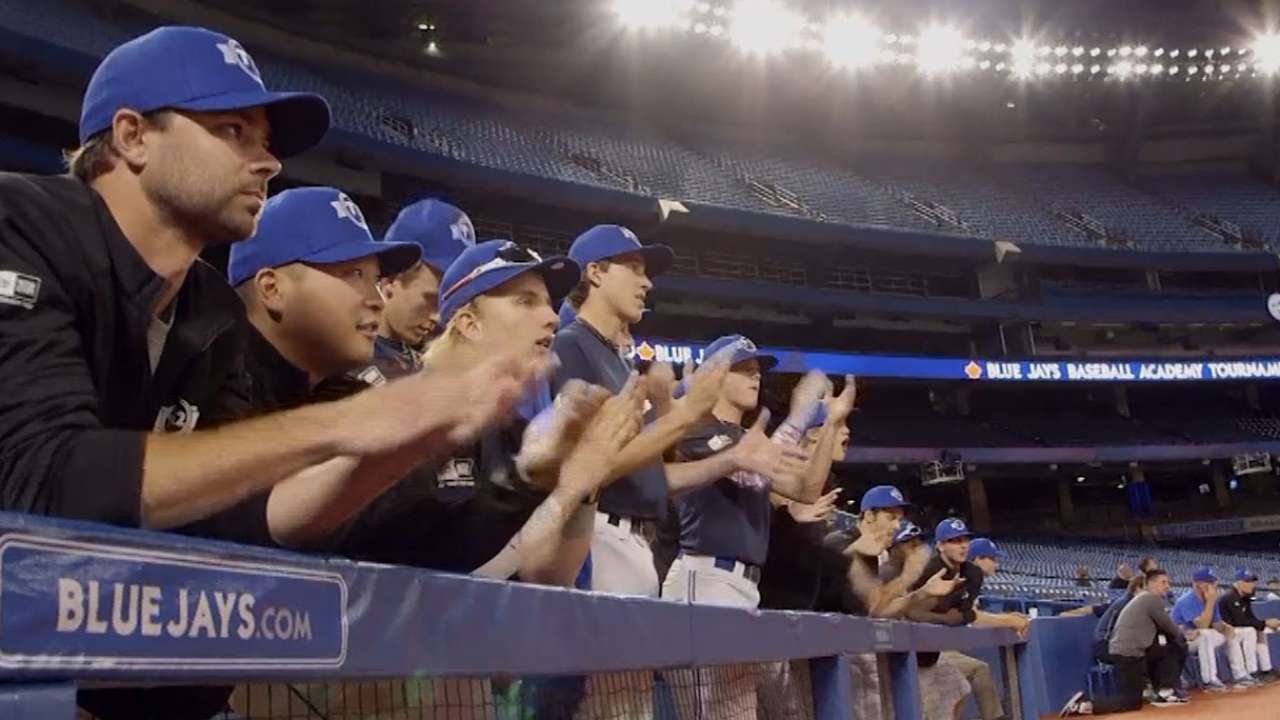 The third annual Tournament 12 (T12), presented by New Era in collaboration with the Blue Jays Baseball Academy and Hall of Famer Roberto Alomar to showcase the best college-eligible Canadian-born players to both professional scouts and college recruiters, will be held Sept. 14-18 at Rogers Centre.
Alomar will act as the tournament Commissioner. He will be assisted by his father, Sandy, along with Blue Jays alumni Paul Quantrill, Tanyon Sturtze, Devon White, Lloyd Moseby, and Duane Ward.
"I am very proud of the opportunity Tournament 12 has created for Canadian-born baseball players to showcase their talents on such a big stage," Alomar said. "In travelling the country, I have seen firsthand how many great ballplayers exist in Canada. Although not all of the players in T12 will make the Major Leagues, the tournament provides a great chance for players to further their careers by obtaining a college scholarship."
The 160 participating players will be placed on eight teams, representing their region in Canada. Each team will play a minimum of four games at Rogers Centre with a tournament champion to be crowned on Sept. 18. Participants will then take part in a Scouting Combine on Sept. 14.
Eligible players will be evaluated and selected throughout the 2015 baseball season at MLB Scouting Bureau Tryouts, major baseball tournaments, the Canada Cup and Provincial Roster Selection Camps.
In addition, the Blue Jays Baseball Academy will be holding open tryouts for Tournament 12 across Canada to help make sure players are not missed. Tryout camps will take place in the following cities: Toronto, Ontario - May 13-15; Okotoks, Alberta - July 6; Abbotsford, British Columbia - July 10; Moncton, New Brunswick - July 17-19; Montreal, Quebec - Aug. 14; Regina, Saskatchewan - TBD; and Brandon, Manitoba - TBD.
The Jays Care Foundation, with the support of Alomar, will make a financial contribution of $100,000 to help defray the costs for players traveling from outside Ontario. These funds will be used to help assist with player travel and accommodations for the tournament.
The 18 tournament games will be umpired by members of the Baseball Canada High Performance Program for Umpires.
Tickets will be available for purchase beginning Friday, July 31, at bluejays.com. Daily passes will be available for $20, with tournament passes priced at $37. Seating will be general admission, and tickets will be available for purchase at bluejays.com/t12.
For additional information, please contact the Toronto Blue Jays Baseball Academy at (416) 341-2500 or by email at Baseball.Academy@bluejays.com.
Jim Hawkins is a contributor to MLB.com. This story was not subject to the approval of Major League Baseball or its clubs.