With Edgin out, Mets mulling lefty relief candidates
Gilmartin, Alvarez among possibilities; Mets say prospect Matz will remain starter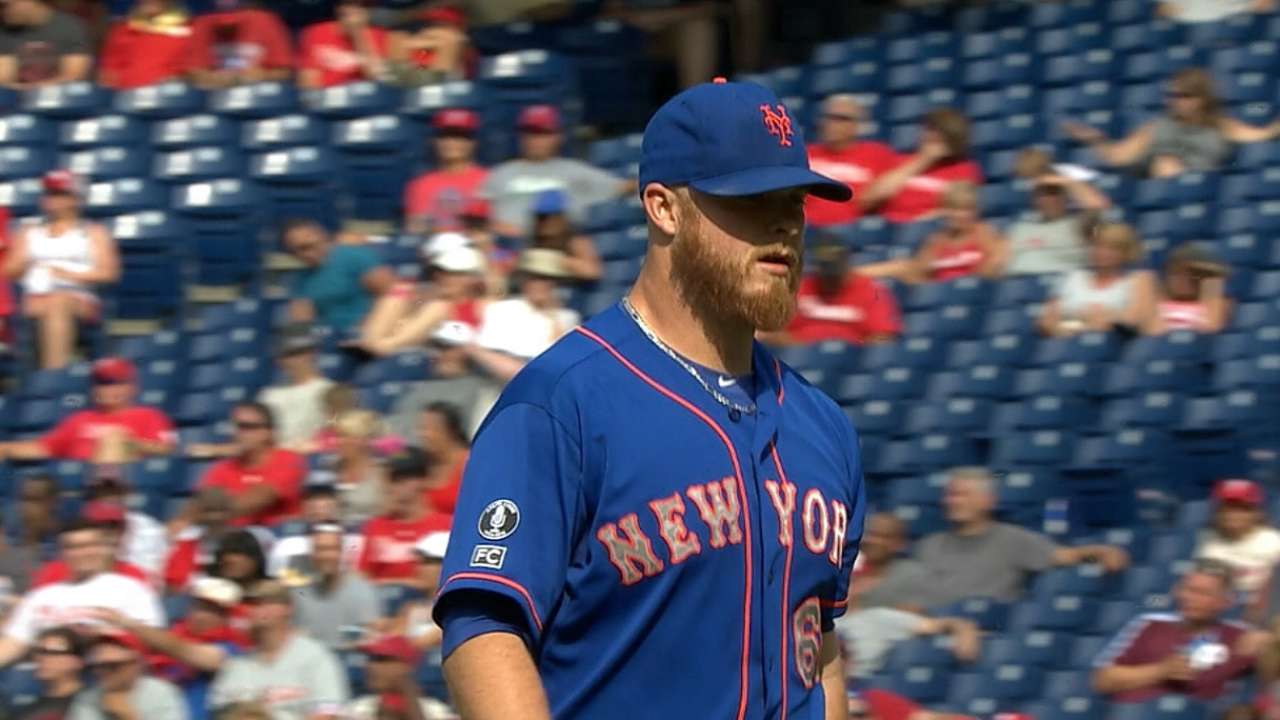 PORT ST. LUCIE, Fla. -- Even if Mets left-hander Josh Edgin opts for rehab over Tommy John surgery, which he will decide in the next few days, Edgin will almost certainly miss Opening Day with a stretched ligament in his pitching elbow. That leaves the Mets, who declined to sign any bullpen arms to Major League deals over the winter, precariously thin in that corner of their depth chart.
The team does have four other lefty relievers in camp, boasting varying levels of experience. (Starting pitching prospect Steven Matz, Mets officials have noted on multiple occasions, is not a candidate to pitch out of the bullpen. And while manager Terry Collins said Thursday that he could envision an Opening Day bullpen without any lefties at all, general manager Sandy Alderson said he would prefer to carry at least one.)
With that in mind, all four of these contenders boast a better chance of making the team than they did 48 hours ago:
Sean Gilmartin: A Rule 5 Draft pick from the Twins organization, Gilmartin spent the first four years of his professional career exclusively as a starter. The Mets are hoping that a conversion to relief work will elicit the best of Gilmartin's pedigree -- he's a former first-round Draft pick with a plus changeup -- and allow him to stick in Flushing.
Gilmartin gave up three runs in his second Grapefruit League outing earlier this week, boosting his Spring ERA to 13.50.
"It'll be interesting to see what happens," Gilmartin said. "I'm looking forward to it. I'm always looking for a new challenge. I'm going to accept the challenge and be ready for whatever situation I'll be put into."
Dario Alvarez: Mets fans caught a brief glimpse of Alvarez last September, when he appeared in four games down the stretch with limited success. Before blowing up for four runs Thursday without recording an out, he had performed better than any other candidate early this spring.
In an ideal world, the Mets would send Alvarez back to Triple-A Las Vegas for more seasoning, considering he has seven total innings of experience above Class A. But Edgin's injury makes the team's current landscape something less than ideal.
Scott Rice: The most familiar name on this list is Rice, a former 31-year-old rookie looking to stick again at age 33. Fresh off elbow surgery, Rice is hoping to morph back into the pitcher that generated ground balls 60.3 percent of the time in 2013. But he is also on the outside of the 40-man roster looking in, giving him a slight disadvantage.
Rice gave up four runs in Wednesday's loss to the Marlins, bloating his ERA to 13.50.
"He's looked fine," Collins said. "I think he's getting there. Certainly if you look at his outings, he's got ground ball after ground ball. That's what he gets."
Jack Leathersich: The youngest left-handed reliever in camp, Leathersich has a history of extreme control issues in the Minors, and has shown nothing this spring to dispel that reputation. So far, Leathersich has walked as many batters (five) as he has retired, resulting in five earned runs and a 27.00 ERA.
Still just 24, Leathersich has plenty of time left to figure things out. But the Mets would prefer him to do so in the Minors, where his career rate of 4.9 walks per nine innings suggests the learning curve may be steep.
"I'm just learning every day," Leathersich said. "It is Spring Training. Obviously I haven't pitched the way that I thought I was going to pitch, but there's plenty of time left. I'm just trying to make the most of it."
Anthony DiComo is a reporter for MLB.com. Follow him on Twitter @AnthonyDicomo. This story was not subject to the approval of Major League Baseball or its clubs.