After second opinion, Collins has Tommy John surgery
Without left-hander, Royals look at options in camp to fill spot in bullpen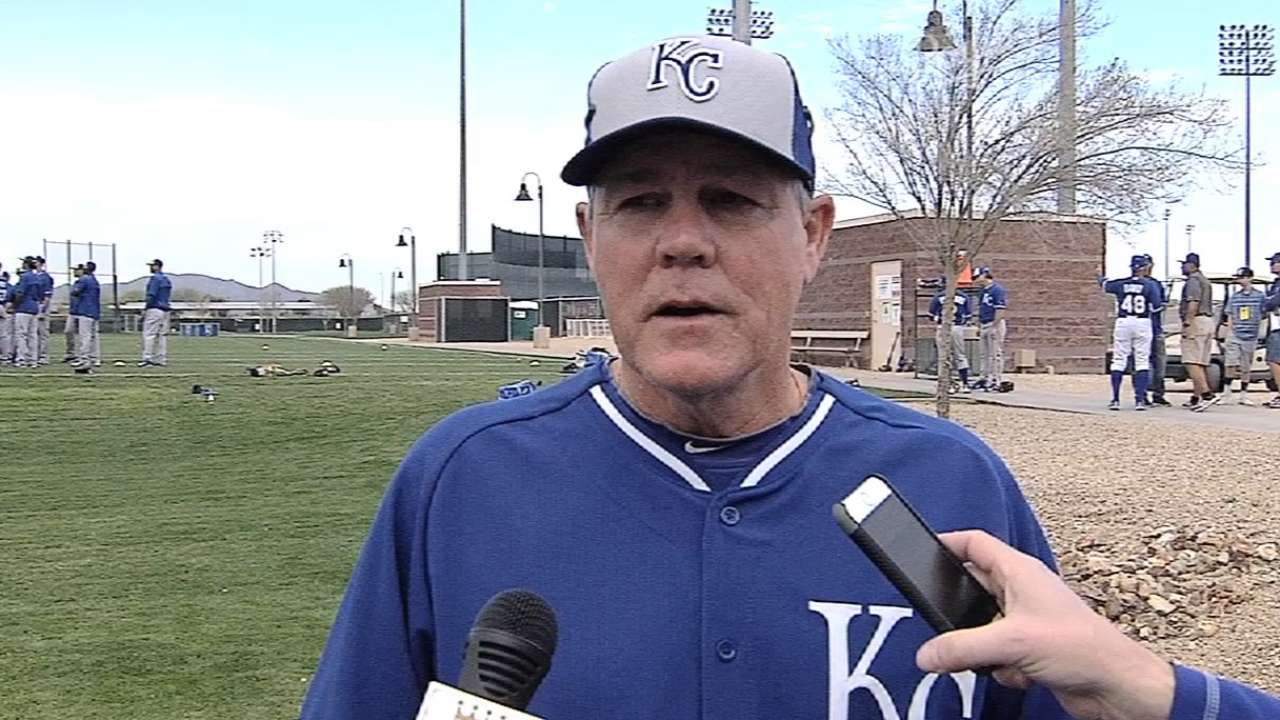 SURPRISE, Ariz. -- An hour after Royals left-hander Tim Collins had Tommy John surgery on Wednesday night, he was on the phone with teammate Luke Hochevar.
Hochevar, of course, is fully aware of the emotions that likely are racing through Collins' mind. It was almost one year ago to the day that Hochevar had his Tommy John surgery.
And Hochevar, who would be making his first appearance back on the mound in a Cactus League game, was on the phone to lend support and remind his teammate that the year can go fast.
"Timmy was doing pretty good," Hochevar said. "He really didn't need that much encouragement. He's a tough kid. He'll get through this."
Hochevar certainly has set the example. His surgery came last March 18, and he reports his arm is feeling better than it has before.
"[The surgery] can make you stronger, physically and mentally," Hochevar said.
Meanwhile, the Royals will prepare to go on without Collins, who was once their top left-hander out of the bullpen.
"Fortunately, [general manager] Dayton [Moore] has done a great job of providing us depth," manager Ned Yost said. "You never like to lose someone, but hopefully, we have enough guys to get by."
Moore signed veteran left-handers Joe Paterson and Franklin Morales in the offseason, and he traded for left-hander Brian Flynn. Rookie lefty Brandon Finnegan also is right in the mix for one of the final bullpen spots.
Right now, it would appear that Morales and Finnegan have the best chances at making the squad.
Collins' injury is another example of why Moore stresses adding depth in the offseason.
"There's just no question that you have to have that depth," Moore said.
Collins, who had an MRI last week that revealed damage to the ligament in his elbow, flew to Florida on Wednesday to get a second opinion from noted surgeon Dr. James Andrews.
"I believe it was a complete tear," Yost said. "So they decided to do the surgery right then."
Neither Moore nor Yost said they have had a chance to speak with Collins yet.
"It's certainly very disappointing for Timmy," Moore said. "He has been a very important part of our bullpen. Our expectations for him were that he was going to have a terrific year.
"But he'll get through this and we expect him to have a great recovery. We wish Timmy the best going forward."
Jeffrey Flanagan is a reporter for MLB.com. Follow him on Twitter at @jflanagankc. This story was not subject to the approval of Major League Baseball or its clubs.