History shows Phillies shouldn't rush to deal Hamels
Phils traded Schilling, Lee before they were ready, and return package fell short of hopes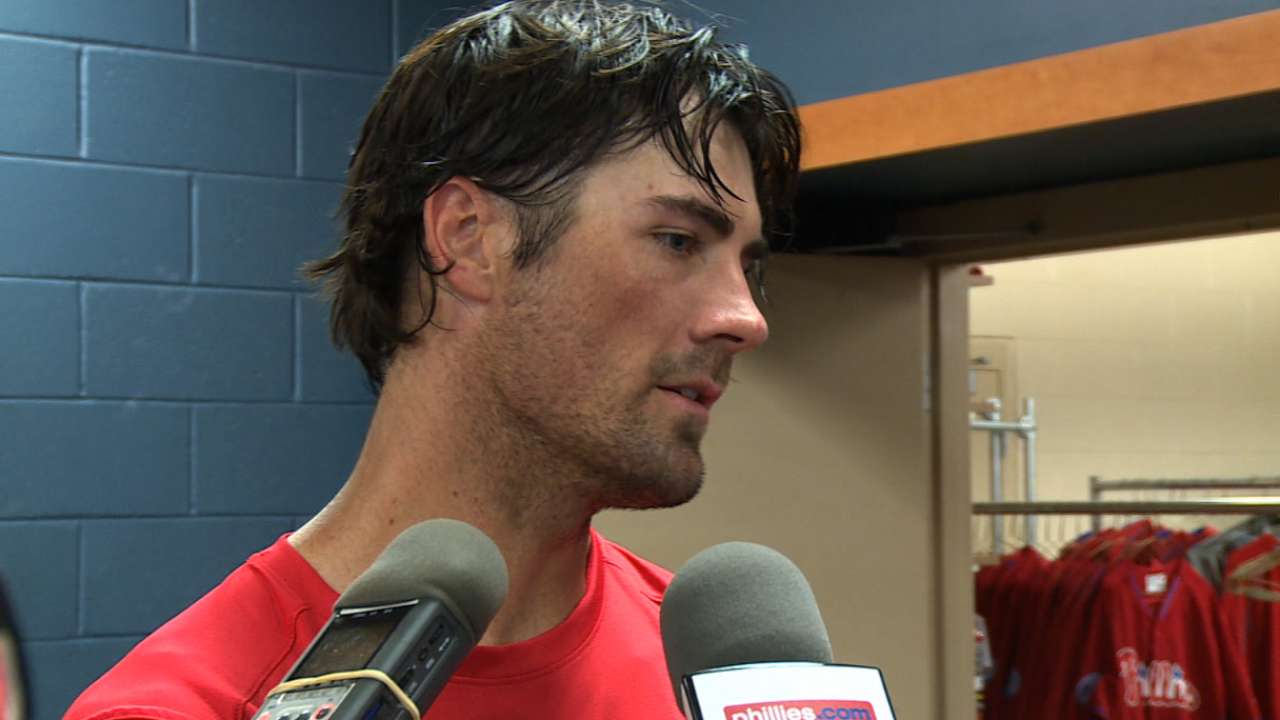 LAKELAND, Fla. -- Should the potentially career-ending tear in Cliff Lee's left elbow push the Phillies into trading Cole Hamels sooner rather than later?
It makes sense. Getting something is better than getting nothing. Lee essentially is untradeable at this point, even if he finds a way to pitch this season. No team is going to give up a top prospect for a 36-year-old pitcher with continual flare-ups in his elbow, especially one making $25 million this season with a $12.5 million buyout on a $27.5 million club option for 2016.
But imagine if something unfortunate happens to Hamels, who is healthy. The Phillies will have nothing to show for their most valuable asset.
Such a loss could cripple their rebuilding plans.
But while many are pointing to the pitchers that have dropped like flies this spring, the Phillies can point to two past examples as reasons why they should not trade Hamels before they are ready: Curt Schilling in 2000 and Lee in 2009.
Schilling had been harshly and steadily criticizing the Phillies for some time. He had publicly demanded a trade. It was ugly. So the Phillies traded Schilling to Arizona on July 26, 2000, more than a year before he could become a free agent, for Travis Lee, Omar Daal, Nelson Figueroa and Vicente Padilla.
Former Phillies general manager Ed Wade told The Philadelphia Inquirer in September 2007 that he regretted the deal.
"In retrospect, I would have held on to Schilling," Wade said. "It would have been better if I ignored his trade demand one more time and run the risk of only getting Draft picks" if he left following the 2001 season.
None of the four players the Phillies acquired for Schilling made a long-term impact with the organization.
The Phillies traded Lee to Seattle for prospects Phillippe Aumont, Tyson Gillies and J.C. Ramirez, the same day they announced they acquired Roy Halladay from the Blue Jays in December 2009. The Phillies traded Lee, who was making an incredibly affordable $9 million in 2010, because former president David Montgomery told general manager Ruben Amaro Jr. he needed to replenish the farm system after trading seven top prospects to acquire Lee from the Indians in July 2009 and Halladay.
Amaro said he could not wait because he could not acquire Halladay one day, then trade Lee a short time later.
He said it would have been a bad message to fans.
"If I made a mistake in that process, it was that I didn't take the time to really maximize," Amaro said in 2011 in "The Rotation."
Aumont has struggled with the Phillies and is out of options. This spring is his last shot to make the team. Gillies and Ramirez are no longer with the organization.
So the Phillies are prepared to roll the dice and bet on Hamels not only staying healthy, but pitching like one of the best left-handers in baseball. It is a risk, but they have been rushed into trading aces before. They do not want to make the same mistake again.
"Look at the history of this era," Amaro said last month. "There's more Wild Card teams. There's a lot more clubs with opportunities. You'll see as many as 15 teams, half the league is kind of in the race well into the season. Everybody always needs pitching. There's always a risk that somebody can get hurt. Somebody not getting the performance they want might change our circumstance.
"Again, if there were deals that we felt were appropriate for us to move forward, then we would. So far some of the deals that we've discussed with some of our players have not yielded what we've wanted to do. And in some cases, we feel like we're better off staying with the players that we have for a variety of different reasons. We'll move forward accordingly."
Todd Zolecki is a reporter for MLB.com. This story was not subject to the approval of Major League Baseball or its clubs.