MLB.com Columnist
Phil Rogers
Wainwright sets tone for Cardinals' success
Ace right-hander heads a talented group as St. Louis looks to make the postseason again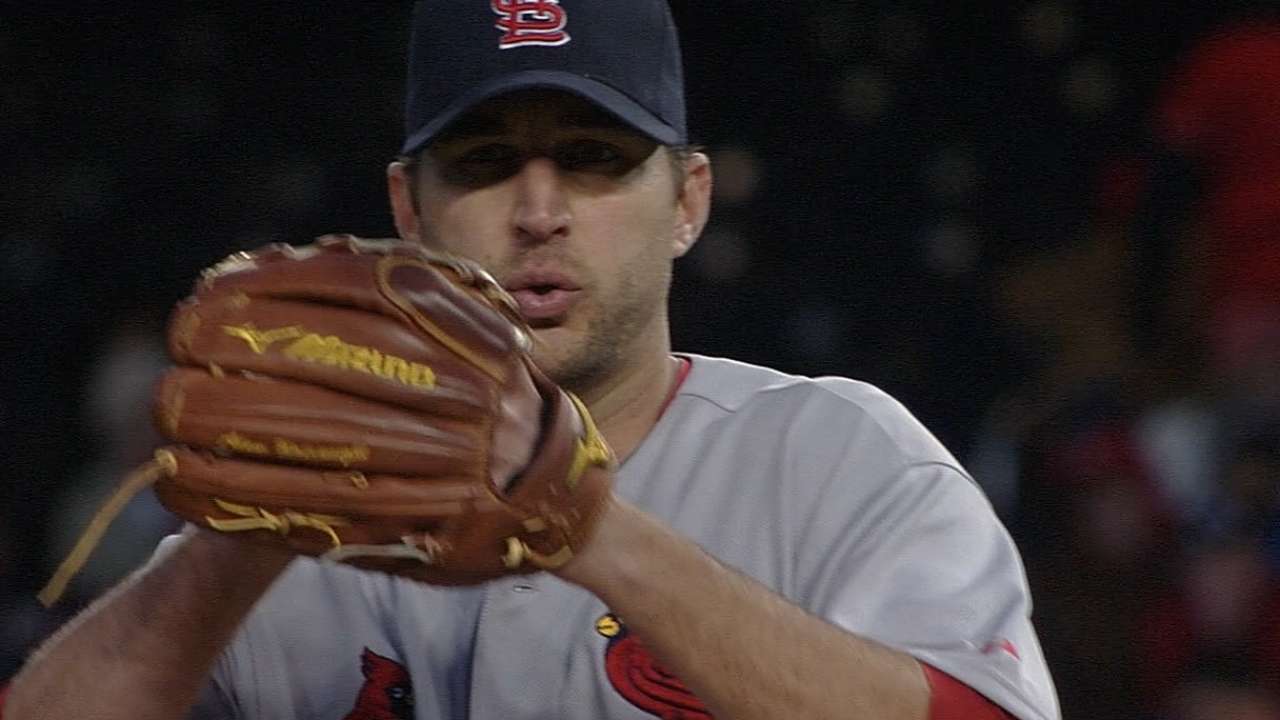 JUPITER, Fla. -- Mike Matheny is having some dental work done this spring, the ongoing maintenance that resulted from being hit in the face by a fastball almost 20 years ago.
Somehow that seems fitting. For teams around the National League, especially in the Central, trips to St. Louis are dreaded, like visits to the dentist.
For the Pirates, Spring Training talk is about the World Series, not just the postseason. The Reds and Brewers are pointing toward the season with as much urgency as any teams in baseball. Joe Maddon and Jon Lester have joined the Cubs just as they matter again.
Yet within the confines of Cardinals Nation, none of that was of much interest on Thursday morning. The thing that was of interest was that No. 50 in the Cardinals uniform was walking in unaccompanied after a simulated game on the back fields of the Roger Dean Stadium complex, purposely striding toward his Opening Night assignment at Wrigley Field.
Adam Wainwright sets the tone for the Cardinals, and he seems on the verge of being his old self again despite off-season surgery to trim cartilage in his elbow and an abdominal strain in late February. He's a believer both in himself and his team as it prepares to win a third straight division title and make a fifth straight trip to the postseason.
"That's what we expect -- to go out and play very well,'' Wainwright said. "We expect to play good enough baseball to get in the postseason and to hopefully have a chance to win the whole thing. That's what everyone's goal is, but we expect that here. That's how we're going about our business. We're not thinking about going home in October.''
Why would he? No NL franchise has ever had as much success as the Cardinals, and this is the first time a Cards team has ever entered a season with a chance to go to the playoffs five years in a row. Not only that, but the last four years the Cardinals either went to the World Series or lost in the NLCS, with the Giants beating them in 2012 and '14.
While Wainwright dismissed it as quickly as he said it, you could argue that it is the Cardinals, not the Giants, who are baseball's reigning dynasty. The Giants have them 3-1 in terms of championships the last five years but the Cardinals have 15 more wins in the regular season and 12 more total, including postseason games.
And they're still writing their legacy.
"Well I'm still part of it,'' Wainwright said. "I think that's something you look back on when you're done playing. I know I've had a chance to play with several Hall of Famers, many borderline Hall of Famers, so I'm not missing that. I am totally aware that … I don't want to use the word dynasty -- that's a big word -- but I'm in the middle of a very good era of Cardinals baseball, and that's a pretty cool thing.''
Whenever it's officially assessed, historians are going to find it extraordinary that this run by the Cardinals started with Tony La Russa as the manager and Albert Pujols as the team's centerpiece and extended seamlessly when authority transferred to Matheny and Yadier Molina. But that's the organization that Bill DeWitt Jr. has built on top of St Louis' rich baseball heritage.
It wasn't that long ago that most Cardinals fans found the thought of a team without Pujols almost unthinkable. But DeWitt and general manager John Mozeliak didn't buy into the idea that they had to keep the future first-ballot Hall of Famer at any cost, and that was the right decision.
They faced a similar situation -- if not as much public pressure -- this winter when St. Louis native Max Scherzer lingered on the free-agent market, at the same time that the 33-year-old Wainwright was working his way back from his minor elbow surgery.
The Cardinals didn't bite, believing their stable of internal options was deep enough. If that confidence was rocked by Wainwright's trip to St. Louis to visit a specialist after experiencing pain in the weight room early in camp, it didn't show.
Look at the Cardinals now.
Jaime Garcia, who gave up one run in four innings in an 8-2 win over the Orioles Thursday, is continuing his comeback after shoulder surgery in 2013 and some complications last season. Matheny is very encouraged by how he's commanding the "freakish movements'' on all pitches, including fastballs.
Like Garcia, Michael Wacha, the 2013 wunderkind who battled some complicated shoulder problems last season, appears healthy and is throwing well. Both could be huge X-factors if they can sustain their work. Ditto Marco Gonzales, a potential Rookie of the Year candidate who was pitching for Gonzaga two years ago. He has thrown six scoreless, low-maintenance innings and continues to look like a Mark Buehrle-style quick study.
Carlos Martinez, who was a force as a set-up man last season, is flashing the same explosive high-90s fastball and swing-and-miss slider in the rotation. And veterans John Lackey, Lance Lynn and Wainwright are picking up their pace after going slow early in camp.
Could they have too much starting pitching?
"Good problem to have. I think, but I don't want to be our pitching coach or our manager making those tough decisions,'' Wainwright said. "We've got some very, very good arms, obviously. The way Marco threw the ball (Wednesday), the way Carlos has been throwing, the potential Jaime has when he's healthy … those things always work themselves out, almost always. So if we have eight-man rotation we have a seven- or eight-man rotation. However many we have.''
Wainwright threw live batting practice for the second time Thursday. He's still being told to take it easy in fielding drills, to his chagrin, but looks to be on track to make the necessary two or three Grapefruit League starts before facing Jon Lester on April 5.
Wainwright doesn't want to get ahead of himself but on a day like this it must be hard not to start looking ahead. The vision must seem clear: another 19 or 20 wins for him -- his totals in four of the last five seasons -- and 90-plus for his team heading into another dramatic October.
As for the rest of the NL Central, you always hear athletes saying they want to beat an opponent when they're at their best. The Cardinals are getting ready to give them that chance.
Phil Rogers is a columnist for MLB.com. This story was not subject to the approval of Major League Baseball or its clubs.