Opening Day status for Castillo uncertain
Out with oblique strain, Red Sox outfielder might not get enough Spring Training at-bats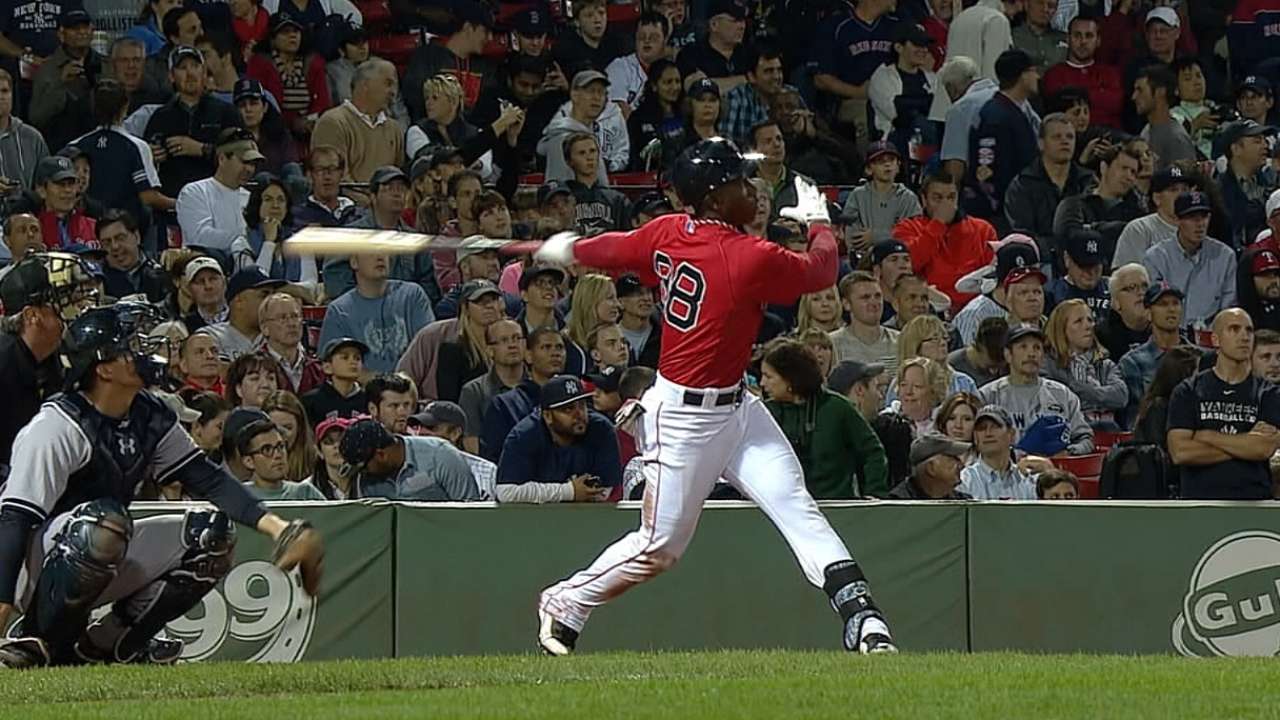 BRADENTON, Fla. -- Thursday was another day of modest baseball activity for Red Sox center fielder Rusney Castillo, and there's still no hint of when he will be ready for Grapefruit League action. Though Castillo hasn't been ruled out for Opening Day, the calendar seems to be working against him.
Castillo suffered a left oblique strain playing against Boston College on March 3. He has yet to play in Grapefruit League action.
If Castillo was a player with more of a proven track record, it might be more realistic to imagine he could crack the 25-man roster despite having an abbreviated Spring Training.
But the Red Sox are still getting to know all the nuances of a player they signed to a seven-year, $72.5 million deal back in August. And Castillo is still getting back into the rhythm of being a baseball player after going over a year without playing in organized games in Cuba.
"Typically, you try to get your regulars anywhere from 55-65 [at-bats in Spring Training]," said Red Sox manager John Farrell. "Somewhere in there. We know there are exceptions to that -- David [Ortiz], for one, two years ago. Until he gets back in game situations, we'll see where the timing is."
The oblique injury is one that is risky to rush.
"He is doing well," Farrell said. "He will hit off the tee again today, soft toss, and gradually pick up the intensity to the work. I'm not saying there's going to be a greater number of swings taken, but a repeat of yesterday with added intensity."
Is it a stretch to think Castillo could be ready for Opening Day?
"We've got to wait and see when he's first back on the field how much of the schedule remains and how many at-bats that might translate to," Farrell said. "We haven't determined that yet."
Given Boston's outfield, which is overloaded with depth, there is no guarantee Castillo would be on the 25-man roster at the outset of camp whether he is healthy or not.
Center fielder Mookie Betts has had a standout camp. Veterans Hanley Ramirez and Shane Victorino will patrol the corners provided they stay healthy.
Daniel Nava and Allen Craig are proven players who could have the inside track on bench spots.
Ian Browne is a reporter for MLB.com. Read his blog, Brownie Points, and follow him on Twitter @IanMBrowne. This story was not subject to the approval of Major League Baseball or its clubs.