Kiermaier's athleticism, speed could help Rays this season
Outfielder looking to become everyday center fielder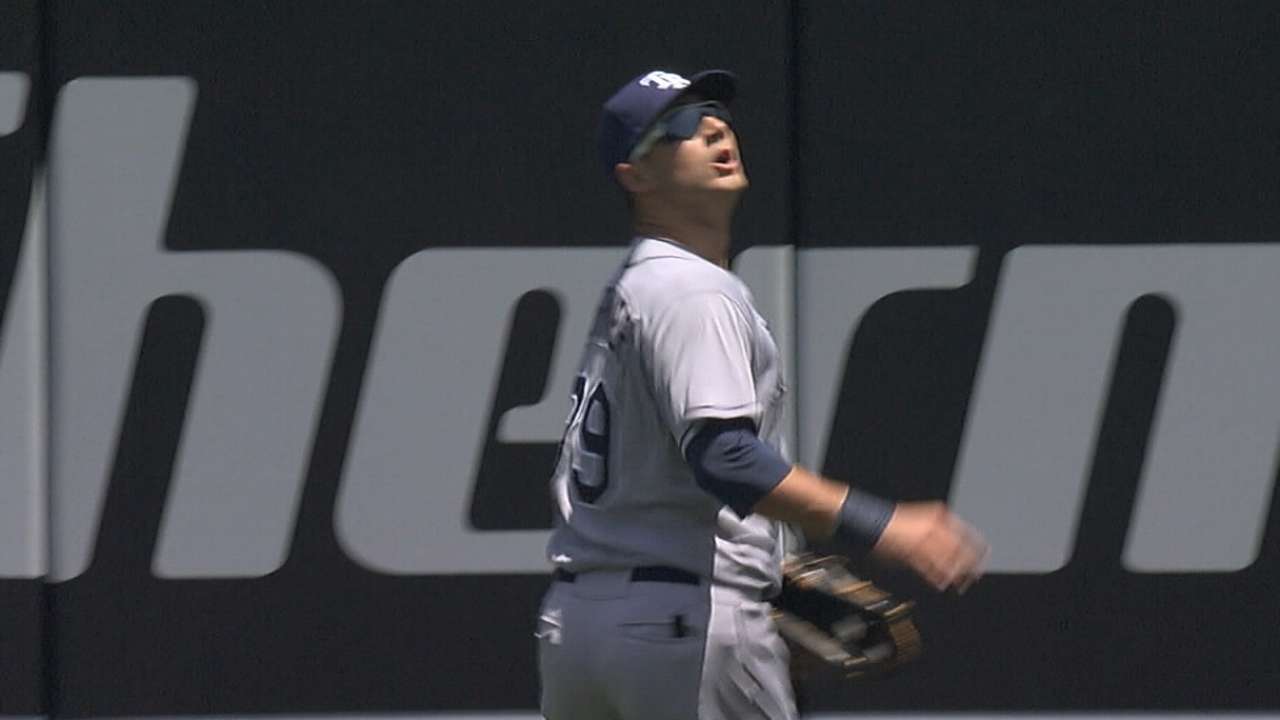 PORT CHARLOTTE, Fla. -- Kevin Kiermaier will play only center field this season. Manager Kevin Cash told reporters as much on Wednesday.
So what does Kiermaier have to do to become the everyday center fielder? The question was put to Cash Thursday morning.
"I think to keep progressing with his performance," Cash said. "He put a lot of work in this offseason with Shelty [hitting coach Derek Shelton]. And he's actually done some things in the game really good -- taking pitches, letting some balls travel and stuff. He's going to have plenty of opportunities. He'll be in there quite a bit for us."
Desmond Jennings, who has played center field in 254 of the Rays' games the past two seasons, will play left field when Kiermaier is in center. But he'll revert to center when Kiermaier is not in the lineup, which will come against select left-handers.
However, Cash allowed that the Rays will explore Kiermaier's ability to hit left-handers this season.
"We like to use our roster and utilize it, because we feel like it's best as far as the right-left matchup," Cash said. "But at the same time, we know KK is young, and we have to see how that kind of plays out a little bit."
Kiermaier's most attractive attribute is the fact he's an incredible athlete. And he packages those skills in an aggressive style of play. At times, that aggressivnesss has gotten him in trouble. But the Rays aren't about to ask him to dial it back a notch.
"He's going to play hard," Cash said. "... I don't think you ever want to look at a guy who's aggressive and say, 'Dial it down.' His aggressiveness makes him good."
Kiermaier's style of play makes him stand out. Cash said it's not just the fact that he's hustling more than other players, though.
"He's fast," Cash said. "It's more than hustling. He can do a lot of special things for us, offensively and defensively. You always like to see the guys who can hustle. But KK is beyond hustling."
Given Kiermaier's raw tools, Cash was asked how Kiermaier lasted until the 31st round of the 2010 First-Year Player Draft.
Cash smiled. "Better question for somebody else. How did Trout make it to the [25th] pick?"
Bill Chastain is the Rays beat reporter for MLB.com. He has been covering the club since 2004.
This story was not subject to the approval of Major League Baseball or its clubs.