Breaking down the Royals' 2015 Top 30 Prospects
Tide turning on pitching development with Finnegan and Co. ranking high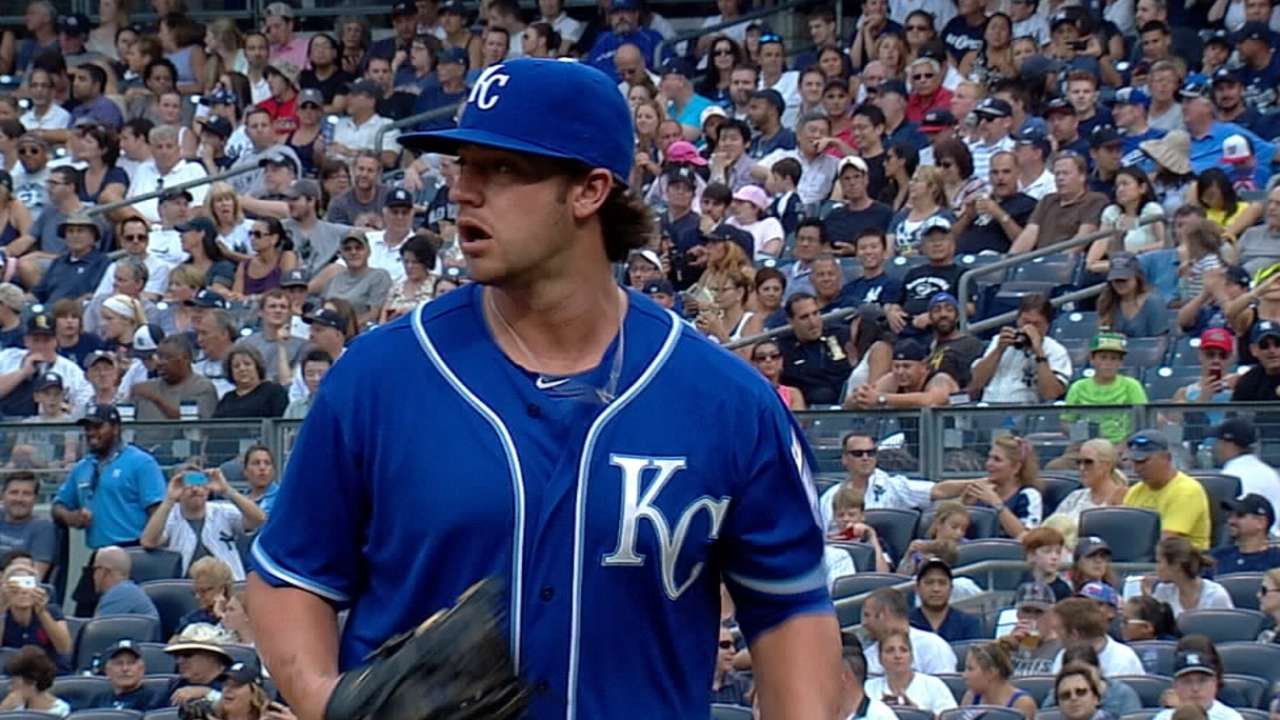 The Royals came within one game of a World Series championship and are riding their first consecutive winning seasons in two decades thanks to their ability to build from within. They've scored with early first-round picks (Alex Gordon, Eric Hosmer, Mike Moustakas) as well as late-rounders (Greg Holland), and they've also unearthed multiple bargains in Latin America (Kelvin Herrera, Salvador Perez, Yordano Ventura).
While Kansas City has been able to fill most of its holes from within, it hasn't had much success developing starting pitchers. Ventura was the only homegrown hurler to start a playoff game on the mound for the Royals last October, and he's also the only one to win as many as 10 games in any of the last three seasons.
Ventura could be just the first of a wave of pitchers about to crash on Kansas City. Four of the organization's top five prospects are starters who could join the big league rotation by the end of 2016: left-handers Sean Manaea and Brandon Finnegan, and right-handers Kyle Zimmer and Miguel Almonte. Finnegan already has made history, becoming the first pitcher to appear in the College World Series and the World Series in the same calendar year.
Royals' 2015 Top 30 Prospects list
Biggest jump: Dominique Taylor, OF (2014: Unranked | 2015: 16)
Biggest fall: Zane Evans, C (2014: 17 | 2015: Unranked)
Best tools
Players are graded on a 20-80 scouting scale for future tools -- 20-30 is well below average, 40 is below average, 50 is average, 60 is above average and 70-80 is well above average.
Hit: Hunter Dozier (50)
Power: Chase Vallot (60)
Run: Lane Adams (70)
Arm: Raul Adalberto Mondesi (60)
Defense: Mondesi (60)
Fastball: Zimmer (70)
Curveball: Zimmer (65)
Slider: Finnegan (55)
Changeup: Almonte (60)
Control: Christian Binford (60)
How they were built
Draft: 17
International: 8
Trade: 3
Rule 5: 1
Nondrafted free agent: 1
Breakdown by ETA
2015: 6
2016: 10
2017: 6
2018: 8
Breakdown by position
C: 1
1B: 0
2B: 1
3B: 2
SS: 3
OF: 7
RHP: 8
LHP: 8
Jim Callis is a reporter for MLB.com and writes a blog, Callis' Corner. Follow @jimcallisMLB on Twitter. This story was not subject to the approval of Major League Baseball or its clubs.