'Hyper guy' Swisher finds long knee rehab a tough grind
Francona counsels as Indians outfielder questionable for Opening Day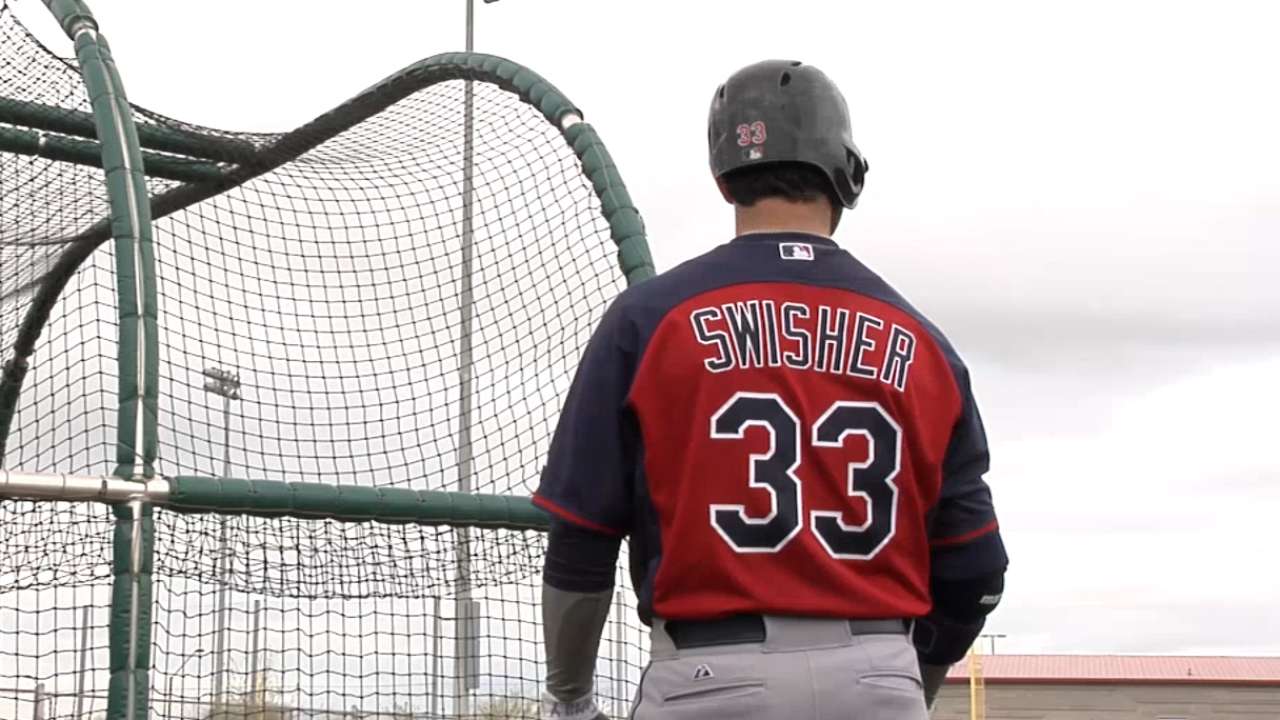 GOODYEAR, Ariz. -- Nick Swisher went more than a decade in the Major Leagues without a significant injury before his 2014 season was shut down after an August surgery on both knees, so this is new territory for him as he works his way back to full health this spring.
"I'm a hyper guy -- I want stuff done yesterday," Swisher said Wednesday.
But it takes time to come back from two knee surgeries, and that's something Swisher is trying to accept. He's done all the work he could possibly do, from tough pool workouts to field work. He has moved step by step into baseball activities, and he still pegged Opening Day as his goal.
"I just want to wake up feeling 100 percent, but there's a process involved in that and I'm learning that," Swisher said.
Part of that learning process has been to counsel with Tribe manager Terry Francona, who has had more than his share of knee surgeries, including having both knees replaced. Francona let Swisher know that there's no reason to be alarmed or frustrated when he only takes small steps in his recovery.
"I was telling him that a lot of times the norm with your knee is that you go up, up, up, plateau, then up, up, up, and not to have that meltdown when you have that plateau, because that's completely normal," Francona said.
Said Swisher: "I'm lucky enough to have a man in my corner like Tito, who has gone through 1,000 knee surgeries, so he does know all about that stuff."
Francona says it's premature to put a date on when Swisher could start playing in games. All Swisher has to do at this point is contain his hyper nature and let the process take its course, and that's not easy.
"I just want to be ready to go, man," Swisher said. "It's been since the middle of August since I've been on a baseball field. I miss it. I miss being around the guys. I miss getting on the bus with the guys and going to the games and stuff like that. I've just got to stay on the right path, and everything's going to be all right."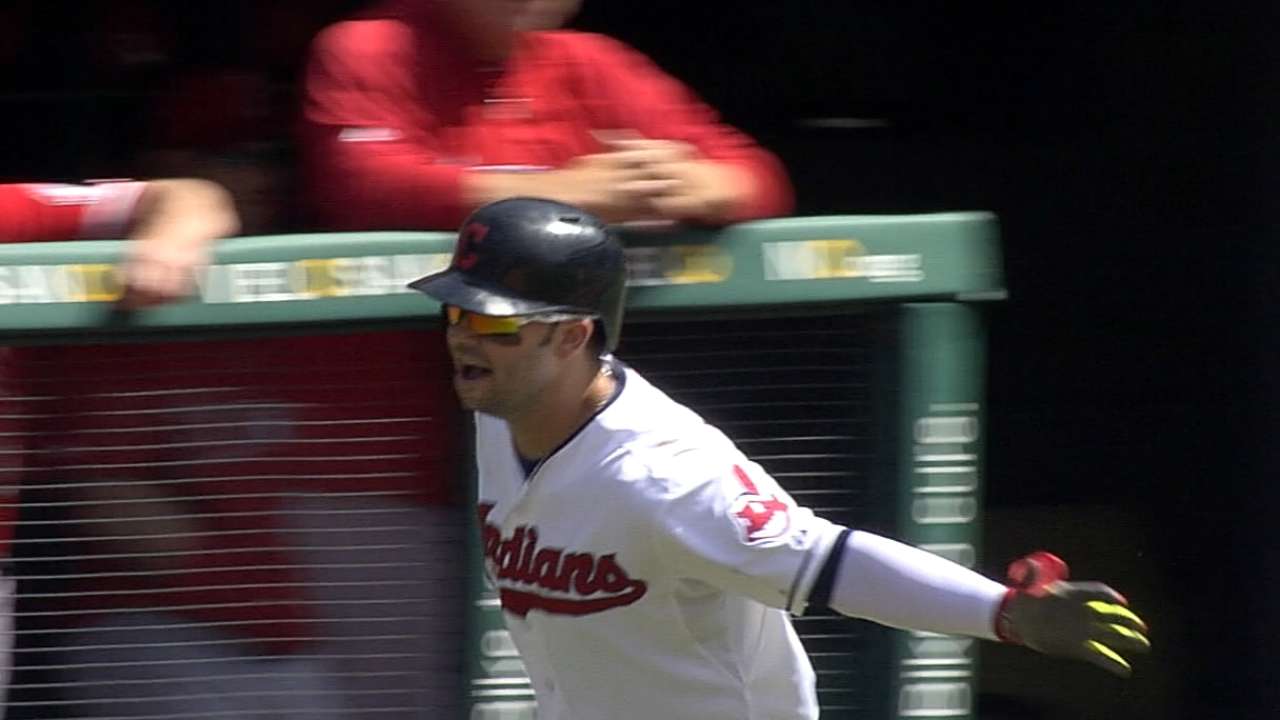 More Indians news and notes from Wednesday:
• Brandon Moss was in the lineup again, and he went out of the ballpark again. After a triple about 20 feet up the green batter's eye in center field at Hohokam Park, Moss went deep off his former team, the A's -- giving him two homers and a triple in a span of three at-bats, including the third at-bat of his Monday debut. Suffice to say, his comeback from offseason hip surgery is going smoothly to this point. But the level of success he's displayed with his bat has even Francona surprised.
"He's been an animal in this," Francona said. "He probably shouldn't be where he is, but he's healthy and because of his talent, he can work on his swing. He doesn't have to baby it."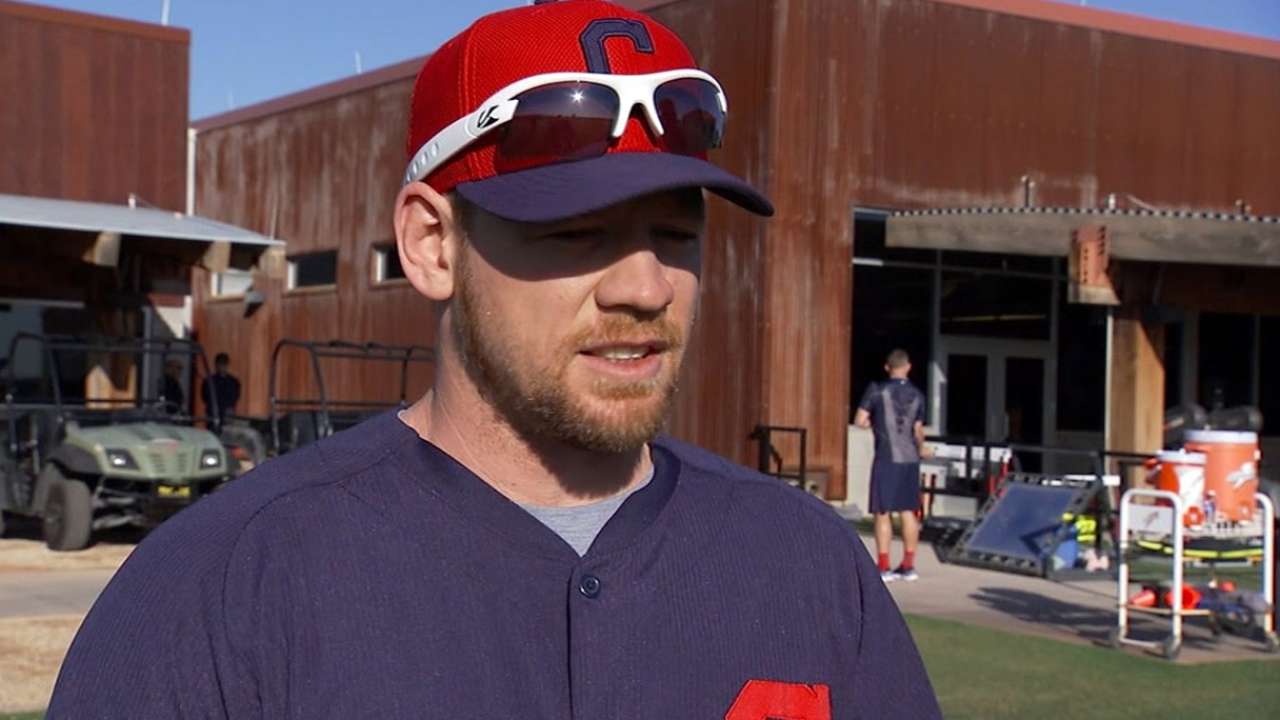 • Danny Salazar said he had a good bullpen before Wednesday's start, but he couldn't carry it into the game -- giving up three runs (one earned) on two hits including a homer and two walks.
"Sometimes you warm up and feel good and have a good bullpen, then when you come to the mound, you can't find yourself," Salazar said.
Francona said the 25-year-old right-hander, who is among the candidates for the last two spots in the Tribe rotation, needs to work on finding a consistent rhythm to his starts.
"When we talk about him being aggressive in the strike zone, I think it needs to be all the way around, getting his pitch, working quicker, having a better tempo, and I think that'll really help him," Francona said.
• The rest of the Tribe pitchers shut down the A's the rest of the way, throwing strikes and getting out of trouble. Left-hander Nick Hagadone was particularly impressive with a perfect fifth inning that showed his progress over recent years.
"Hags seems like he really understands what he needs to do. He always gives himself a chance," Francona said of Hagadone.
• The club's Minor Leaguers got an early wakeup call Wednesday due to a gas leak at their hotel, and with no one injured, Francona had a couple of questions.
"I'm sure there's a lot of happy campers there," he said, facetiously. "Were they all there? Some guys coming out, some guys coming in?"
John Schlegel is a national reporter for MLB.com. You can follow him on Twitter @JohnSchlegelMLB. This story was not subject to the approval of Major League Baseball or its clubs.