Garza using mechanical fix to maintain control
Brewers right-hander aims to 'stay level' on mound, logs 3 innings against Giants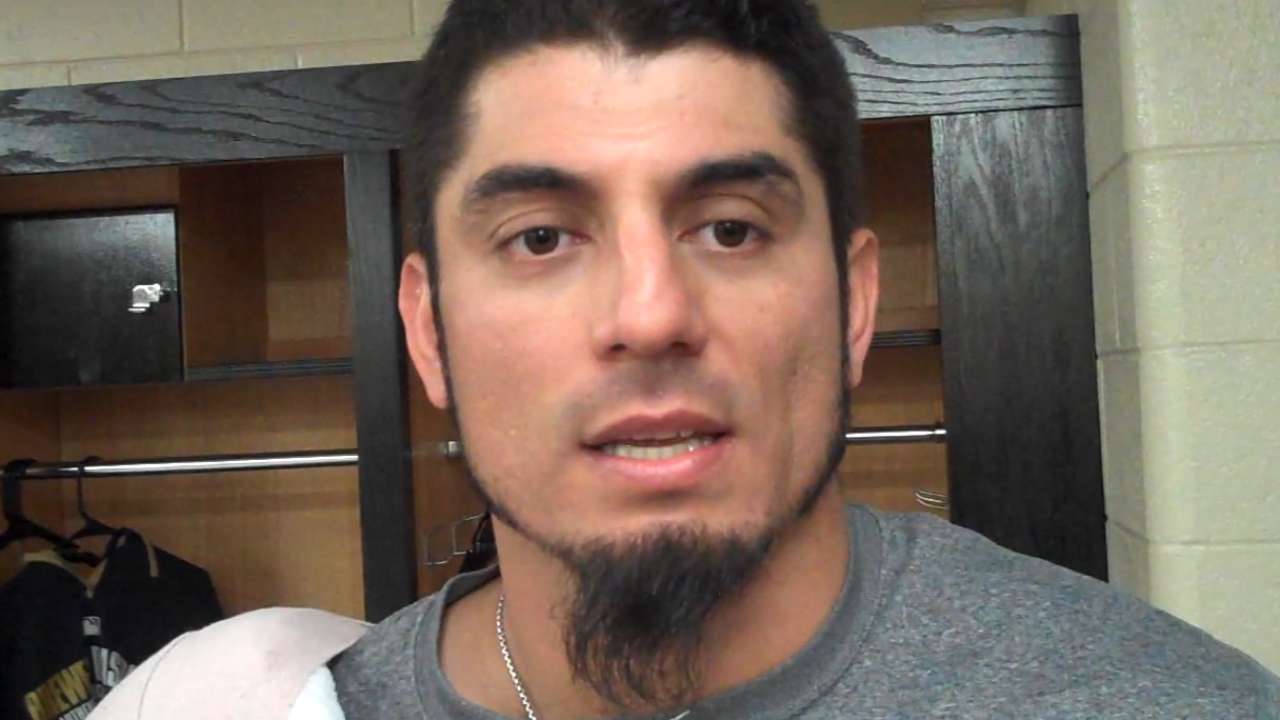 SCOTTSDALE, Ariz. -- The change is subtle to the naked eye, but Brewers starter Matt Garza underwent a mechanical overhaul over the winter aimed at quieting his delivery and limiting the risk of injury.
After working three innings against the Giants on Wednesday, Garza was eager for a phone call from younger brother Michael, a onetime pitching prospect who now coaches high school baseball in California. The two worked on Matt Garza's delivery after analyzing video of his outings over the past two years and are staying in touch this spring.
"Kind of just staying in myself, staying level," Garza said, describing the change. "For some reason I would get excited and have a [Mike] Fiers-type tilt, and that's not good for me. I think that's part of the reason my changeup hasn't really fully developed, and why I've had problems with consistency on my slider and breaking stuff.
"With this, it's helping me feel better about it. Staying consistent with my release and where the ball comes out. ... It's refreshing to be in control when I'm usually a guy who's rarely in control."
Against the Giants, Garza surrendered two runs on four hits, with two walks and two strikeouts. Three of the hits and one of the walks came in the second inning, but Garza was able to rebound with a 1-2-3 third. He struck out Buster Posey to end the outing.
"I don't know if I notice so much the difference in mechanics as I notice his stuff," manager Ron Roenicke said. "His stuff is way better now than it was last year at this time. Last year, we were 4-5 games into it and he didn't have the stuff we were used to seeing from him. He'll get his location down better. I'm liking what I'm seeing from him."
Garza is entering the second season of a four-year, $50 million deal with the Brewers, after posting a 3.64 ERA in 2014 and setting a franchise record for starting pitchers by holding opponents to a .233 batting average. But he spent most of August on the disabled list with a rib-cage injury, and entered the winter feeling frustrated about another season of fewer than 200 innings.
It marked the fourth straight season that Garza spent time on the DL, and the second straight season with a core muscle injury.
"When stuff gets exposed, you leave it open for injury, and that's what I was doing," Garza said. "There's so much torque coming down that mountain, that you can only hold so much so many times. We're trying to make it consistent to where it doesn't have to hold that any more, and it spreads out my whole body.
"You always have to adapt. Your body is not the same as it was 10 years ago. It's hard for me to admit that, but it isn't. Muscles tend to do what they do, and over time, they harden. You have to find a way to keep it going. You don't want to be done because you can't do it anymore, because you're always getting hurt. You have to alter, change and adapt."
Adam McCalvy is a reporter for MLB.com. Read his blog, Brew Beat, and follow him on Twitter at @AdamMcCalvy. This story was not subject to the approval of Major League Baseball or its clubs.