Moss brings familiar pop to first matchup with Oakland
Former A's slugger 'proud' of team's run in 2014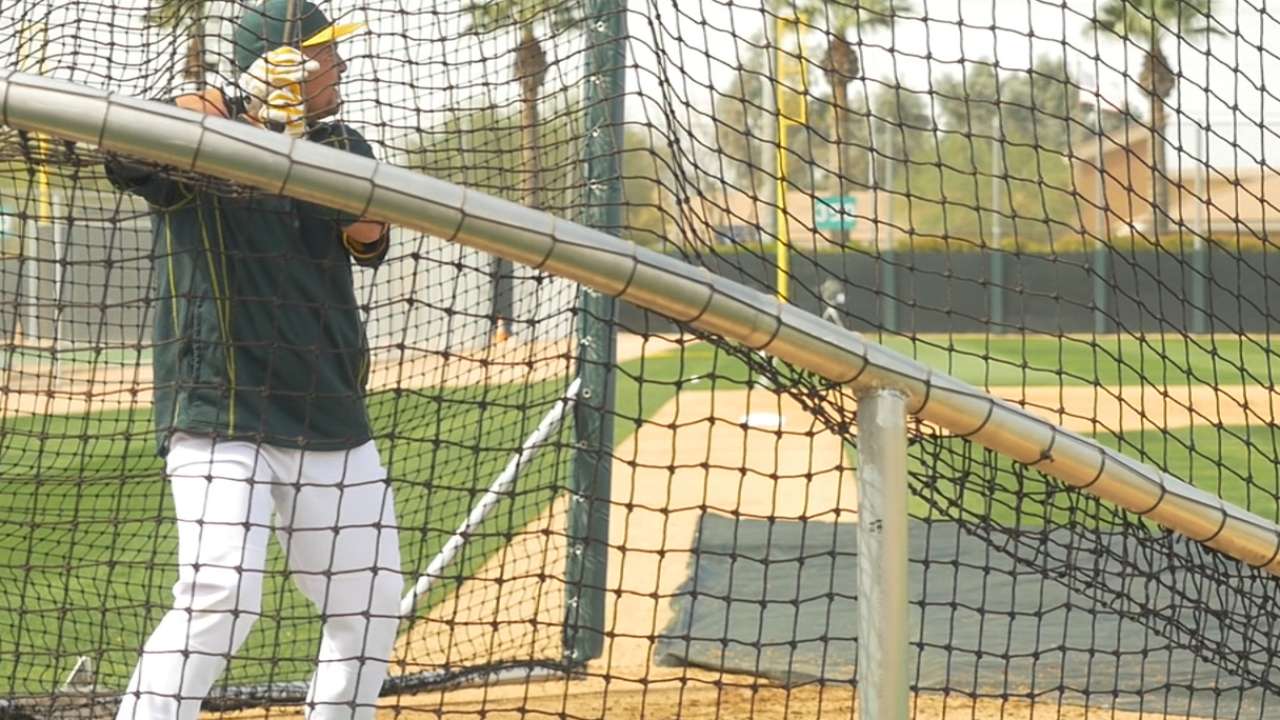 MESA, Ariz. -- Brandon Moss did Brandon Moss things against his former team on Wednesday, reminding the A's of the gaudy power he provided them in recent years, before they shipped him to Cleveland in December for Minor League infielder Joey Wendle.
Moss tripled and homered during his three at-bats as designated hitter, pouring salt into the wounds of A's fans everywhere.
"I was trying to distract him," said A's manager Bob Melvin, "but he wouldn't turn around and look at me."
Before the game, Moss reminisced about his time in Oakland, particularly his final game in green and gold -- a grueling, emotionally draining, 12-inning Wild Card Game loss to the Royals. Moss hit two home runs in the affair, his bum hip alleviated by a cortisone shot.
"If we won that game, I thought we would have won the World Series," Moss said. "I honestly believe that. The way we matched up against all the teams, I thought we were better. It was just a matter of getting through that game, and we didn't.
"Win or lose, that was the most exciting baseball game I have ever been a part of. I've never played in a baseball game that was that fun or had that much emotion. … What we accomplished as a team, I was proud. We were all proud of each other. I definitely don't regret playing through the injury. May have hurt my numbers, may have hurt certain things. But at end of day, you play the game to be part of something like that."
Moss underwent successful hip surgery in October, and said Wednesday, "I honestly feel much better than I even thought I would."
It can only be speculated how much the hip issue hindered Moss' season, particularly in the second half, when he hit just .173. He finished the year with a .234 average but still managed to hit 25 homers and drive in 81 runs. In three seasons with the A's, who took a gamble on the former journeyman by signing him to a Minor League contract ahead of the 2012 season, Moss totaled 76 home runs and 220 RBIs in 376 games.
That earned him a substantial raise this year, his salary jumping from $4.1 million to $6.5 million.
"I'm more than appreciative of my time in Oakland," Moss said. "I wouldn't be standing here without it. I went from a great situation over there to a great situation over here."
The move did not surprise him.
"No, not really," he said. "Everything happened so poorly in the second half. I didn't make much of it because I could kind of see it coming. We were losing some guys, guys were getting more expensive. Some of us were hurt. There were questions about the production of what it would be like the next year even though we'd be more expensive. I don't think I ever questioned it. I took it for what it was and ran with it. Nothing you can do with it."
Ken Gurnick is a reporter for MLB.com. This story was not subject to the approval of Major League Baseball or its clubs.