Peterson impressing with versatility, athleticism
Infielder will likely make Braves' roster, in the running for starting 2B job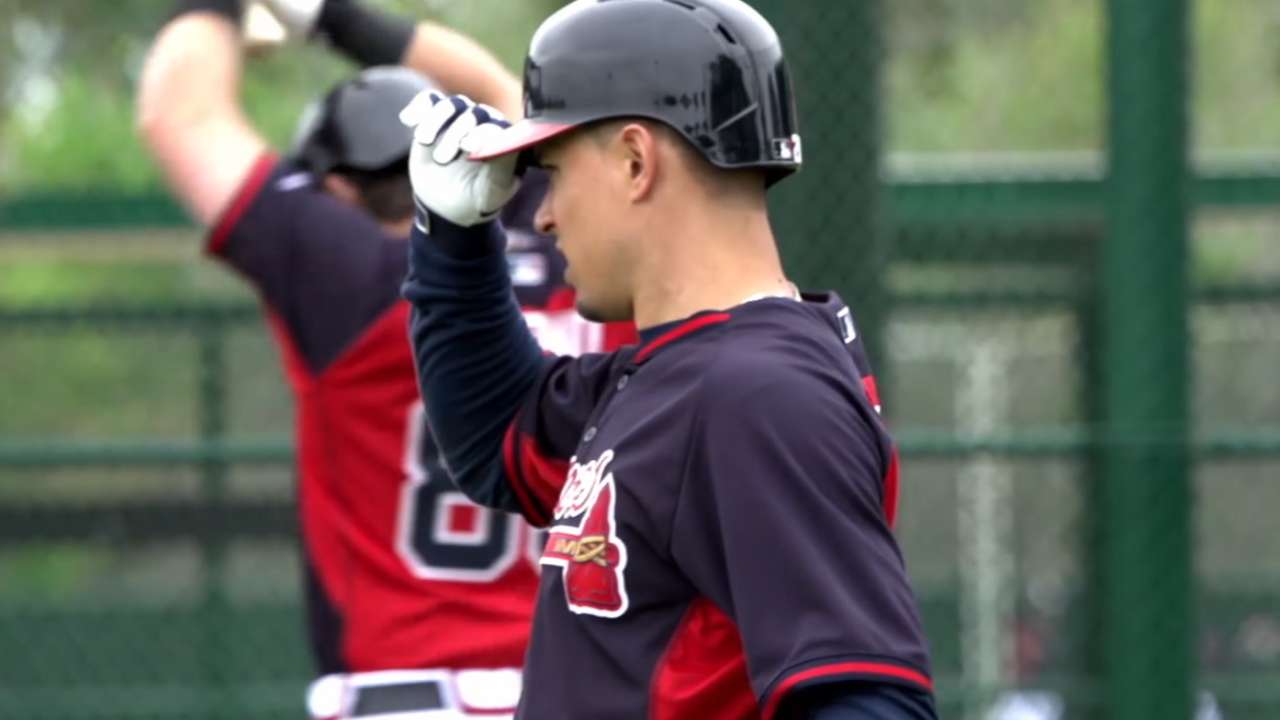 LAKE BUENA VISTA, Fla. -- As Braves front-office members and coaches repeatedly talked about Jace Peterson during the early days of Spring Training, it became apparent that the versatile infielder would likely gain a spot on the Opening Day roster.
Thus with one week of the Grapefruit League season complete, the only lingering question surrounding Peterson seems to be whether he will serve as Atlanta's primary second baseman, at least until Jose Peraza is deemed Major League ready.
"I'm just competing," said Peterson, who was acquired from the Padres in December. "Of course [being on the Major League] roster is the goal for everyone here in camp. Thinking about all that kind of stuff, people tend to put a little extra pressure on themselves. Me, whenever I'm called on, I'm going to play. Hopefully, on Opening Day, that's where I'm at. That's the goal."
Braves manager Fredi Gonzalez might not be ready to anoint Peterson as his primary second baseman. But like many of the scouts who have followed the Braves through the early portion of the Grapefruit League season, Gonzalez has been impressed by the versatility and athleticism displayed by the 24-year-old infielder, who played defensive back at McNeese State University before fully committing to baseball.
"He's an athlete," Gonzalez said. "He gives you the ability to play in the middle of the diamond."
Spring Training statistics, especially those compiled during the first week, do not necessarily carry much weight. But Peterson has certainly made the most of his opportunity to impress by hitting .400 (6-for-15) through his first six games. The other two candidates for the second-base job are Alberto Callaspo, who has batted .133 (2-for-15), and Phil Gosselin, who has hit .167 (3-for-18).
Callaspo has lost seven pounds since irking the Braves by reporting to camp visibly heavier than they expected when they gave him a $3 million deal in December, with the assumption that he would serve as their primary second baseman and occasionally play third base when Chris Johnson does not play against some right-handed starting pitchers.
But the early impression made by Peterson has provided reason to wonder if Callaspo will be more of a bench player whose time in the lineup is primarily limited to those days when Johnson is not in the lineup.
If the Braves opt to stick with their original plans they had for Callaspo, Peterson would likely be placed on the Opening Day roster as a backup infielder. The fact that he is faster, stronger and a better option at the shortstop position makes him a better candidate for this role than Gosselin.
"When I get in there to play, I'm going to play and do what I have to," Peterson said. "I'm just taking it as me coming out and being prepared to do my job when my number is called. I'll hopefully perform, do what I'm capable of and just let the rest fall into place."
Mark Bowman is a reporter for MLB.com. This story was not subject to the approval of Major League Baseball or its clubs.