MLB.com Columnist
Phil Rogers
Grilli already paying immediate dividends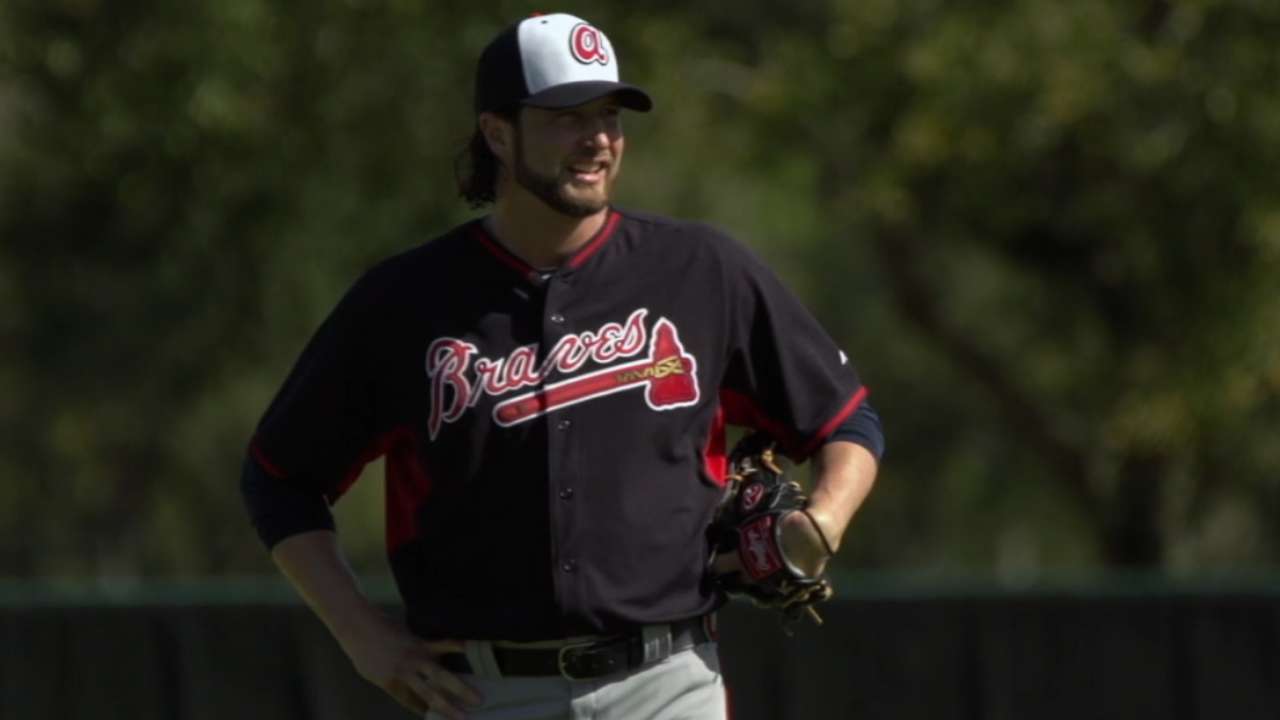 LAKE BUENA VISTA, Fla. -- If they wanted to, the Braves could stick Jason Grilli in the freezer and bring him out again in Miami, when it's time to start the season on April 6. He's ready.
At least that was how he looked on Wednesday, when he retired three St. Louis hitters in the fourth inning on only nine pitches before heading home for dinner on his kitchen table. His fastball hit 93 mph on the radar gun, and he mixed in changeups and sliders in his second outing of the spring.
"I feel good,'' Grilli said, before seemingly redirecting his thoughts to point out there is still a need to lay a foundation for the season ahead. "Knowing thy self is the key in this game. As soon as you start riding your high horse, that low branch hits you. This game isn't that easy.''
No, it isn't. That's one of the reason why young teams need experienced trail hands riding point, keeping the herd together.
Grilli played that role to near-perfection in Pittsburgh the past three years, helping manager Clint Hurdle and pitching coach Ray Searage build one of the best bullpens in baseball. Grilli would still be there if it had been his choice, but he was unexpectedly traded to the Angels last June. And now here he is with the Braves, who are in search of their next dynasty.
Outside of Pittsburgh, he wouldn't want to be anywhere else.
An Orlando, Fla., resident, Grilli started thinking about the Braves when he saw president of baseball operations John Hart's influence increase after Frank Wren's dismissal. He was thrilled to hear that there was mutual interest.
"I had my target set here,'' said the 38-year-old Grilli, who signed a two-year deal that includes an option for a third season. "I was very hopeful. It came down to Boston or here. These guys wanted me more. John Hart lives not too far from me. We had a meeting. He made me feel I was really wanted here. They're trying to change up some things in the culture here. Look around this room, there are some good names, guys who want to go out and win. That's our expectation.''
Manager Fredi Gonzalez certainly wants to win. But like Hart, he understands that outside expectations have lessened with the departure of free agent Ervin Santana and the trades of Justin Upton, Jason Heyward and Evan Gattis, all part of a process in which the payroll has dipped below $100 million.
Some wondered if Craig Kimbrel would be the next to go as Atlanta's ownership and front office pointed toward the opening of a new stadium in 2017. But rather than deal baseball's best closer, Hart imported Grilli to serve as a setup man and help young teammates launch their careers.
"He's been great,'' Gonzalez said. "He's been great in our clubhouse. It's small here, so you notice everything, and every time I see him in the clubhouse, he has a young guy in his corner, talking to him about baseball.''
There's not much Grilli can't talk about from firsthand experience. He was a stud at a New York high school and at Seton Hall University, where he pitched so well he was the fourth player selected overall in the 1997 Draft. But the Giants traded him only two years later to get Livan Hernandez, and thus began a 12-year run in which he must have felt like he was often treated as a care package labeled "Folded, Spindled and Mutilated.''
Grilli is with his 10th organization, having been traded three times, released twice -- once by the White Sox in January, which is a tough month to get released -- sold and selected in the Rule 5 Draft of unprotected Minor Leaguers.
You'd think he'd be a little crusty by now. But somehow, Grilli always reminds himself that he's lucky enough to make a living playing a game. It's a great attitude.
"I've had an interesting transaction record,'' Grilli said. "I think I've pinged on every one of them. One of my agents taught a sports law class, and of course, I was the example. … I'm a grinder; I've lived it. But I've loved and respected the game. It surely loved me and respected me back. I treat it just as such, until the day I get the uniform ripped away from me. They're going to have to rip it away from me. I'm a guy that loves this game wholeheartedly. I'm still doing it at 38 and hope to be doing it in my 40s. There are plenty of guys who are doing it or have done it. There's no reason why I can't.''
Grilli has been a fifth starter, a swing man and a middle reliever. He officially became a late bloomer when he reunited with Hurdle in Pittsburgh in 2011, after pitching for him with the Rockies in 2008 and '09.
Hurdle gave Grilli a chance to pitch in the late innings. He not only thrived but the Pirates' bullpen became formidable behind him. Nothing was better than the October night in 2013, when he got Zack Cozart to hit a grounder to Neil Walker to lock up Pittsburgh's Wild Card Game win over the Reds, officially marking the city's baseball rebirth.
"Our goal was to get to the postseason and go as far as we can, get to the World Series,'' Grilli said. "We fell short of that, but for what we did, changing the culture over there, it was special to be a part of that. For me personally, the people treated me with so much love and respect, it was easy to play there. I will cherish it and miss it dearly. It was a great ride, and I was fortunate that I got to be a part of something special, in Pirate history.''
Grilli said he was "shocked'' when Pirates general manager Neal Huntington traded him to the Angels for Ernesto Frieri last June. No one saw that one coming.
"It was a shock to many people on the staff,'' Grilli said. "You can ask the front office and whoever makes those decisions why. I don't think I ever got a clear reason why. I'm not focused on it. I'm still wearing a jersey. That's all that matters to me.''
Grilli immediately made the Angels' bullpen better. He wound up making two scoreless appearances in the losing AL Division Series effort against the Royals. He's pitched in 11 career postseason games, with three different teams, and still has never given up a run.
That's a pitcher you can trust.
Forget Madison Bumgarner and Orel Hershiser. Maybe Grilli is the greatest postseason pitcher ever.
He laughed at that one.
"I'll take that, if that's your claim," Grilli said. "You get to the postseason, man, it's the best time to have your best stuff. You look at what Bumgarner did, that was special. I don't care if you're a position player or a pitcher, when you're dominating on either side of the game, you watch somebody do that, it's super impressive, especially that late in the season. That's what it's about."
As for an unexpected chance this October, his mind is open.
"Everybody has their predictions," Grilli said. "I like to throw those out the window. To me, it's let the games begin, let's go play on the field and we'll sort it out. There's a lot of baseball. I don't think anybody had Kansas City and the Giants in the World Series last year, right?"
Phil Rogers is a columnist for MLB.com. This story was not subject to the approval of Major League Baseball or its clubs.