Pederson's HR lifts LA after Ryu's stellar debut
Club's No. 3 prospect belts winner in 9th; Ferrell gets out on mound in relief cameo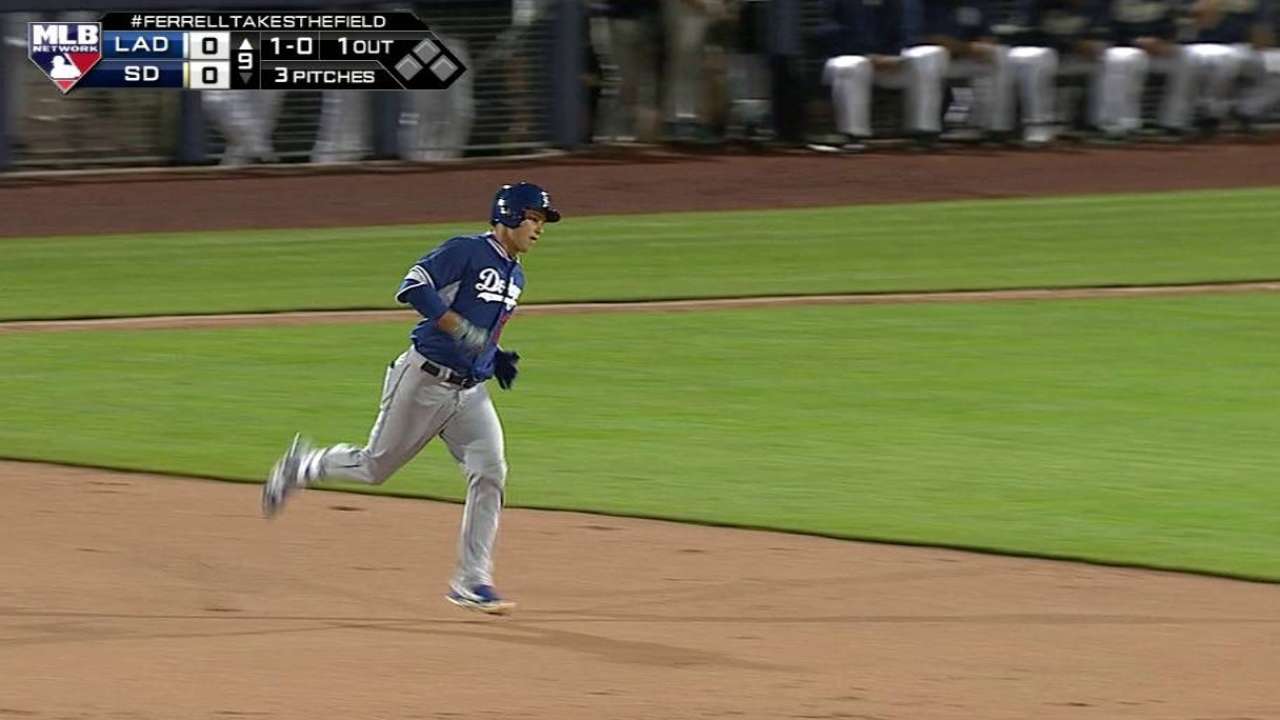 PEORIA, Ariz. -- James Shields was superb in his second Cactus League outing for the Padres, mowing his way once through the Dodgers' lineup, but Joc Pederson belted a homer in the ninth for Los Angeles that was all the difference in a 1-0 Los Angeles victory on Thursday night at Peoria Stadium.
Before comedian and actor Will Ferrell stole the show with his late-innings appearances for both clubs, it was Shields and Dodgers left-hander Hyun-Jin Ryu who treated the fans. Both turned in scoreless outings, with Shields tossing three perfect frames and Ryu tossing two.
Pederson's long ball, the first of the spring for the team's No. 3 prospect, came off Padres reliever Jose Valverde with one out in the ninth -- straight over the head of Ferrell, who was playing right field for San Diego. He retired a batter from the mound for the Dodgers in the seventh.
Shields threw a first-pitch strike to all nine batters he faced, and struck out five. Ryu -- who threw 30 pitches, 22 for strikes -- stuck out two in his two innings.
"Today was my first outing, and it felt great overall," Ryu said through his interpreter.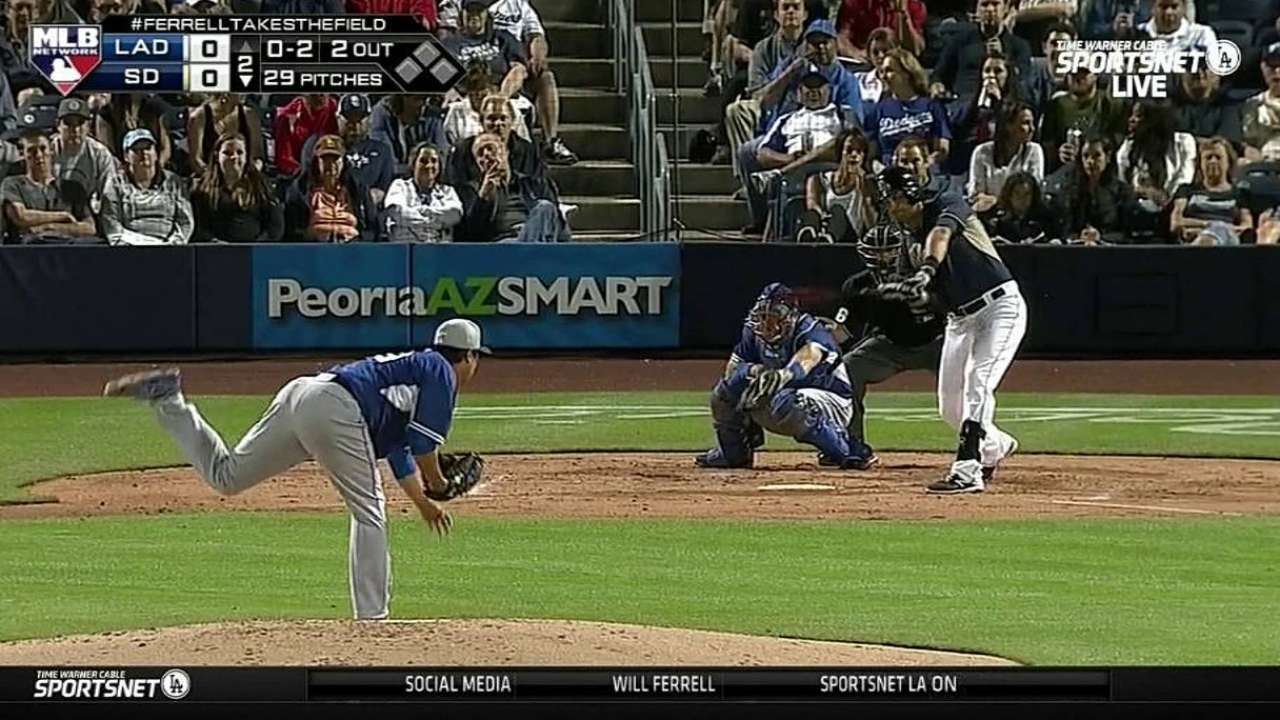 Neither team allowed a baserunner until the top of the fourth, when Carl Crawford singled on a ground ball that Jedd Gyorko couldn't handle at second base. Crawford was quickly erased with a 4-6-3 double play.
The Padres were held without a hit until Justin Upton ripped a double into the left-field corner to lead off the fifth against Dodgers reliever Mike Bolsinger.
Matt Kemp, who received a warm round of applause while facing his former team for the first time since he was traded this winter, went 0-for-3.
Up next: The Dodgers will play a second straight night game Friday, when they host the Reds in a 7:05 p.m. PT start on MLB.TV and Gameday Audio, with right-hander Brandon McCarthy taking the mound for the second time this spring. McCarthy, signed as a free agent after pitching for the D-backs and Yankees last season, allowed one run on two hits in two innings in his Cactus League debut with the Dodgers. With many of the other possible Opening Day starters taking the field Thursday, Pederson is likely to get back in the lineup Friday.
Joey Nowak is a reporter for MLB.com. Follow him on Twitter at @joeynowak. This story was not subject to the approval of Major League Baseball or its clubs.