Maddon gets creative to emphasize fundamentals
New manager wants to instill importance of mental part of game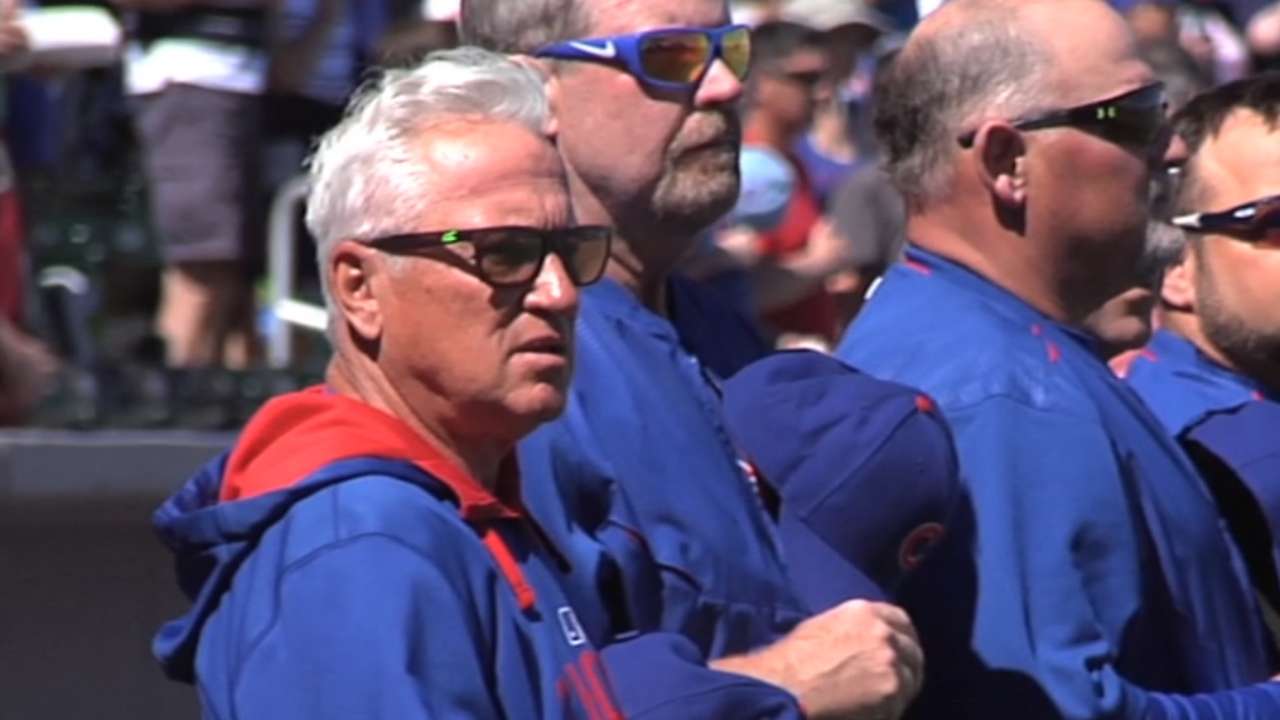 MESA, Ariz. -- Joe Maddon wasn't worried that the Cubs headed into play Wednesday as the only Major League team without a win in Spring Training. He was concerned more with the mental mistakes.
"If we're going to change the culture here, they have to understand when you show up at the ballpark every day, it's not about survival, it's about winning," Maddon said. "I want them to understand that when it comes to work, the biggest parts are the little things. I'm not denigrating anything in the past -- this is my impression now."
Maddon emphasized his point by having players do a relay throw drill, and provided some incentive for the players. Prize money was $200.
But the money isn't important. The message is.
"The wins will happen if we get the fundamentals," Maddon said. "The wins will never happen if we don't get the fundamentals. I want to make sure we push that in the next couple weeks."
Whether Maddon's message motivated the players or the fact that Jon Lester started, the Cubs did pick up their first "W" of Spring Training with a 4-3 victory over the Dodgers.
When Maddon reported to his first Spring Training in 1976, he was treated as if he didn't know anything, and said he "loved it." He wants his coaching staff to treat players the same way.
"I think sometimes we assume too much," Maddon said. "I've talked about eradicating assumptionism. I'm on that bandwagon. I think because a guy gets to the big leagues, because he's in the big leagues means you don't have to cover this minutia, which I totally disagree with. My best instructors would tell me the same thing every year."
The Cubs have committed 12 errors in seven games, fourth most in the Majors.
"Everyone gets caught up in the physical mechanics in the game. Beautiful," Maddon said. "That's the easiest part of this game to teach. The easiest. If all I had to do was teach physical mechanics, we would win. It would be beautiful. To teach the mental mechanics of this game to guys who don't quite get it yet, that's the redundant part and that's what wears you out.
"You can't create magic, you don't deserve magic until you play the game properly. If you play the game properly, all of a sudden, these little things start rolling in your direction."
The players recognize the need to play smarter baseball.
"It's something we need to clean up and, come April 5, we need to play perfect baseball," Anthony Rizzo said. "If we lose playing perfect baseball, OK. But if we lose being sloppy like we have in the past, that's not OK. That's why you say you need to do the little things every day as far as how we catch a fly ball, how we field a ground ball, how we make our throws, the footwork. All those little things pay off in the long run."
Maddon has said he senses players might be trying to impress him.
"There's a lot of hype as well," Rizzo said. "It's a couple weeks before we start worrying about that."
Carrie Muskat is a reporter for MLB.com. She writes a blog, Muskat Ramblings, and you can follow her on Twitter @CarrieMuskat. This story was not subject to the approval of Major League Baseball or its clubs.